Graduate Finds Success as Coach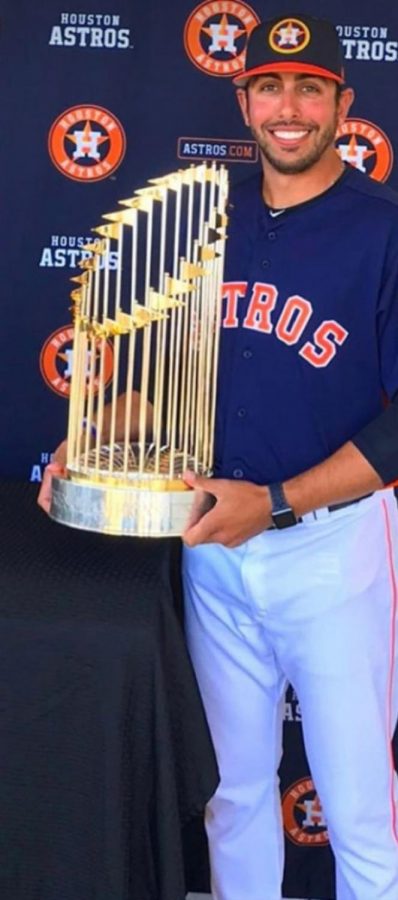 There have been Parkway Central graduates that have gone on to do big things after high school. Almost everybody knows about former Colt, Max Scherzer, who is one of the best pitchers in Major League Baseball, but one person most people don't know about is Jason Bell. Bell is a 28-year-old who is a coach in the Houston Astros organization. Bell played baseball at Saint Louis University and the University of Central Missouri. Bell played for the Parkway Central varsity team for the 2008 and 2009 seasons. In the 2008 season, Bell pitched to a record of 4-1 with an ERA of 3.00 and in 2009 he had a record of 4-1 with a 3.83 ERA. Bell had career ending Tommy-John surgery to repair his UCL, and ultimately had to focus on the coaching side of baseball to stay with the game. It seems to have worked out better than most situations as Bell has been coaching in the Houston Astros organization for three years and was the second youngest manager in professional baseball last season at 27 years old with the Tri City ValleyCats. It is obviously very rare for someone to get their foot in as a manager at that young age. You have to stand out and find a unique way to get your foot in the door. Bell was able to do that with a 17 page master's paper about how the Houston Astros would win the World Series. This prediction proved to be true as the Astros won the World Series in 2017. That season, Bell was a development coach which means he used analytics to help improve player's skills. Bell has had three different roles with the Astros organization.
Q: What is your exact role in the Astros organization?
A: In my current role as a Coordinator, I'm responsible for overseeing all of our Minor League players and coaches. I instill player development programs for infielders, outfielders, and baserunners and I travel to each affiliate to make sure those programs are happening properly. I also am responsible for running the entire Spring Training Schedule for the Minor League players to help them prepare for the season.
Q: What were the steps you took to get to where you are today?
A: After I had Tommy John surgery in college, I got my master's degree. I then started out with multiple different internships, became a college coach where I worked for free. I then worked my way up as a college coach and got the opportunity to join the Astros three years ago. I wrote my master's paper on why I believed the Astros would win the world series, and that was something that helped get me in the door.
Q: What are things you learned here at Central that you take with you today?
A: The first thing that comes to mind is how to overcome adversity. In my first ever pitching appearance on varsity, I came in from shortstop to close out a five run lead and I gave up six runs. The very next time I pitched, I gave up a grand slam in the first inning of the game. So, before I completed my first ever inning of varsity baseball, I had given up a combined 10 runs… That was the first time I had ever experienced true failure in the game of baseball. It was devastating to me and it made me believe I wasn't going to be good enough to be a Division 1 athlete. As I worked through it during that season, I finished the year getting 3 straight wins on the mound to send our team to the State Quarterfinals in 2008. The following year I became a Division 1 athlete. It was a very tough time to go through, but it made me a better player and person.
Q: When you were a kid did you ever think you would have a role in professional baseball?
A: Yes, it was more of a dream though. I wasn't exactly sure what I wanted to do beyond playing, but I knew I wanted to be involved in the game in any way possible.
Q: Who are your influences?
A: The first one would be my parents. They're the best people I have ever met and the most selfless people. Beyond them, I would say everyone I encounter is actually an influence. I consistently like to learn about the game, but also about people and how to reach different types of people and personalities. In any given day you can have an opportunity to learn from each person you come across in public and that's what I try to do to help better myself as a coach and a person.
Q: What was the most challenging moment of your career?
A: The most challenging moment of my career was having to hear that I would need Tommy John surgery to have a chance to throw a baseball again. I went full force in recovery with it, but I never came back the same.
Q: What's some advice you have for students who have a
career interest in the area of professional sports?
A: Find a way to stand out and show value. Put yourself in the hiring person's chair. Why should they hire you? Is just a resume and cover letter enough? For me, it wasn't. I went out and created something that I believed in, which also would show the hiring person comfort in hiring me. Everyone likes to think they just need a chance, but in reality, not everyone gets that. So my main piece of advice would be to stand out in ways other than just a resume and cover letter, and show them what you can bring to the organization.
Q: If there's one thing you could go back and change about your life, what would it be?
A: I'm not one to look at the past with regrets. Everything that has happened in the past makes us who we are today. I'm grateful for my ups and downs as far as what it has done for my career in sports, but also for what it's done for me as a person.
Q: What's your opinion on the way your organization
operates?
A: The Astros operate in a very analytical way. With that being said, what I think people don't realize is that we not only use analytics as a strategy in game and to evaluate players, but mainly as a tool to help players improve. The numbers show us their weaknesses which help us understand what they need to get better at. Then we can also use those numbers to track progress and actually see if what we're doing as coaches is working or not.
Q: If you received an offer to play again, would you do it?
Why or why not?
A: No, my time as a player has passed, now it's all about doing what I can for each player I coach to help them reach their dreams.