Alum Wins World Series
His advice for young players: 'Continue to get better'
For many kids, playing in the big leagues and winning the World Series is something they always dream about. But for one very special Parkway Central alum, his dream became a reality. Max Scherzer, PCH Class of 2003, is the first graduate from Central to earn a World Series ring.
"That's where it's that dream of being on top, to be a champion and all the hard work that's gone in over the years to put myself in that position and everybody here on the Nationals. Of all the guys who have worked so hard their whole lives," said Scherzer, Cy Young winner and Washington Nationals pitcher.
Max's parents, Brad and Jan Scherzer, have supported their son and raised him to be a well-rounded person. One thing his mom thinks many people don't realize about him is that he has many other interests outside of baseball and enjoys doing other things, including scuba diving. Since a young kid he has always been very active and an explorer. Max has always liked to throw a ball even as a baby.
"If he could throw something at you, he would, to see what your reaction would be and that type of stuff," Jan said.
Throughout his time at PCH in the early 2000s, Max was always a multi-sport athlete. His freshman and sophomore years he played football and he played basketball and baseball for all four years.
"I learned so much just from playing football and playing quarterback. I absolutely loved playing basketball, especially for Coach Kirby. We had a great team, especially our senior year we finished third in state," Max said. "We had a good baseball team as well." Scherzer said he valued the chance to "develop underneath the baseball program and getting the opportunity there."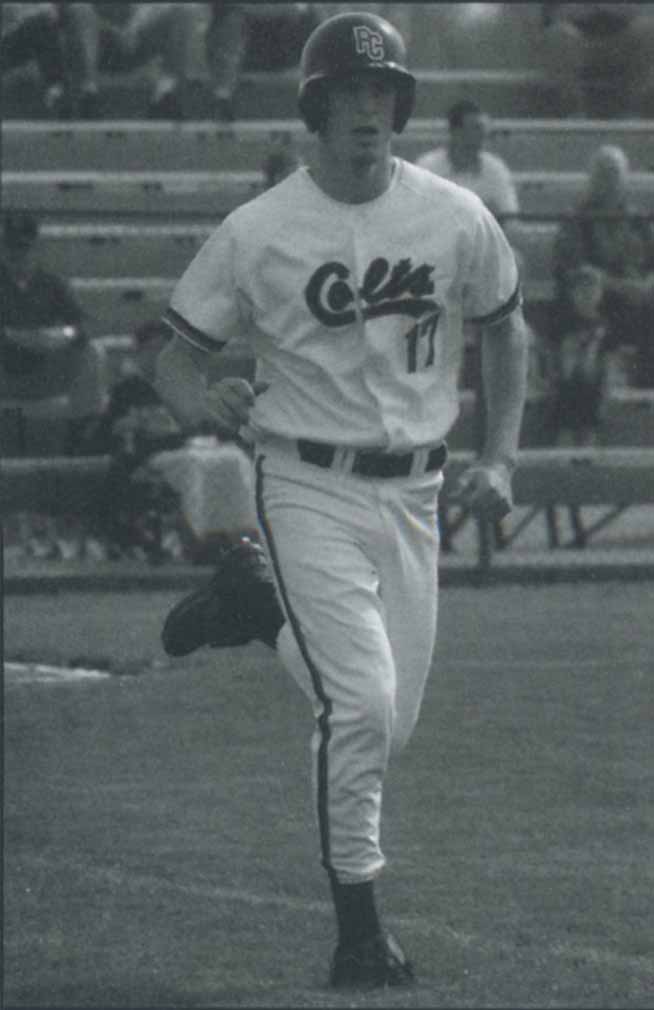 His parents always emphasized academics with him and encouraged him to take his school work as seriously as he does his sports. Throughout his high school and college career, his dad's favorite quote was "school helps sports and sports help school."
"Academics were very important to him and he always did well academically," Brad said. He balanced that with all of his athletic abilities and took coaching very well."
Max believes that he benefits from having a math mind to this day because of how much baseball is data-driven.
A piece of advice Max would give to high school athletes who want to continue their career beyond the high school level is that you have got to continue to get better. No matter what level of play you are at, this advice applies to everyone in Max's opinion.
"I know that mantra is a cliche and everything, but it couldn't be more true even at the professional level," Max said.
Making it to the next level is extremely competitive.
"You got to put in the work and put in the practice to really hone your craft and continue to keep marching forward in order to try and make it to the next level," Max said.
Gail Winham, Max's aunt, was a former teacher at PCH. She described him as fun-loving, loyal, and an overall wonderful guy who still keeps in touch with his high school friends.
"He was always very close to Coach Kirby. It was fun because Kirbs and I would talk at school when I was still there and he was there," Winham said.
After Max graduated from Central, he continued his baseball and academic career as a scholar athlete at Mizzou. During his time at Mizzou he learned a lot and continued to get bigger and stronger, so he could get the opportunity to move on to the next level. This year his number 31 was retired from Mizzou, which was a very special moment for him, as there are only three other players who have had their number retired.
"That is something that you don't necessarily think of or dream of and so when they honored me with that. That is something I'll never forget–all of the friendships I made at Mizzou, all of the teammates that I had there. I still have lifelong friends from that team and it's just something that I am incredibly humbled by," Max said.
Max signed with the Washington Nationals in 2015. In the 2019 NLCS, the Nationals knocked the Cardinals out of the running for the World Series. As a St. Louis Native, Max got to compete against his hometown team, but to him, playing the Cardinals is no different than playing any other team.
"It doesn't matter who your opponent is; you're always trying to beat them, so for me it was fun to compete against them. It was fun to beat them," Max Said.
During the regular season, when the Nationals play the Cardinals, Max has fun because he has more time to see friends and family. Max is married with two daughters. With his schedule it sometimes can be a challenge to make family time.
"In the postseason, I mean it's all business. I didn't get to see many people. I'm coming in, locked in, ready to go," Max said.
The Washington Nationals competed against the Houston Astros in the World Series.
"We said that whole year 'hey man, we can compete with anybody' so when we got to the World Series and obviously were facing the best teams from the American League and the Astros. It's their best vs our best. Let's go out there and compete and have fun with it," Max said.
Max pitched in games one (Oct. 22) and seven (Oct. 30) of the World Series and it was a moment that left him nearly at a loss for words. The Nationals won both of these games.
"You can't even describe it. You're so amped up you're so locked in.  There are two trains of thought here you can either try and slow everything down and try and stay within the moment. That just doesn't work for me because I am a high adrenaline-type pitcher and for me I've always wanted to try and match the atmosphere of what's around," Max said.
While pitching these crucial games, Max had to trust his instincts. It was important for him to be aware of what gets him in trouble and what gets him out of big situations, and then finally coming out on the mound and executing those pitches.
Max woke up planning to pitch for game five, but suffered neck spasms. Luckily, the medical team was able to give him a cortisone shot that had helped reduce pain within 24 hours. By the time game six came around, he was feeling good.
"[I] went out and played catch and there it was. I felt normal. I felt like I was able to throw the ball and so I knew, gave it a thumbs up to the team," Max said.
He was prepared to pitch out of the bullpen during game six if the situation arose for him to come in as a reliever.
"Stras went out there and dealt. He had a heck of a game and obviously the rest is history," Max said. The Nationals won game six 7-2. Steven Strasberg, pitcher for the Nationals, pitched 8.1 innings and had seven strikeouts. The Nationals winning game 6, tied up the series 3-3.
Oct. 30, the day of game seven, is a day Max will never forget.
"From the first pitch, to the last pitch to post game celebrations that lasted all night long. It's hard to take one moment away from the World Series because of what it took from our team," Max said.
Max believed the teamwork the team had was essential to their success. If somebody made a mistake another player would step up and did something about it, every game they won Max believed that it what happened.
"And that's what made us so unique and so great, is …how well we played as a team, especially in the most critical moments," Max said.
Even for his parents, life has been exhilarating and exhausting since he won the world series. With all the traveling to Washington D.C, to Houston, and stops in St. Louis.
"All the hard partying got to us. It finally took its toll on us that we can't keep up with the big dogs. We need a few months off," Jan said.
"I've just been smiling ear-to-ear non-stop. Here I am, probably three weeks out, and it still feels just as good," Max said.