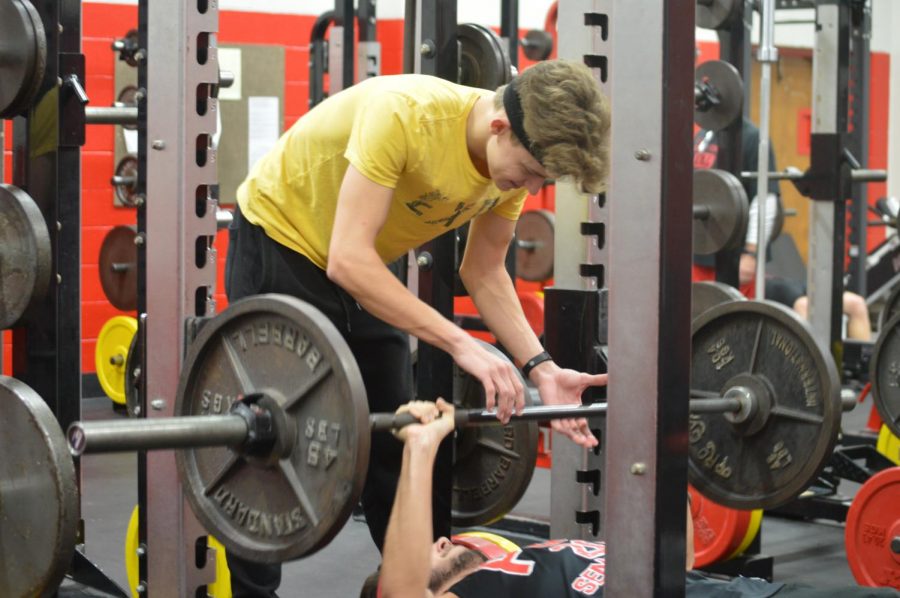 Most college football players have played football their whole lives to prepare for the elite opportunity to play at a high level, but that doesn't stop seniors Matt Mendel and Shamus Landry.
"I decided at the beginning of this semester," senior Matt Mendel said. "Me and Shamus have been training after school as much as possible."
Despite not playing organized football since he was 12 years old, Mendel continues to work toward his new-found-goal of playing college football. Alongside his training partner and good friend, Landry, the duo practice their on-field skills relentlessly on their own, as well as in the weight room.
"We record our 40-yard dash times, our three cone drill, our vertical, and how far we can throw and kick, and we also run routes," Mendel said.
"We try to get in the weight room at least twice a week," Landry said, "but now that it's getting colder, it's going to be a lot more than that."
Landry's side of the story is different. Shamus played football for the first time when he was eight, and after quitting for a short time, also played in middle school up until his sophomore year.
"It was for a local team called the St. Charles Titans," Landry said. "I only played like half of the season, then I played from middle school to sophomore year."
For Mendel and Landry, because they don't play high school football, will have to work a lot harder to gain a guaranteed spot on a college football team. The average Division 1 NCAA football team has a limit of 118 players for each team, and out of those 118, only 85 are allowed to have scholarships. This means there are over 30 walk-on spots for players who aren't offered scholarships. The duo are aware of the difficulty of earning a scholarship through the walk-on process, and they aren't intimidated.
"I'm pretty confident, I've read up on the walk-on process," Landry said, "I know it's really competitive, I know it's really selective."
"As a walk-on it's extremely difficult to make a team," Mendel said, "I don't expect to make the team the first or second year, since I'd be trying out against guys that are five years older than me."
Since they are behind the pack in terms of exposure to college coaches, without playing in high school football games, the two must take different routes to get noticed. Both fill out recruiting questionnaires on college websites, and both have created accounts with NCSA, an online service that helps to educate aspiring college athletes on the recruiting process and helps to connect those players with college coaches. The website allows players to post highlight and training videos, game film, as well as upload transcripts and standardized test scores.
"I've signed up for NCSA, just set up a profile," Mendel said, "I post videos on there and that's about all I can do since I don't have a lot of experience."
"I also have NCSA," Landry said, "I occasionally post videos on there doing routes and things like that, so with NCSA you have a profile, it gives you contacts, it gives me updates about camps around me, so that's my main way of doing things."
While the odds are certainly not in their favor, their goal is attainable. NFL superstars Antonio Brown and JJ Watt both earned spots on their college teams as walk-ons, and those are just two of the countless players that have worked their way from walk-ons to the NFL. So, while the odds are stacked against them, the duo is unphased, and will continue to work hard toward their ambitious goal.