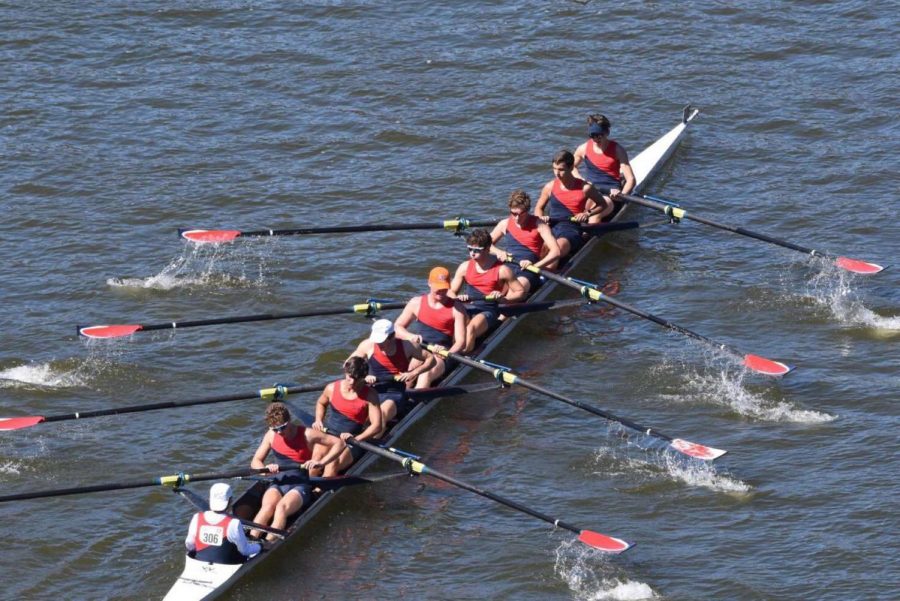 Photo courtesy of Michael Pfau.
When thinking of a high school sport to play, people probably think of common sports such as baseball, soccer, basketball, football, and other typical sports. However, while Parkway Central doesn't offer some sports, they are always options through other groups or schools especially if someone is wanting to become involved with a new sport. For example, a very popular sport that a lots of boys and girls have been recently becoming involved in is rowing.
This was the case for freshman Rachel Harris. While Harris wasn't expecting to join rowing when coming to highschool for her first year, it became a sport she is very involved in. When a few rowing coaches from STL Rowing Club came to Parkway Central in August, it drew Harris' attention and she decided she wanted to try the sport out.
Beginning rowing was a similar process for junior Michael Pfau. After playing baseball for years, Pfau didn't feel like continuing the sport any longer. When the head coaches came to visit the school it also caught he attention so he decided to give it a shot.
Both Pfau and Harris started rowing at the age of 14 after the head rowing coach visited the school during physical education class. While neither of them knew what to expect when joining the sport, they grew to really enjoy participating in it, even if it has taken a lot of work along the way.
"This is the hardest sport that I've ever done in my life, yet it's the sport that I've been the most passionate in," Harris said. "In this sport hard work and consistent work pays off in teh end because that feeling of going fast and passing that finish line with your boat and team, it feels so good."
Rowing practice events change based on the time of year and the weather outside. To get ready for the spring season, they doing rowing machines indoors and core workouts for a few months. They start practicing on the water in early spring. This is the case because the wind speed has to go down and temperature goes up so they can get the boats out to practice strokes and drills on Creove Coeur Lake. According to Pfau, they practice six days a week from four to six p.m.
They practice for months to lead up to regattas. These are races/rowing events where there are many different events that they could be involved in. Different events include different styles, types, and how many people you are competing with.
"There are multiple events that our coaches put us in based on our skillset and strength level," Harris said. "The events really just depend on how good you are at the sport and how much effort you put into it."
Both Harris and Pfau compete in boats of eights and fours. There are also different groups that compete including first varsity boat or third varsity boat. These regatta events are out of town and they ride a bus to reach the races.
Rowing has many positives that go along with competing. Similar to other sports, it is a good way to meet new people especially from other schools since Parkway Central does not have a team, although many students from PCH participate in the sport.
"My favorite part of the sport is probably competing or the friends you make," Pfau said.
While rowing can be a lot of fun and a great place to meet new people, it takes a lot of hard work to be successful. It takes a lot of training and practice to compete at a higher level. To compete well it takes a lot of hardwork from yourself but also good teamwork because it is not an individual sport.
"Workouts may not be hard but it can get into your head a little bit because your body might be saying to give up and stop because it hurts, but you can't because you need to get through the workout successfully with good times," Harris said.
There are struggles with any sport to be your best and have real success. Rowing may be difficult in the moment of a hard workout but there are people around you to help you along with your success.
"People on the team are like the second family to me because they help me get through a workout, they help me when I'm hurt, and they help wheh I doubt myself," Harris said. "We help each other throughout hard times and when we feel that we're basically going to die but we all love each other and share laughs."
People may not know a lot about how the sport works but you can find more information through students involved with rowing or by looking up the STL Rowing Club. The rowing head coaches come every August to give more information about the sport if you are interested in possibly joining.
"To people who may start rowing, I say go for it because it's a very addicting sport and has tons of positive to it," said Pfau. "We are actively recruiting throughout the year so give it a shot."