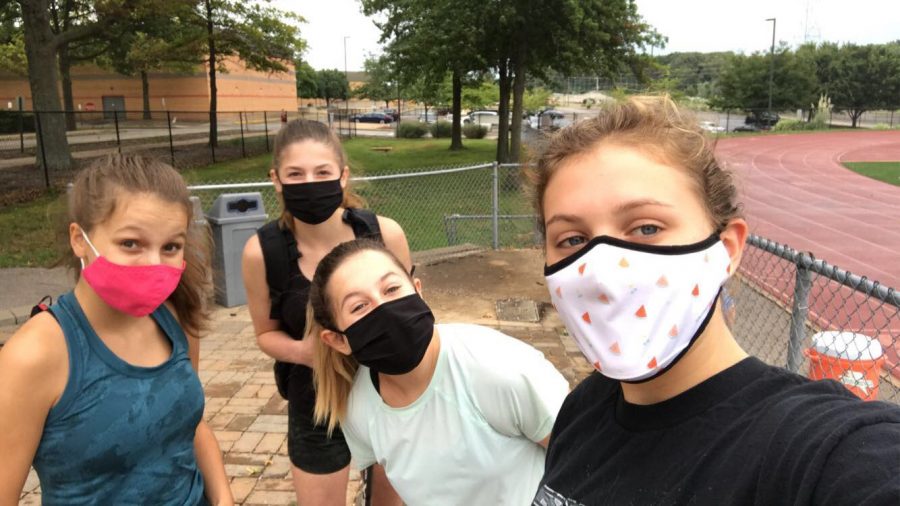 Brie Williams
It's pretty clear that the world is facing a pandemic right now, and because of this we have had to spend more time by ourselves, especially over the past couple of months. It can be easy to get bored and wish that you could just see your friends or go to a party. But your self isolation period doesn't have to be as boring as you think. Here is a list of things to do to pass the time during the pandemic.
Color
I know it sounds childish, but this could be a great way to calm your nerves and pass time. Turn on your favorite playlist, break out a preferred coloring utensil, and print some of your favorite coloring sheets. You could even visit crayola.com and print some from there. Another option is to try paint by number, or adult coloring books. There are also some great maker options to make coloring easier and more fun.
        2. Practice a New or Old Skill
Whether it's breaking out the roller blades you haven't seen in three years, trying a new makeup look, or shooting a basketball; there is always something to practice. This period of self isolation is a great opportunity to learn and try all of the things you always said you would, or even things you never knew you wanted to do. Latimes.com wrote a list of some new hobbies, activities, and skills to try. 
         3. "Glow Up"
According to wiktionary.com "glow up" is defined as "A major and impressive transformation in appearance, talent, power, etc." Quarantine is the perfect opportunity to achieve this. Some things you could try to achieve your perfect "glow up" are switching up your skin care routine, dying or cutting your hair, drinking more water, eating healthy, getting your ears pierced, changing your style, etc. 
"I went out of my comfort zone and started finding a new style and online shopping more. I kept those hobbies because I also want to show people my new and improved style," freshman Olivia Rogers said.
Switching up your lifestyle will definitely make the repeated routine of staying home everyday a little more exciting. Watching SkinCareByHyram is a great way to pass time and learn how to "glow up" and take care of yourself. 
            4. Workout
Working out is a fantastic way to look and feel better. It helps reduce stress, get your body in shape, and it makes you feel more confident in yourself. Cnet.com wrote an article on how to work out at home, it gives you ideas of what sources to use and equipment to consider purchasing. There are also hundreds of short workout videos to check out on YouTube. Another option is to play a sport if your parents will let you. Parkway Central is currently doing football, softball, swim, field hockey, tennis, etc. It's very important to incorporate working out into our everyday lives, especially when we have less moving around and walking to do. 
             5. Organize
Lately everyone has been spending so much time at home that it's important to make your home as clean and comfortable as possible. One way to do this is to organize it. This could mean cleaning out your junk drawer, going through old clothes, rearranging your room, or even cleaning out your bathroom. Senior, Makayla Morton, spoke about what she has been up to during the quarantine.
 "A weird thing I did was organize my bookshelf into rainbow color order." Morton said. 
Even though these small activities seem insignificant they can boost your mood and pass a lot of time.
           6. Watch Movies
This one is pretty self explanatory. With all of this time to sit at home and forget what it feels like to go to the store without wearing a mask, it should be spent wisely. So use this time to see that movie you never watched because you went out with friends instead. From Netflix, to Hulu, to Disney +; there is bound to be a movie out there for you. Try checking out Trey Williams' article on pchcorral.com about 2019's best pictures for some recommendations. 
            7. Meet with Friends (Safely)
Of course it's nearly impossible to stay away from your friends, whether there is a pandemic or not. Some students like Rogers are allowed to hangout with friends.
"Usually we go to each other's houses and we do stuff at home," Rogers said.. 
Other students such as Morton can only see one person during the pandemic.
 "Only Trey [my boyfriend] and [we go to] either of our houses or parks," she said. 
It all depends on the household, however a socially distant outdoor activity every once in a while may help you better cope with the social isolation we have been experiencing the last couple of months. If you have a license and access to a car you could meet up in a parking lot with friends and hangout in the back of your trunks. If you can't drive yourself, a parent or sibling could drop you off at a park to hangout with friends. There are many opportunities to see your friends and hangout as long as you keep your distance. Maybe even take advantage of the warm weather and try to get outside together. Vice.com has more than enough suggestions on other things to do with your friends during quarantine.
Overall, there are so many more things you can do during this strange time period. It might be hard dealing with a new kind of loneliness or boredom, but you can also take this time to work on yourself and figure out what you love to do outside of school in person and hanging out with friends everyday. Just try to remember, if you're desperate to talk to another human, you can always talk through the phone or six feet apart.