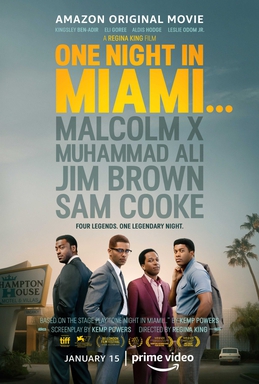 "One Night in Miami", directed by Regina King, stars Kingsley Ben-Adir as Civil Rights activist Malcolm X, Eli Goree as the greatest boxer of all time Cassius Clay, Aldis Hodge as one of the greatest football players of all time Jim Brown, and Leslie Odom Jr. as one of the most influential soul artists of all time, Sam Cooke. This movie mostly takes place in a hotel room where these four men discuss many things, mostly having to do with the Civil Rights movement and what each man is doing to contribute.
This is a great movie. The best aspect of this movie is the acting. Every single actor knocks it out of the park here. This film does a great job exploring these famous people and why they do what they do. Kingsley Ben-Adir in particular is incredible as Malcolm X. He displays so much emotional range throughout the movie. Ben-Adir has a bright future ahead of him, considering that this is one of his first staring roles. Leslie Odom Jr. of Hamilton fame also completely kills it. A lot of the conflict throughout the film has to do with how differently these two in particular view the movement. There are some incredible scenes of back and fourth between these two men. Both Hodge and Goree are amazing too.
The dialogue in this movie is so good. Whereas in "The Trial of the Chicago 7" there were some very "Hollywood" moments, this film is able to be interesting and entertaining without obviously sounding like a movie. When the film really gets going, I could not get enough of these conversations.
This film also does a great job at showing how each character interacts when they are alone with another character. For example, when Sam Cooke and Cassius Clay are alone, we hear a very different side to Cooke than when he is in the group.
There is also a lot of creativity to both the music and the camerawork. The score by Terence Blanchard is fantastic. His sparse piano pieces really add to this movie's aesthetic. I also appreciate how the songs of this movie come from the events of the movie, creating an even more immersive experience. The camerawork is creative as well, especially considering a lot of this movie takes place in a hotel room.
My biggest problem with this movie is the pacing. While I appreciate this movie giving context to each person's life before the night in question begins, the beginning is still a little slow. My favorite part of this movie is seeing these characters interact, but it takes a little bit to get to that point. It takes a few minutes to get the ball rolling, but this movie really picks up when we get to the hotel room.
This movie is filled with fantastic performances, smart dialogue, and creative decisions. Even with the slow start, this movie left a heavy emotional impact by the time the credits rolled. If you are interested in a dialogue-heavy film with fantastic performances and social commentary, don't miss out on "One Night in Miami".
Rating: 4/5