"Minari" is a Beautiful Examination of The American Dream
In preparation for the Academy Awards on April 25th, the Corral will be reviewing every potential Best Picture nomination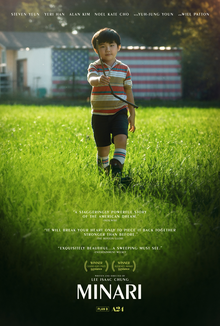 "Minari", directed by Lee Issac Chung, stars Steven Yeun, Han Ye-ri, Youn Yuh-jung, Alan Kim, and Noel Kate Cho as a Korean family moving from California to Arkansas to start a farm in the 1980s. The film is about the family's successes and struggles on their journey towards the American Dream.
I love this movie. I am so impressed with how this film balanced comfort with conflict. This manages to be both a heartwarming movie about family while being a realistic story about economic hardship, immigration, and faith. This film is bursting at the seams with heart in every aspect possible.
This film made me care so much about this family. The performances here are stellar across the board. The father, played by Steven Yeun, does such a fantastic job portraying a struggling but stoic father. My two favorite characters here are easily the grandmother, played by Youn Yuh-jung, and the boy, played by Alan Kim. The boy meets his grandmother for the first time here, and seeing their relationship develop throughout the film warms my heart just thinking about it. This movie could not have felt as warm and lively without these performances.
What really sets "Minari" apart is its presentation. This movie looks and sounds so gorgeous. The score is immaculate. The songs all have a distinct, warm vibe to them. It sounds like stepping outside to the first day of spring. The music combined with stunning camera work made this movie so interesting to watch during passages of little to no dialogue. There are some shots and music combinations I can still vividly imagine. I really hope this movie gets a nomination for both score and cinematography.
After watching the end of the film I felt conflicted. The story did not go in the direction I was expecting, but the more I think about it the more I appreciate how this film subverts expectations. If I had to make a critique, I feel like the themes of this movie could have more satisfyingly been constructed together. I could be missing something though, so take my reservations with a grain of salt.
There's a lot to love about this movie. It is funny, heartwarming, shocking, stressful, and everything in-between. I highly recommend this one to everyone.
Rating: 4.5/5