"Ma Rainey's Black Bottom": Boseman Needs an Oscar
In preparation for the Academy Awards on April 25th, the Corral will be reviewing every potential Best Picture nomination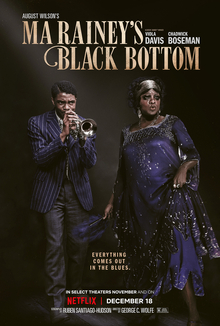 "Ma Rainey's Black Bottom", directed by George C. Wolfe, is an adaptation of an August Wilson play about a turbulent 1920's blues recording session. The film stars Chadwick Boseman as gifted yet difficult to work with trumpet player Levee, and Viola Davis as a fictionalized version of the Mother of Blues, Ma Rainey.
Before watching, I had heard a lot of hype about Chadwick Boseman's performance. Even with high expectations, I was blown away. Levee is a flawed, complex character, and I can't imagine a performance better than Chadwick's. There are two very different sides to this character, and both of them are executed perfectly. Boseman radiates hurt and pain so convincingly. He also does such a great job being smooth and charismatic. He also completely nails the voice, even when he's going all out with emotion. There are more than a few monologues here from him that are utterly captivating, especially when he talks about his past. I really hope he wins Best Actor. There is not a moment of imperfection from him.
Viola Davis as Ma Rainey also completely killed it. She portrays someone with a big personality extremely well. I think she also brings a lot of nuance to the character, in particular in one of the final shots of the movie. Everyone else did a great job as well.
I enjoyed the film, but my grievances can be summed up by one question: why is this a movie? I am super happy that August Wilson's plays, including Fences, are becoming more well-known as a result of making his plays into movies, but my problem is that there is nothing about this movie that a play would not have accomplished. This is a great play, but stuff like camerawork and editing were largely underutilized. This movie has great performances and a thoughtful script, but there is so much lost potential here. After watching this movie, I think I would have rather seen a recording of the actual play with these actors in their roles.
That being said, I am still glad this movie exists because it exposed me to a story I likely wouldn't have seen otherwise. I just wish there was more here as a film. Regardless, this movie is worth the price of admission for Chadwick's performance alone. If you want a great story with incredible acting, check this one out.
Rating: 3.5/5