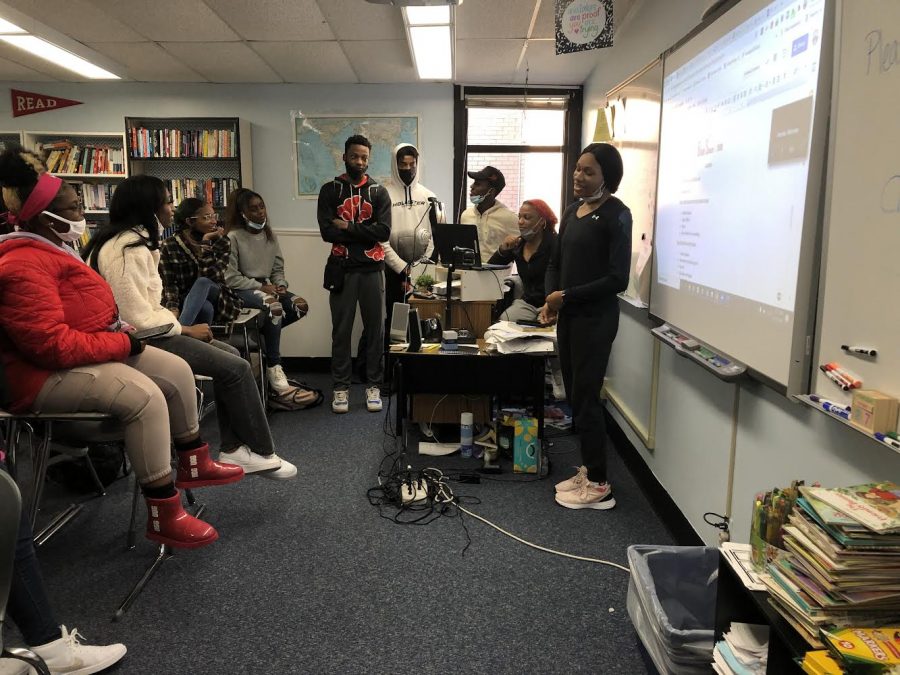 Photo Provided By Peyton Silas
BSU is a new club at Parkway Central, but is a well known club with chapters around the country. BSU (Black Student Union) is formed by seniors Nnenna Okpara and Kayelyn Tate with help from Peyton Silas. Their goal is to create reform, awareness, and community amongst all the racial issues occurring at PCH.
They have tried to get the club approved before now, but Silas believes that "it was dismissed because it wasn't a 'priority' for the school," Silas said.
These three seniors are very excited to have BSU added to this year's club list. The club is sponsored by Dr. Metropoulos and is a safe space for African-Americans and other minorities to get to know one another and impact the community in and out of PCH.
This club allows voices to be heard that normally wouldn't and allows students to advocate for the black community in any way needed, "after so many years of being torn down or not feeling like there is a strong Black culture at our school we need people to understand that we need to heal but we also need a safe space to be ourselves with no judgment," Okpara said.
BSU wants anything and everything to be brought to light. If there is an issue regarding the Black community BSU will not only talk about it but will bring the rest of the communities' attention to it. They aim to make BSU one big family, where anyone can come to anyone else in the club for support and no judgment. BSU doesn't want to just be another club. They want to make an impact on the community and change life for the Black students at PCH.
Silas is hoping that BSU brings an end to racial incidents at PCH. "We've (c/o '22) had an incident every year since freshman year. The organization is going to make the school a better place and hopefully have more students of color feeling safer," said Silas.
BSU did not simply form as a result of the ongoing incidents, but that was a factor. But the ultimate goal of BSU is not to just address the issue, but implement change and safety. The club is not just confined to one room, and wants to implement change and reform to our school and community. BSU wants the community to be aware of their efforts, and wants to work with the community to make reforms. But most importantly BSU wants people to work with them, not side by side.
Okpara thinks that the more people who know about it, the more effective BSU will be. "I feel like there can be a larger amount of students involved. I think the first step is to understand what Black Student Union is because I know a lot of people don't," Okpara said. Their efforts to create community and change are not easy.
"Becoming aware of racial and social issues in your everyday community is beneficial. It's going to be uncomfortable in the beginning, but you have to learn about it to be better equipped to tackle them," Silas said.
The members that they will have to work hard to push for changes to be made, but that's why they formed the club. The efforts of BSU are not made to stay within the club, they want to extend their resources and community to the whole school.
"BSU will help to build a stronger community here at PCH. Just getting to know one another is a major factor and having the support from one another is beneficial to our success," Okpara said.
Although these seniors will only get to oversee BSU for one year they hope their efforts will continue for many years to come. The seniors voiced how they want the club to continue even after they graduate.
"I want BSU to continue after I, and the other seniors, leave because the issues at PCH won't leave after we leave. The organization is going to make the school a better place and hopefully have more students of color feeling safer. We want them to be able to speak up about what is affecting them, so they know that something will get done," Silas said.
The seniors hope that their efforts will make a change to this community for good.
"This is something that students before me needed and honestly it's something that we will continue to need to ensure that black students as well as other minorities are represented, making sure they have a safe and judgment free environment and allowing us to positively impact our community together," Okpara said