Spur, Corral win national awards
Archer, Mogley win in Design of the Year and Yearbook in Best of Show announced at the Fall National High School Journalism Convention in Dallas, TX.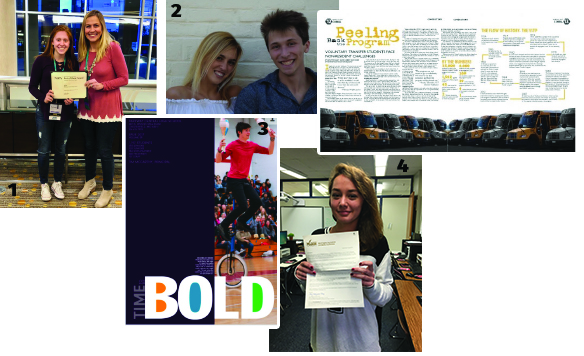 ​1. Freshman Sydney Kolker and new PCH journalism adviser Christine Stricker attended the National High School Journalism Conference in Dallas, TX, Nov. 15-18 and accepted awards on behalf of the Spur yearbook and Corral newspaper.
2. Libby Archer and 2017 grad Evan Mogley who won Honorable Mention for Newspaper Design, given by the National Scholastic Press Association in Dallas on Nov. 18.  Earlier in the semester, their design was designated a "finalist." Only a small percentage of the hundreds of entries are named finalists, and even fewer actually win an award.  Their spread, "Peeling Back the Program," ran in the March 2017 issue of the Parkway Central High School newspaper, Corral.
3. The 2016-17 Spur Yearbook staff who won 10th Place in Best of Show at the National High School Journalism Convention in Dallas, TX on Nov. 18. The Spur was chosen from hundreds of entries to receive this award.  The 2016-17 yearbook editorial staff included Karis Kim, Jordyn Tobias, Kyra Tarlas, Paige Wallis, Evan Mogley, Devon Ware, and Anthony Zuanich. Junior Dorothy Davis was a reporter. The 2016-17 Spur was advised by Tara Stepanek. 
4. Junior Maddie Lee who was selected to attend the Washington Journalism and Media Conference as the Missouri representative.  This honor is bestowed upon a small number of students throughout the country.