A series of unfortunate events
Hang on for a minute...we're trying to find some more stories you might like.
Senior's bumper falls off, gets pulled over and gets her car stolen all in one week.
Senior Ashley Fogarty began her series of unfortunate events while driving home from school and realizing that her bumper was dragging on the ground.
"The second after, I look up and see that I am being pulled over," Fogarty said.
She knew why she was being pulled over, because she had forgotten to renew her tags for her car, so this was bound to happen eventually.
"Then he asked for my license and registration and I realized that I left my license at home," Fogarty said.
She luckily was granted with warnings for all of her infractions which she was surprised about, but the luck ended there.
Fogarty usually leaves her keys in her car. " I don't want to lose them because it's one key so I leave it in the cup holder," she said.
She assumed that no one would try to get in her car because she didn't keep much in there and the car was old and busted.
She woke up the next morning at 6:20, which was the earliest she has woken up all year. Her more expensive make-up was in the back of her car because she hadn't worn makeup since Halloween, the week before. She went out to get her make-up from her car when she found out.
"I open the front door and my car is just not there," Fogarty said.
Her first thought was that she must have parked it somewhere else, but then she distinctly remembered parking behind her sister the night before.
"My car is stolen," she said.
After, she went inside to tell her mother, who immediately asked if Fogarty had left her key in the cup holder. Fogarty told the truth to her mother and her mother started "freaking out".
"I tell my mom and she said, "who would want to steal your car,"' Fogarty said.
Next she had to tell her father, who was more intimidating.
"I told him that it was stolen and that I left my keys in the car and he just said "don't talk to me,"' Fogarty said.
Her mother called the police and asked Fogarty to wait there till they arrived. She had a marketing presentation that morning which representatives from Monsanto were attending.
"I didn't hear anything for one full day after my mom filed the police report," Fogarty said.
Two days later, Fogarty found her dog barking at the door and when her mother went and looked. Sitting on the front doorstep was the missing bag, containing all of her make-up.
"Someone had just dropped it off on the front porch," Fogarty said.
Three days after her car was stolen, the police called the Fogartys and told them that their car was found in University City and had been totaled.
The police have still not found Fogarty's school bag nor any identifiers on who could have committed the crime.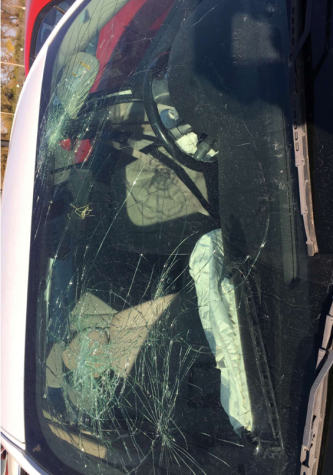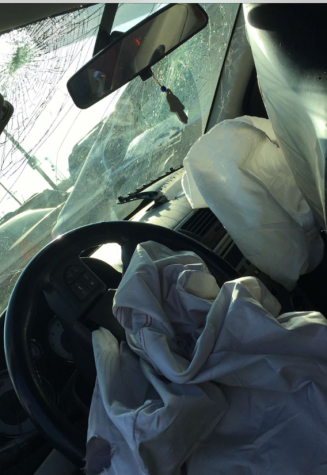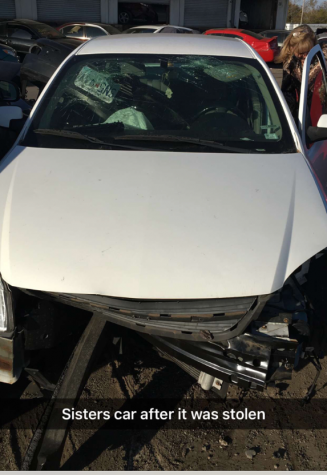 Fogarty's destroyed car after the police recovered it in University City. St. Louis police believe that the car was stolen then crashed and the driver ran away from the scene of the crime. Possible suspects have been found but none have been convicted yet.