Students Take Action Against Gun Violence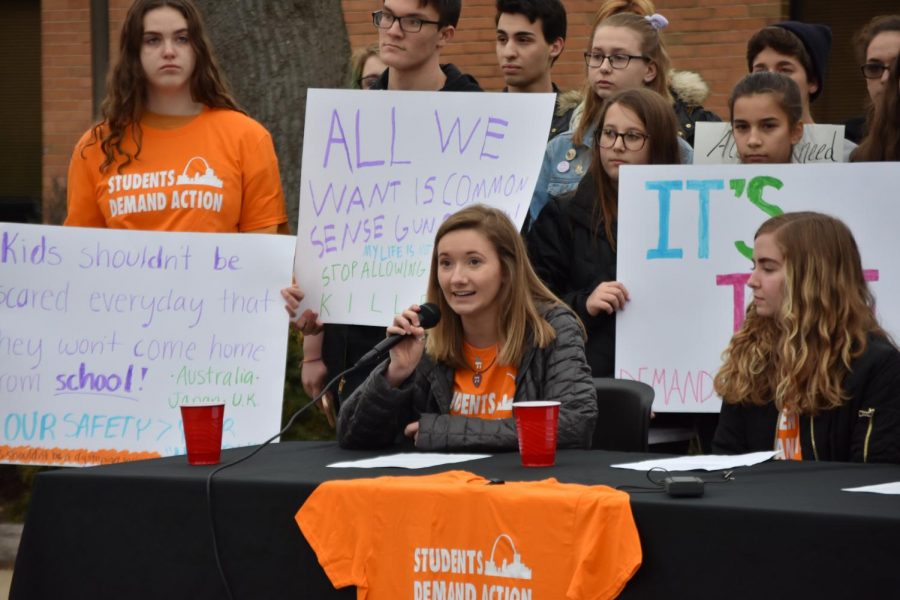 Andrew Richardet
April 6, 2018
On Valentine's day in Parkland, Florida, 17 students were shot and killed due by  19-year-old Nikolas Cruz with an legally bought AR-15. This tragedy sent shockwaves across the nation and refueled the fight against gun violence.
In protest of the continued school shootings in America, Parkway Central High School seniors; Zoe Rosenberg and Hannah Mauer organized a press conference in front of the school.
"Today we join our voices with the victims and their call to action. It is no longer just enough to remember the victims. Today we demand respect for the victims through policy change, and if need be, leadership change," Rosenberg said during her speech at the conference.
This press conference is not an individual event, and will not be the last time you hear of anti-gun violence from Central Students. In fact, this protest was an event led by Rosenberg's Colts Demand Action Club in the school. Rosenberg believes that anyone can join their club in order order to support common sense gun laws.
"This is a club for everybody, if you own guns and shoot them, then you can still support anti-gun violence,"
"Young people, we have a voice, we have one of the strongest voices," Rosenberg when being interviewed several days after the press conference.
The Colts Demand Action Club is a non partisan group of Parkway Central which believes in common sense gun laws. During the conference, the Moms Demand Action organization also showed up to support the common sense gun violence rally. In response to these recent troubles companies and corporations have begun to take their own action against gun violence by limiting its reach. One such example of this is Dick's Sporting Goods CEO, Edward W. Stack.
"It would no longer sell high-capacity magazines and no longer sell guns to customers under age 21," Stack said about his changes, and followed up with:
"'We implore our elected officials to enact common sense gun reform and pass the following regulations,'" Stack said and listed off a number of changes.
Despite much of the uproar, the national government has not passed anything in response to the recent school shootings.
"In 2013, nearly 300 school shootings have occured in America, how many before our elected officials pass common sense laws to prevent gun violence" Mauer said during her speech at the rally.