Girls Volleyball: Digging Deep
After losing to Parkway West in districts last year, volleyball was hungry to get back to the court and start winning some games. To get a chance, however, they would have to play to the best of their ability and fight for every victory.
It was going to be a grind all year long.
"We knew our schedule was going to be really tough, and there was also a district realignment," Head Coach Tom Schaefer said. "We want to play at a really high level and challenge the teams in the top ten." The girls evidently took this sentiment to heart, winning three out of their first four games, with one being a tie. Even with a good start, a good work ethic is very important so they stay hungry, and do not relax.
"We get a lot of work done at our practices, we practice six times a week and condition 2-3 times a week," junior libero Katelyn Matzdorf said."We are expected to work hard every day at practice." Their training and work ethic contributed to their 15 victories this season. They also had some hard-fought losses against some of the top teams in the area, like Summit, Mehlville, Webster Groves, and Northwest.
"We were close with some of the top teams all year, even splitting 1-1 with a couple of them," Schaefer said. "We did not break through as much as I would have liked, but it was always close." The Varsity team split the season series against Timberland, Christian O'Fallon, and Lutheran Southern. Schaefer was not alone in his enjoyment of high-level games, with players also enjoying the fierce competition. *Clinched state berth
"I really enjoyed the tournament at Rockwood Summit. There was really good competition and we were all playing well together," junior outside hitter Lana Cristiani said. Matzdorf also enjoyed the tournament at Summit. "One of our best games was against Northwest at Summit, we were all excited after every point," Matzdorf said. "I feel like when we play good teams, it makes us play better as a team because we have a common goal to win."  Teamwork goes hand in hand with another important factor of a team sport, chemistry.
"Chemistry and team bonding is a very important part of volleyball because in volleyball you have to be good teammates," Matzdorf said. "You rely on other people tremendously and have to trust that they have your back." The team showed great aspects of chemistry in their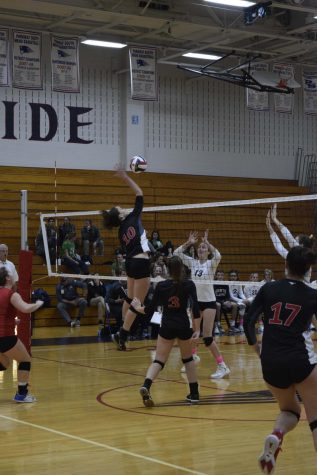 many team plays. However, it sadly did not all come to fruition in the end during the district tournament.
"I can say with confidence that we did our best but lost to Lafayette," said Senior Julia Hendricks. Playing as a middle for the team she led in total blocks throughout the season with 42 total blocks, helping the Colts to a 15-13-4 record this season.
"They played really well down the stretch," Schaefer said. "The girls showed great teamwork and play to come from behind against Parkway South. They pulled out a come from behind win against South before their season ending at the hands of Lafayette.