School publications travel to Chicago for convention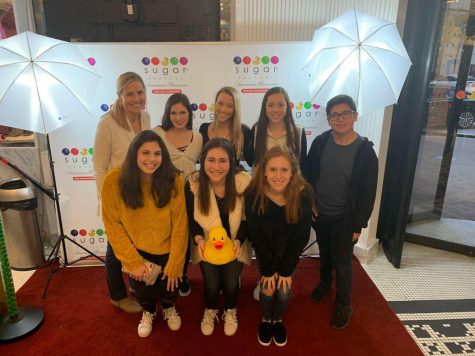 Some publication students attended The National Scholastic Press Association and Journalism Education Association (NSPA/JEA) in Chicago Nov. 1-4.
Thousands of students attend this conference every year to learn about all aspects of journalism, media, and communications. This includes breakout sessions, contests, lectures professionals in the field, and even tours of local sites. The 2018 Chicago convention was the second-largest convention in history, with 6,360 students attending. The large number of student journalists attending might surprise some, like sophomore Sydney Stahlschmidt who sees the state of journalism at risk.
"I think it's important because I think journalism in society is dying down." Stahlschmidt said. "It's cool to see other ways to incorporate journalism not just in the newspaper."
Stahlschmidt is the Online Features Editor for the Corral and competed in the features category.
"I'm really excited to just hear the different speakers," sophomore Abby Prywitch said.
Prywitch is the Social Media Director of the Corral and participated in the news writing contest. In the contest, you are given information and have a certain amount of time to write an article with a word limit.
"I've never done a contest like that so I'm a little nervous," Prywitch said. "The certain amount of words and time limit are what I'm worried about."
In addition to individual contests, there is a Best of Show contest as well. Each school submits an issue from the newspaper and yearbook from last year and attend an award show.
These students had the opportunity to learn more about journalism in a different setting.
"I think it's important because here [PCH] you're limited to other experiences," sophomore Sydney Kolker said. "It's a good opportunity to get to know other people that have the same interests as you."
Kolker is one of the yearbook editors at PCH. She participated in the yearbook copy and caption for sports contest. This entailed using information to create a story with captions. Kolker has attended another journalism convention last year in Dallas.
"I learned about things I've never heard about before," Kolker said.
Sophomore Daniel Williams is involved in broadcast at PCH and participated in the Writing contest specifically for broadcasting.
"I'm looking forward to going to Chicago, exploring new things," Williams said. "It's one of my favorite cities."
When students could have taken media or college tours, the group who went decided to shop and see sights instead.
"I think they'll go to sessions that will open their ideas and follow their intuition," Publications advisor Christine Stricker said. "I hope they come home with one thing that can implement in their lives."
Sophomore Ellie Mueller competed in the broadcast anchor contest. "I want to do broadcasting when I'm older," Mueller said.
According to Stricker, the "big draw for the convention is Pete Souza." Souza is a photographer who followed former President Barack Obama during his presidency.
"I was really excited," Stricker said. "However we are in the overflow seating and in essence we get to watch him only on TV. But it was amazing to hear him describe the behind the scenes of the pictures he took of the Obamas in the White House. I cried twice during the presentation because the pictures were so touching."
Stricker was a moderator and judge for a broadcast contest in which no students from PCH were competing in.
The combination of the city of Chicago and publications excited many of the students that attended the convention.
"It's combining yearbook and Chicago which both are really fun," sophomore Melanie Gubernik said.
Gubernik is one of the editors of the yearbook. She competed in the Student Life Contest. This year, she won Honorable mention. She was given information and pictures and had to come up with captions, headlines, and basically create a spread.
"I go to Chicago every year and it'll be fun to go with my friends," Stahlschmidt said. "I have friends at West in publications so it'll be fun to see them there."
Junior Morgan Kinran participates in broadcast and yearbook. Kinran participated in the Video Editing Contest in which she had to put multiple video clips in order to create a finished product.
"I'm excited to see Chicago because I've never been to Chicago before," Kinran said.
Stricker has attended to journalism conventions in St. Louis, Kansas City, dallas, Washington DC, and Chicago. These conventions occur twice each school year. In the fall of next year the journalism convention will be in D.C. and spring will be in Nashville.
"I'm really looking forward to taking students to Washington D.C.," Stricker said. "It's the center of our democratic system and also of press freedom."