Swimmers will miss Meyer's legacy, but excited for a season with Seidel
Girls swim team has a new head coach, Coach Stephanie Seidel. Former Head Coach Jennifer Meyer took a step back from coaching to spend more time with her daughter who was born in January.
"It was a really hard decision for me to make because coaching has been a very important part of my life for the past 14 years," former Head Coach Jennifer Meyer said.
Meyer has coached at Parkway Central for 11 years and three years prior.
"Meyer was a hard coach and she really pushed us at times," Tiffany Huang said. "But I think in the end she really built up my confidence as a swimmer and student."
Now Head Coach Seidel takes the lead.
Seidel has a lot of experience as an athlete and a coach. Seidel started her coaching career in Springfield nine years ago. She continued coaching in Parkway and also through summer leagues. She was an assistant coach at Parkway Central for four years prior to becoming head coach.
The assistant coach this year is science teacher Nicole Duncan.
Seidel has many goals this season and looks forward working with the athletes.
"Through dedication, commitment and the training that we have in place this year, Coach Duncan and I are looking forward to embracing each swimmer/diver as they overcome their own challenges with individual and team success," Seidel said.
Coach Seidel is keeping the program mostly the same. This year the girls are doing more resistance training in the water, including parachutes, weights and shoes while swimming, with some dry land training during practice.
"This concept of training will be beneficial for building strength, stamina, and perseverance in our team," Seidel said.
On Wednesdays, the team has "Wacky Wednesday" which means they do different type of training.
"Last week was our first time doing it and we had to swim with tennis shoes and parachutes to increase resistance," senior Ariel Berwald said.
Meyer encouraged Berwald to join the swim team. Berwald swims mainly freestyle events.
"Having not participated in club swimming much, my technique needed a lot of work and Meyer was always very helpful," Berwald said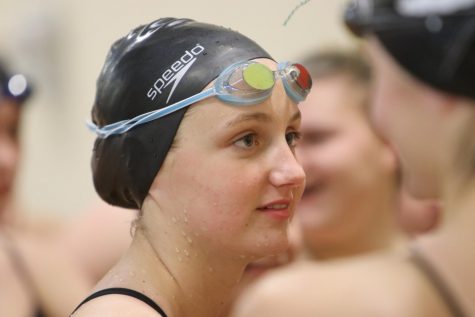 This upcoming season the girls swim will be taking place in a new conference. According to Huang, Marquette, Lafayette, and Parkway South's swim team will challenge them this season.
"We will have some tough meets ahead with great competition, that will force our girls to step up and swim their best," Seidel said.
Practice starts off with a set warm up and after they usually have two sets, and a cool down. Sometimes practice ends by working on kicks/starts/finishes/turns/etc. Depending on the day, they alternate between distance days, sprint and IM days.
Huang is one of the two senior captains along with Becca Waxberg. Huang's main stroke is freestyle, but she also alternates between backstroke and butterfly.
"Sadly, we lost a lot of amazing members last year," Huang said. "But so far I've seen a lot of potential with the newcomers."
The girls swim team has high standards for the upcoming season.
"I'm definitely feeling pressure because I have big goals and it's my last season," Waxberg said. "But I know it'll be great."
Waxberg is most excited to see the team drop time, especially the seniors.
"Everyone has seriously improved since freshman year," Waxberg said. From freshman year, Waxberg has dropped 33 seconds, and 25 of them came from the her freshman season.
Meyer has always cheered and helped athletes with dry land and with practices.
"I think Coach Meyer left a really big impression of the way certain things should be done, with confidence and a lot of hard work," Waxberg said. "I think Coach Seidel intends to carry that on."
The swimmers have morning practices before school two days a week.
"They're short," Waxberg said. "But usually that means they're a lot harder."
They also practice for two hours after school four days a week, and Saturday mornings.
"I will remember how encouraging Coach Meyer was," junior Morgan Shea said. "And how she always pushed us to become the best we could."
Meyer in the future would like to return to coaching once her daughter gets older.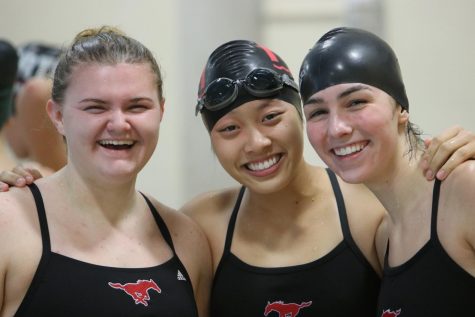 "I enjoyed working with young women and teaching them to be confident, hard-working leaders," Meyer said.