Bird box movie review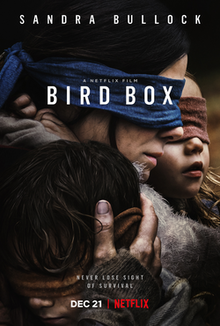 Hang on for a minute...we're trying to find some more stories you might like.
If I have a choice, I'll choose rom-com, dramas, or action before a horror flick. When Bird box first came out, I was scared to watch it. When I first saw trailers for the movie, they did what all other movies did: Made it look more scary and action packed than it actually is in the movie. Before watching it I got all different types of reviews from my friends, some said scary and some not. Finally, after realizing my mom watched it, I decided to give it a try.
I will admit, the movie was a bit confusing because it kept going back and fourth time periods with the same main character Sandra Bullock, who played Mallory Hayes. Mallory and her children embark on a dangerous journey through the woods and down a river to find the one place that may offer sanctuary. She was Also I liked how they included the two young kids Boy, Julian Edwards and Girl, Vivian Lyra Blair. They were some of the main roles and using the young ages really helps tell the story and I thought the little girl was so adorable. Bird box itself is actually based on a novel by Josh Malerman.
The ending of the movie was definitely not my favorite because it was easy to guess how it would end. I didn't understand why this movie was rated R and I think it would have easily been rated PG-13. I think this way because there wasn't much cussing and the violence you can see coming.
According to Google users it says 88% liked this movie. Some people even believed the memes after the movie came out were more entertaining then the movie itself but I enjoyed the movie, probably because it is under the category drama and thriller. Also there has been the bird box challenge come out since the movie has been released. Basically, it is a challenge to blindfold yourself and either walk around or do a task without being able to see. After many people got in serious accidents over this, Netflix and the local police department warned people against doing the challenge.