Singing our Stresses Away
How choir helps establish friends, fun, and All That Jazz
Contrary to the name, high school isn't just about school. Along with academic opportunities, there are a plethora of other activities you can take part in. You can join a sport, debate, academic challenge, GSA, the list is endless. Among this list is music: band, orchestra, piano, guitar, music theory, and my favorite, choir.
Our choir program is split into five separate choirs. Chorale is the freshmen choir, followed by Chamber Choir for sophomores, and finally concluding with Concert Choir, mixing juniors and seniors. These three choirs require an audition if you aren't already in choir. If you want to skip the audition, you could join Chorus, a more laid back class with members of every grade level.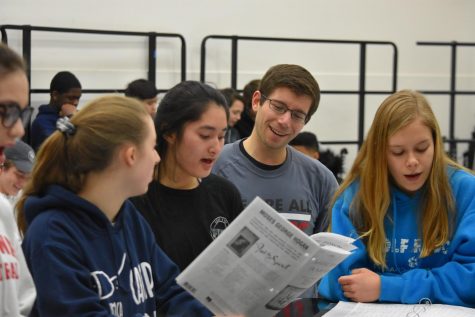 Finally, there's Standard Time, our vocal jazz group. In order to get into Standard Time, you must be in either Chamber or Concert Choir, and you must audition to get one of the 16 spots.
Choir can do many things to enrich your life, such as improving your confidence. Singing is a personal thing to do around other people, and often makes people feel vulnerable. Choir helps people get out of their comfort zone and thus helps people become more comfortable with themselves.
"More than anything, I thoroughly enjoy watching kids personalities develop as they become more comfortable with who they are," choir director Ben Silvermintz said. "It's so tough to watch kids who are stuck inside this middle school box in their brains. You just hope you can do something to help them break out of it."
One of the many methods Silvermintz has of doing this is daunting to many: having students sing for the class. As much as thinking about it can make your heart rate spike, some students appreciate the growth that can come along with it.
"It's good because it forces you to get out there and sing," Dylan Price, a freshman in Concert Chorale, said. "It's one of those things where you're like 'oh I hope it isn't me' but then whenever it is you you're like 'it wasn't that bad'."
Though it may be obvious that we sing, it isn't as obvious how fulfilling singing can be. If you haven't taken a choir class, it's hard to describe the satisfaction that comes along with singing a song well as a group. The process is slow, due to most of the learning taking place inside the classroom, but thorough. By the time we near a concert, people are often pleasantly surprised with how they sound on a run-through.
Finally, the icing on the choir cake is the community. Like any music class, you're with the same people through all of high school, or even middle school. What makes choir different from other classes is the growth you experience with each other. If people were to compare students' sixth grade concerts with students' Concert Choir performances, their confidence would be just as unrecognizable as their faces.
As a freshman, Price is excited to see this change happen to her choir "…I can see where I am as a freshman and apply that to what I want to be as a senior or junior. I think it's cool to see the improvement."
What sets choir apart from departments like band and orchestra is who can enroll. While with these classes it's preferred you start at a younger age, anybody can jump into choir regardless of their previous experience. If you enjoy music and want to give making music a try, choir is one of the best classes you could take.
There's only one class at this school where you can fulfill your childhood dreams of singing beautiful music to a roaring audience, and that class is choir. If you want to fulfill your childhood dreams, or it just sounds kind of interesting, I highly recommend giving choir a try.