Signing Day: Entering New Eras
Hang on for a minute...we're trying to find some more stories you might like.
National Signing Day is an annual event here at Parkway Central every year on February 6, where we recognize all athletes that have already committed or are committing on signing day itself. Each athlete has friends and/or family come and join them at the table, while their coach gives a quick little speech. Each athlete finishes their time by signing their letter of intent. This year we had 13 athletes commit, across a wide variety of sports, and to a multitude of colleges.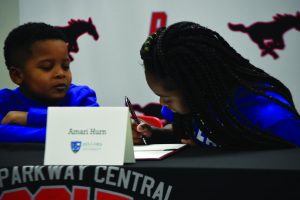 Amari Hurn committed to Dillard University for track and field‭. ‬Hurn has only been running for one year here at Central‭, ‬but has‭ ‬shown great potential‭. ‬Hurn has a bright future ahead for this season and at Dillard in college‭. ‬Photo by Alex Maisenhelder‭.‬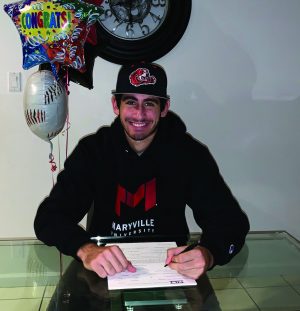 Ben Prywitch committed to Maryville to play baseball‭. ‬"My favorite moment competing for Central is playing at Busch Stadium every year‭,‬"‭ ‬Prywitch said‭. ‬Prywitch has been playing baseball for over 14‭ ‬years and looks to continue in college‭. ‬Photo by Abby Prywitch‭.‬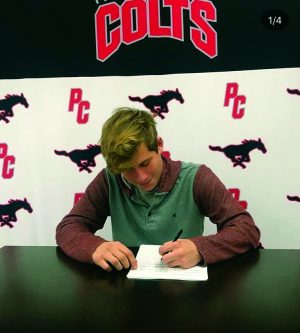 Adam Burnett committed to Rockhurst University for soccer‭. ‬In his two years on Central's varsity team‭, ‬he won a state title and Missouri Offensive Player of the Year as a junior‭. ‬"My freshman year I want to get rookie of the year‭,‬"‭ ‬Burnett said‭. ‬Photo courtesy of Adam Burnett‭.‬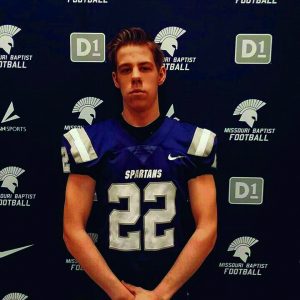 Chris Williams committed to Missouri Baptist University for football‭. ‬"Central as a school has taught me most importantly the ideal of hard work and dedication‭,‬"‭ ‬Williams said‭. ‬Photo courtesy of Chris Williams‭.‬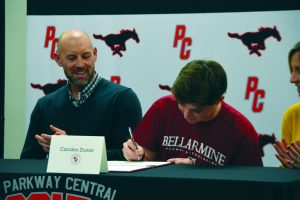 Camden Dunne committed to Bellarmine University for soccer‭.  ‬"My favorite moment was getting to know all of my teammates and training and playing games every single day with them‭,‬"‭ ‬Dunne said‭. ‬Dunne finished with a state title and numerous accolades here at Central‭. ‬Photo by Alex Maisenelder‭.‬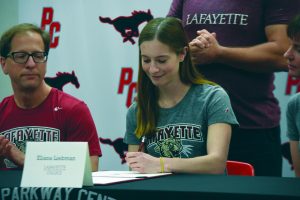 Eliana Liebman committed to Lafayette University for track and field‭. ‬"Last year at districts I got a personal record in all of my individual events‭,‬"‭ ‬Liebman said‭. ‬"In that moment it felt like everything I had worked on came together‭.‬"‭ ‬Photo by Alex Maisenhelder‭.‬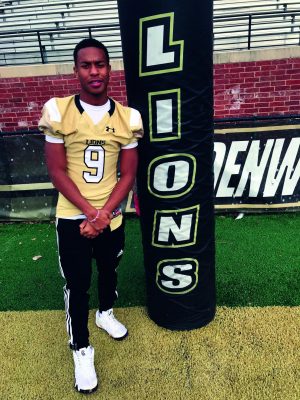 Jayden Littlejohn committed to Lindenwood University for football‭. ‬"I have enjoyed every last moment and memory here‭,‬"‭ ‬Littlejohn said‭. ‬Photo courtesy of Jayden Littlejohn‭.‬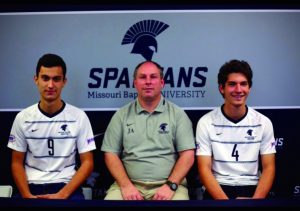 Both Evan Karagiannis and Kristian Dimitrov committed to Missouri Baptist for soccer‭. ‬"My high school experience has taught me many lessons‭. ‬But‭, ‬I am excited for the opportunities in the future‭, ‬the sky's the limit‭,‬"‭ ‬Karagiannis said‭. ‬Both Karagiannis and Dimitrov were members of the stater winning team‭, ‬and Karagiannis was a captain‭  ‬this year‭. ‬Photo courtesy of Evan Karagiannis‭.‬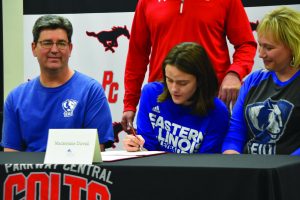 Mackenzie Duvall committed to Eastern Illinois University for volleyball‭. ‬"My favorite moment was beating Parkway West on their senior night‭, ‬and beating Marquette in districts and getting second‭,‬"‭ ‬Duvall said‭. ‬Photo by Alex Maisenhelder‭.‬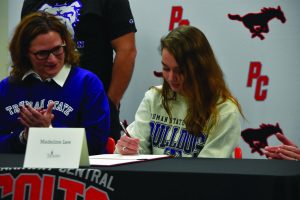 Maddie Lee committed to Truman State University for track and field and cross country‭. ‬"I enjoyed qualifying for state in cross country‭,‬"‭ ‬Lee said‭. ‬"I also enjoyed when I placed fourth at the Fleet Feet invitational‭.‬"‭ ‬Photo by Alex Maisenhelder‭.‬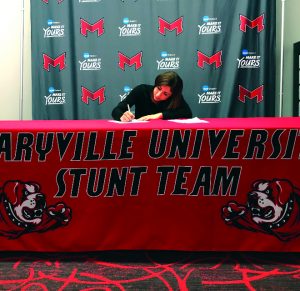 Mollie Weinberg committed to Maryville University for STUNT‭. ‬"My favorite moment from high school cheer was competing at regionals sophomore year on varsity‭,‬"‭ ‬Weinberg said‭. ‬Photo by Jacob Weinberg‭. ‬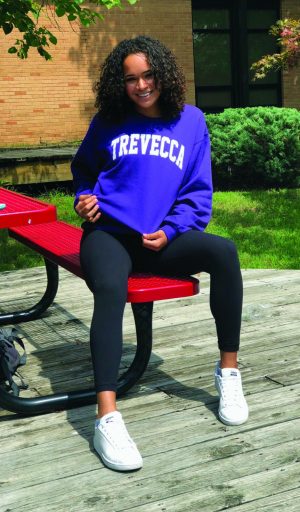 Olivia Stephens committed to Trevecca Nazarene University to play basketball‭. ‬Stephens was a four-year varsity starter‭. ‬Photo by‭ ‬Chayse Williams‭.‬