Popular artists coming to perform at the Hollywood Casino Amphitheater this summer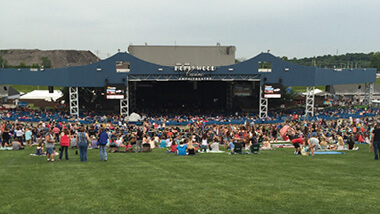 Carly Wasserman, Staff writer
February 21, 2019
School ending in only a few months means summer is coming soon. The weather will finally become warm again and we can actually spend time outside. The pool is not the only popular place to go to this summer in St.Louis. This summer at the Hollywood Casino Amphitheater there will be around 20 performers coming to play live. The Hollywood Casino Amphitheatre is a 7,000-seat outdoor concert venue, with lawn seating for another 13,000, making it a 20,000 person capacity venue. It's the best way to have fun with your friends while listening to your favorite bands or singers.
The amphitheater being an outdoor venue, means it stays closed all winter long. It will be opening back up on April 26th when the Zac Brown Band will be there performing. The band sings American country and contains eight artists in the band.
On May 15th, the Dave Matthews Band will be taking the stage. This band sings American rock and was formed back in 1991.
Two days later on May 17th, Rascal Flatts will be performing at the venue. Rascal flatts sings American country just like the Zac Brown Band. Rascal Flatts consists of 3 artists and two of which are cousins.
The following day Sammy Hagar will be playing some American rock. Sammy started off apart of a band but then became a soloist.
The Who will be performing on May 23rd playing English rock. The band features 4 different artists.
Dierks Bentley will be starting off the month of June, performing June 1st. Frederick Dierks Bentley is an American Country singer. Bentley is married and has three kids.
On June 26th Ozzy Osbourne, an English vocalist will be at the Amphitheater. Osbourne is not only a singer but also a songwriter, actor, and reality television star.
Brad Paisley will be performing on June 28th, just two days after Ozzy Osbourne. Paisley is yet another American country music singer.  
Chris Young will be here singing live on July 11th. Chris young is a 6"4 American country music singer.
Before school starts back up Florida Georgia Line will perform on August 8th. Florida Georgia line is also a American country music duo. The two artists apart of this band are Tyler Hubbard and Brian Kelley.
Luke Bryan will be taking the stage at the Amphitheater on August 17th. Luke also sings American country music.
On August 23rd Jason Aldean and Kane Brown, American country singers as well will be performing.
The Amphitheater will end the summer with the band KISS. KISS is an American rock band, consisting of four artists.