DECIDING YOUR FUTURE
The best college majors based on unemployment rates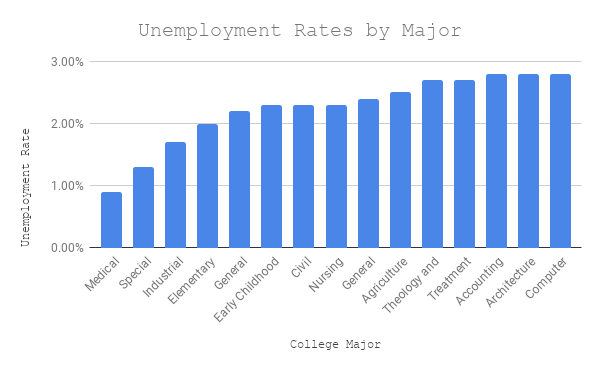 Shoshana Weinstein, Staff Writer
March 15, 2019
As soon as the pressure of getting into college eases, the stress of choosing a major begins. Most people view higher education as preparation for students' careers, and seek to choose a major that reflects their intended field of work. As high school seniors transition into college freshmen, many scramble to decide what direction they want their professional lives to take. But what should influence this choice? A student's passions? Their work habits? What about the amount of money they wants to make?
Researchers at RISMedia analyzed data from the U.S. Census Bureau, the American Community Survey, and the New York Federal Reserve Bank to determine which college majors have the lowest unemployment rates. Unsurprisingly, many STEM majors rank among the most employed. Engineering majors have predictably low unemployment, with industrial engineering, civil engineering, and general engineering all scoring in the top 10 most employable majors; these majors have unemployment rates of 1.7%, 2.3%, and 2.4% respectively. Architecture and computer engineering majors also score within the top 15.
Jennifer Meyer, a physics and chemistry teacher at Central, encourages students to pursue a major in STEM. "I think there's a lot of growth in the STEM field," Meyer said. "There's a lot of technological advances being made in our economy… So I think if it interests you, it's a great place to go because there's a lot of opportunities and a lot of variety in what you can do."
Many students find a STEM major daunting. Nonetheless, a focus on math and science can be very rewarding. "You take some really hard classes, but that's good," Meyer said. "Challenging yourself is always a good thing to do."
It may come as a surprise that several of the 15 most employable majors have nothing to do with math or science at all. Theology and religion majors also have a startlingly low unemployment rate of only 2.7%. Both general education (2.2% unemployment) and special education (1.3% unemployment) score even higher.
English teacher Cynthia Krone enthusiastically endorses a focus on education. "I always wanted to teach, even when I was in kindergarten," Krone said. "I didn't really know what I wanted to teach until I got to high school. My high school English teachers were really wonderful, and I just loved reading literature, and studying some of the great books. I liked to write, and so I decided then that I was gonna pursue English as my major in college."
If students are looking for a major that offers a promising job outlook, teaching may be the way to go. "English teachers are needed in every school, so that's a plus," Krone said. "It's not like an elective. They're rarely cut unless they have a decrease in enrollment. And you have several people who are members of the department, so that's kind of nice. There's a lot of options in St. Louis. And you can find an English job if you're willing to stick it out and keep pursuing it, keep going back. Be an aide if you have to be for a while; that gets your foot in the door. It's definitely a good field."
Many majors in the field of social studies rank among the highest in unemployment. In the top ten least employable majors, anthropology majors come in sixth place (5.7%), general social sciences majors come in seventh place (5.6%), and history majors come in 10th place (5.5%).
Nonetheless, studying the social sciences definitely has its benefits. "I would recommend that students study history, specifically in college, because you can go so much more in detail in the topic that you're interested in," history teacher Paige Stewart said. "You can focus in on a class just on the Civil Rights movement, or just on women's roles in history. And so you see a bit more detailed stories of what's been going on, instead of just this broad overview."
"My degree in history has definitely helped me understand the world better," Stewart, who double majored in Global Cultures and Languages and Social Studies Education, said. "I think it's important, especially in the current climate that we have, that we try to understand other people's histories, and that we understand cultural backgrounds. It's important that we understand that different types of people have been treated differently in the United States, and how that influences what they want out of their government and society today. I think that that helps you build more empathy and listen to what others have to say, not just jumping to conclusions."