Celebrate Central: Time to reflect on actions
Hang on for a minute...we're trying to find some more stories you might like.
Celebrate Central is an informative day held once a year, aimed at trying to educate and better inform students, and event staff on social issues or grievances. With some of the sessions related to drug or alcohol use, understanding of gender, LGBTQ, police and the justice system, etc.
"I think it is a day for reflecting" Latin teacher Matthew Pikaard said. "I think it is important to give a day for students to reflect on our world, and to teach them to be a better global citizen. I feel it is good that they are getting a chance to hear all these world views." While many students choose to skip this day, in lieu of sleeping or hanging out with friends, this day can prove to be very profound in its social impact. Educating and helping remove preconceived notions, or misinterpretations."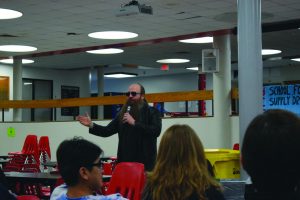 Mike Weiland talked about his experiences with drug and alcohol addiction‭. ‬Mentioning how long-term the high does not last forever‭. ‬Also‭, ‬saying that no matter if you are told to not do drugs‭, ‬or to do drugs‭, ‬the same thing will happen‭. ‬Photo by Wesley Henshaw‭.‬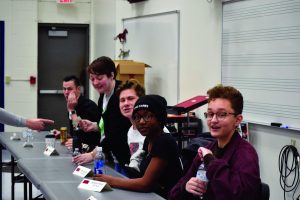 Freshman Patryck Young‭, ‬sophomore Adrienne Reed‭, ‬seniors Adam Burnett and Caleb Licata were on the LGBTQ panel‭. ‬They talked about experiences regarding their sexuality and coming out‭. ‬Photo by Claudia Sanders‭. ‬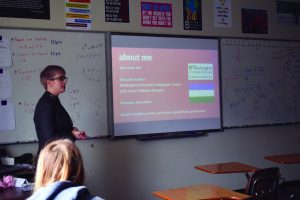 Jess Jones presented in the Transgender 101‭. ‬Jones talked about gender identity‭, ‬and what it means to be transgender or non-binary‭. ‬The hope was that participants could enlarge their understanding of gender‭. ‬Photo by Tori Favazza‭. ‬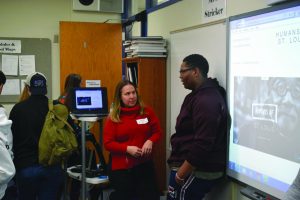 Senior AJ Collier talks with Ms‭. ‬Lindy Drew after the Humans of St‭. ‬Louis presentation‭. ‬Humans of St‭. ‬Louis is a non-profit that‭ ‬shares images and stories of people in the St‭. ‬Louis region‭. ‬They share the stories across multiple media platforms to spread awareness‭. ‬Photo by Wesley Henshaw‭. ‬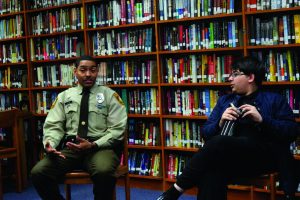 Sophomore Brian Rubin talks with Sam Thomas‭, ‬who is a police officer and recruiter for the St‭. ‬Louis County PD‭. ‬Thomas‭, ‬along with the other officers‭, ‬discussed how police are trained‭, ‬the criminal justice system‭, ‬racial profiling‭, ‬etc‭. ‬They helped educate‭ ‬students on these topics‭, ‬even how law enforcement approaches community building‭, ‬ending with a conversation on these topics‭. ‬Photo by Wesley Henshaw‭. ‬