New Aqua Attraction in the Lou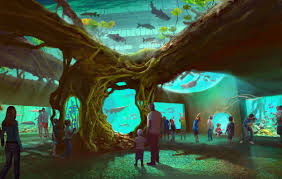 Hang on for a minute...we're trying to find some more stories you might like.
To start the year off strong, renderings were released by St. Louis Aquarium showing the new aquarium in Union Station set to open in late 2019. But this is not just a little project. McCarthy Construction has actually been working on the area since Nov. 2017 and takes up 120,000-square-feet at two stories tall. According to St. Louis Aquarium, there will be a 250,000 gallon shark tank, over 13,000 animals and 257 species. There will be 44 different exhibits and a separate ticket can get you into miniature golf, the carousel, ropes course, a ferris wheel and more.
Costing $187 million, Lodging Hospitality Management thought Union Station would be the perfect venue. It's considered a National Historic Landmark and was originally a major train station in the 19th century that has since included restaurants, a mall, and a hotel. The station now will have a new addition that will provide fun for all ages and educate people on marine life and conservation. Not only are there thousands of animals to observe, but there's a conservation and education center to teach people how to help the marine environment.
According to the St. Louis Aquarium website: "The St. Louis Aquarium connects all people with aquatic life through transformative, immersive experiences, building a community that cares and acts to protect water and the life it sustains."
Not only will the attraction be an educational experience, but will also benefit the local economy.
According to St. Louis Aquarium, the construction of the area is working with local business and will create 500 jobs, including minority and women representation. The aquarium itself will create 100 permanent jobs as well as bring money to the city through tourism.
What many don't know is that St. Louis already had an aquarium at the City Museum. The World Aquarium was a separate part of the City Museum and had suffered through dirty facility claims and a six month shut down, according to Fox 2 News. There were plans of relocations, however, the aquarium still remains in the same location, but does not receive the buzz it used to. With the upcoming aquarium being built, it may put the smaller, older aquarium out of business completely. The famous Hard Rock Cafe was closed last August in order to make room for an ice cream and candy emporium to be built with the aquarium as well.
Due to past issues with unkempt and unfed habitats in the World Aquarium, the new St. Louis Aquarium could face skepticism from marine wildlife supporters. In these past few years, SeaWorld has seen major backlash from their treatment of orca whales kept in small tanks and forced to perform shows.
Senior Kennedy Devlin is against SeaWorld because of their mistreatment of orcas, but has hopes for the aquarium.
"I think the aquarium is okay because most species of fish kept in aquariums don't need much space to swim around in, the distance they swim overall can be achieved in a large tank," Devlin said. "Orcas, however, swim 100 plus miles a day making it clearly not okay for businesses such as SeaWorld to operate. I don't care if St. Louis gets an aquarium as long as we don't feed into the desire for money at the expense of animals and decide to build a SeaWorld."
The aquarium offers general admission, combined tickets for access to other attractions, and even annual passes like the St. Louis Zoo. With animals and species from rivers and oceans around the globe, the St. Louis Aquarium is sure to be a hit.