Rough Start, Determined Mind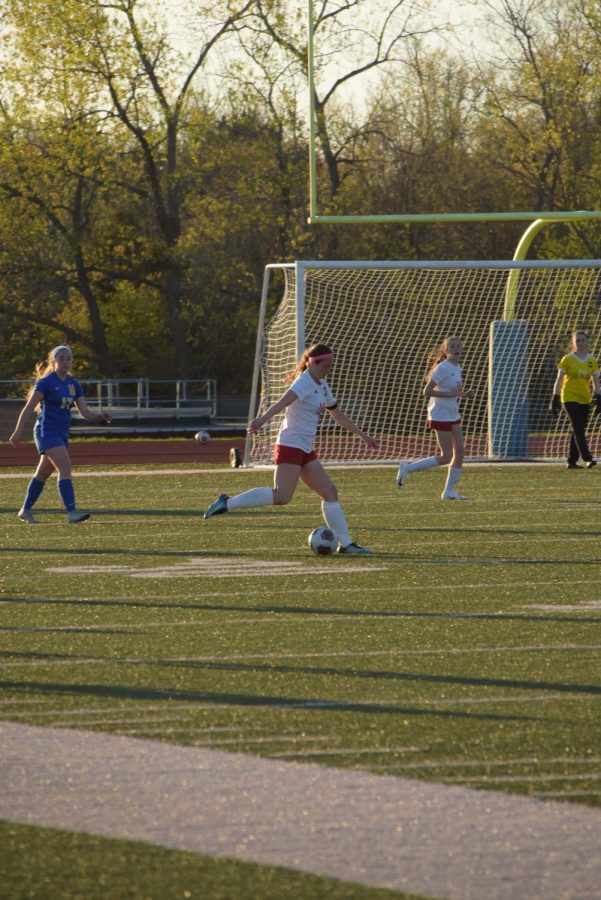 Gabby Abowitz and Alex Maisenhelder, Photography Editor and Online Sports Editor
May 6, 2019
Even though many players on girls varsity soccer said the year started off not how they would have wanted their luck may be turning around.
The team has won to Maryville in Hannibal 2-1 on April 12. The team also defeated Parkway North 1-0 on April 16.
Senior captain Talia Emch believed they started the season off rough but it does not reflect their potential and talent as a whole.
"We're going to convert our mistakes into learning opportunities which will hopefully lead us to success in the near future," Emch said.
Emch also believes that this season has been tough and has ideas on how they can improve.
"We haven't had the start we'd hoped for, but hopefully we can use that frustration as motivation for the remainder of the season. We knew from the beginning that we weren't going to have an easy schedule, so we can't take any team for granted. To be successful we need to continue working for each other and hopefully we'll get the results we deserve," Emch said.
Throughout the season Emch has scored three goals, two assists, and eight points.
Senior Genna Gittemeier also agreed on the fact that their seasons stats have not reflected the effort that the team has put forth.
"This new season we no longer have many of our loved seniors that made up half of our starting line up and in order to fill those spots, players have moved up from JV and some incoming freshman were added to the squad," Gittemeier said.
The girls on the team have high standards and big goals. Sophomore Emily Lander wants to improve both personally and as a team.
" A goal I have is to grow as a team. A personal goal is to continue scoring goals because the feel when you see the ball hit the back of the net is an amazing feeling." Lander said.
Junior Abbey Poe, the other team captain, contributes a lot to the team and other team members, like Lander, think very highly of her.
"Abbey is always so considerate about everyone's feelings and wants to get everyone's opinion before reporting back to our coach. She also plays a big role on the field, running everywhere around the field to ensure the success of ball movement," Lander said. Poe has made one assist and one point so far this season.
Senior Genna Gittemeier believes coach Brian Adam holds the team together. "Our main team aspect is playing as a unit rather than an individual. BA really emphasizes the importance of possession and moving forward together. He says that we play better together rather than apart. I feel that, at times, we have really embraced that message," Gittemeier said.