Slashing Through the Competition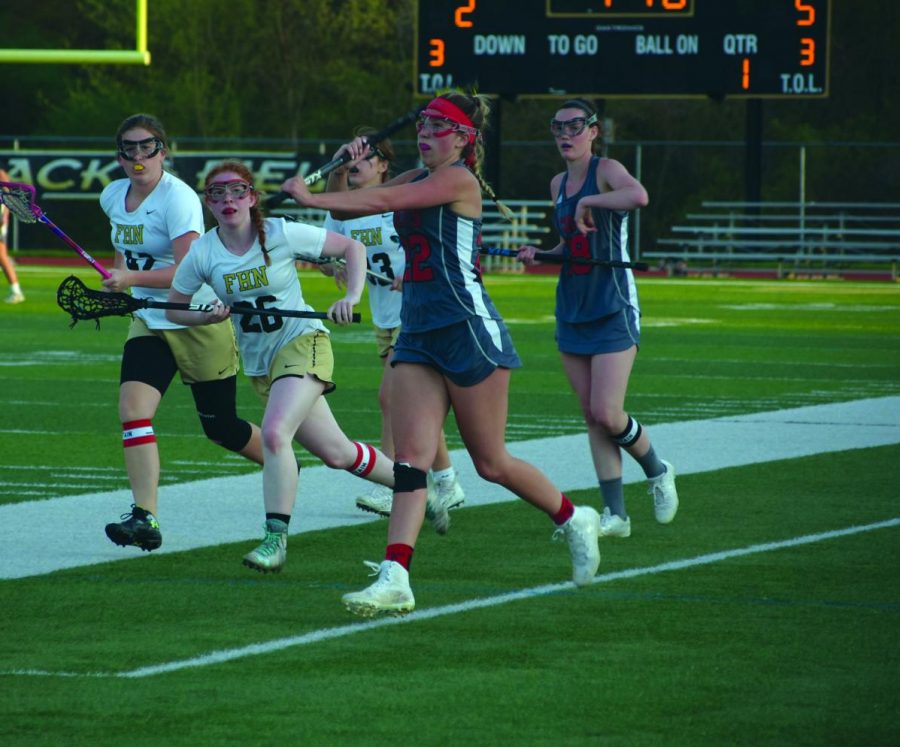 Of all of the spring sports taking place this season, one sport has seen unparalleled success: Lacrosse. The varsity team has started off this season on a tear, starting off 11-2 overall and 3-0 in league games, averaging an astonishing 12 goals a game while only allowing just over seven goals a game. Vital to this dominating record is good teamwork and chemistry.
"We are not only winning games but we are gelling together as a team," senior Molly Wesolich said. "We have done multiple team bonding experiences and the effects of this bonding has shown on and off the field."
Wesolich along with junior Morgan Shea are the team captains and "Not only are they amazing lacrosse players but they are very great captains," junior Grace Wagner said. "They are always organizing dinners after practice or something like that. They also are so much fun at practice and in games and set an example of what good sportsmanship looks like." Chemistry and teamwork are not things that can be artificial they have to be attained, and the results are worth the effort.
"We are not only winning games but we are gelling together as a team," Wesolich said. The team has picked up numerous big wins, 19-0 over Hazelwood East, 12-6 over Clayton, and a statement win 5-4 over Parkway South, their first ever victory over South. Even with the victories rolling in, improvement is always important.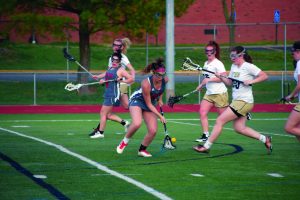 "I think I have improved at using my non-dominant side, but I do think that I can still get better at using it more," sophomore attacker Maria Klein said. Klein is not alone in feeling an improvement.
"I think I have improved on my draw controls a lot this year," junior Brooke Lierman said. A draw is similar to a faceoff in hockey; it occurs at the beginning of both halves and after every goal. Controlling a draw is effectively securing possession for your team. Energy and emotion is also a big part of the game; the rush of scoring or successfully running a play can beguile people.
"My favorite aspect is just the intensity," Wagner said. Wagner is not alone in loving the intensity and competitive aspect of lacrosse. "I love lacrosse because I am a very aggressive person and it's an outlet for me to just be me, and I keep coming back because it makes me happy," Lierman said. For Lierman the aggressiveness has paid off as she leads the team in shots, goals, points and draw controls as of April 23.
However, like all teams, there could not be a team without a coach, and there is nothing but praise for Coach Beth Karfs.
"She is so patient with our crazy team and also very understanding," Wagner said. "She is super motivating but also has fun with us and I really admire her for being so dedicated to our team." However, the players effort and passion on the field is far from unnoticed.
"Our team has been very successful this year," Karfs said. "Our starting midfield continue to really drive the transition game and the offense.  They are all dynamic players who can make exciting things happen."