Successful Summer Bucket-List 2019
How You Can Give Yourself The Best Summer Ever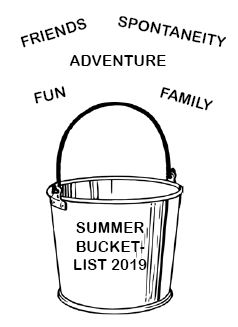 Hang on for a minute...we're trying to find some more stories you might like.
Summer is rapidly approaching with the excitement of going swimming all the time and hanging out outside, but we as teenagers can often fall victim to the attraction of staying inside on our phones or with our friends. For those not going on a family vacation, working a summer job, or attending a sleep-away camp, the air conditioning and Wi-Fi inside can be very tempting. But what can you do to make sure you're taking full advantage of this summer season?
One fun, cheap, and thrilling thing you can do to occupy your summer nights is going to summer concerts. The Hollywood Casino Amphitheater is a venue that offers at least three weekly concerts with different artists at every show lasting the entire summer all the way through September. On the line up for this summer are performers like Pentatonix, Wiz Khalifa, Luke Bryan, and Cage The Elephant. Lawn seating for certain shows at this venue are going for as low as $30. Even if you aren't familiar with the artist, the Hollywood Casino Amphitheater is an extremely affordable way you can spend a fun night with your friends.
Another great option to spice up your summer nights is going to a drive-in movie theater. With all the hyped up movies coming out in the near future like The Lion King, Toy Story 4, and Aladdin, it is well worth taking the time to go at least once. Outside of St. Louis, there are two very considerable options just an hour drive away. The Skyview Drive-In, 40 minutes away, and the Starlite Drive-In, an hour away, both have movie showings every Friday-Sunday of summer for only $10 a car. Plus, the drive there can even lend itself to be a fun mini road-trip with your friends.
If you're not willing to make the drive, then while you're laying in bed watching Netflix, think about inviting some friends over, building a fort, and having a movie marathon with all of your favorite movies that Netflix has to offer. Or better yet, you could even check out a bunch of 80's and 90's movies to have a movie marathon that way as well.
Of course, there are many things like having a movie marathon that can be done for free too. Simple activities like making a chalk mural, going hiking at places like Castlewood at Queeny Park, waking up to see the sunrise, or going stargazing at night will make you feel like you're engaging in a very adventurous, fulfilling summer.
Other cheap options that are often overlooked by teenagers are all the joyous activities that everyone loved doing as kids, such as going bowling, rollerblading, or playing mini-golf. All three of these activities cost a very minimal amount and can provide a few hours of fun and even nostalgia on any day of the week. You can even maximize this experience by venturing outside of your average Brunswick bowling alley and finding a cool, vintage alley like Saratoga Lanes in Maplewood.
People are often inclined to think you can only make lasting summer memories by doing things seemingly very big, extravagant, and costly, but everyone knows that the best memories are made spontaneously. Trying out a few of these ideas over the two month break from school will add up to being way more fun than you could have scrolling through Instagram and Snapchat stories in your room. Make a checklist in the notes on your phone and try to accomplish a few!