Fall Athletes To Watch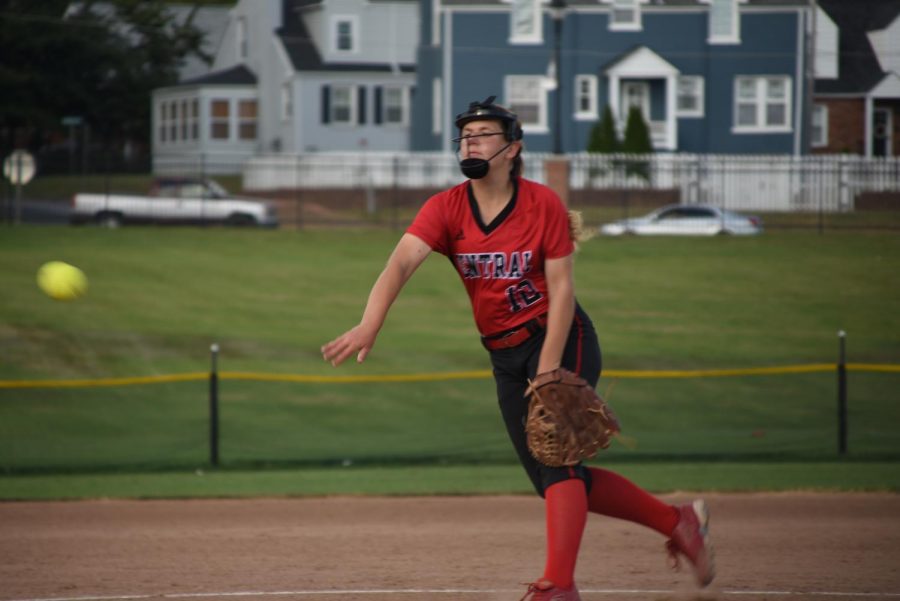 Logan Potts, Sports/News Editor
September 27, 2019
In a transition year for the softball program, junior Rylie Perry hopes to make a big impact like she did as a sophomore on varsity.
"This season I hope to be eligible for first team all conference like I was for pitching last year," Perry said. "I also want to become more of a team leader."
Last season, Perry had a record of 10-10, with a total of 142 innings pitched, and had a minuscule 2.51 earned run average. Perry also added value at the plate with a .321 batting average, .389 on base percentage, 15 runs batted in, and a team-leading two home runs. In only her second year in the program, Perry was the leader of two offensive categories and was one of only two players to log innings on the mound.
"I enjoy the responsibility of being a leader on the mound, but I wouldn't have those stats without my team behind me," Perry said.
The team went 10-19 last season and might be in store for much of the same as they have started out 1-6-1 through their first eight games. The team is under new leadership as Coach Janie Sumner has taken over.
"Coach Sumner is really nice and I've enjoyed talking about college softball with her because she played at Mizzou," Perry said.
Along with the goals she has for herself, Perry has goals for the team.
"We have a lot of new varsity players this year so we're really focusing on working together and playing as a team," Perry said. "It's nice that everyone gets a fresh start where what we did last year doesn't impact what we're doing this year."
Look for Perry to take on more of a leadership role this season and help her team improve as the season goes on.
Upcoming games: home vs. Ladue 9/27, @ Mehlville 10/1, home vs. Parkway West 10/2.
Like Perry, senior quarterback Antonio Hutti is stepping up to help improve a team coming off a disappointing season. The football team ended last season with a 3-7 record.
"I expect our team to just play better overall," Hutti said. "It's not just on one player, but it's on our whole team to improve this season."
The road to improvement has been a rough road for the team so far as they have started 0-4 with four big losses. This is partly due to the fact that the team has had to play three very tough teams and are considered to have one of the strongest schedules in the state.
"Even though the competition has been tough so far, playing through it will ultimately make us better as a team," Hutti said.
The road to improvement will be tough for the team, but Hutti knows what they need to do to accomplish their goals.
"We need to stay the course, keep working on improving and learning from our mistakes every week, and the coaches will put us in a position to be a great team," Hutti said.
Along with the team goals, Hutti has individual goals he's working towards and aims to accomplish before his senior season is over. In his first season as a starter, Hutti threw for 1,290 yards with 10 touchdowns and 8 interceptions.
"My main goal for myself is to get first team all conference," Hutti said.
Look for Hutti to help his team work through a tough schedule and do what they can to consistently improve.
Upcoming games: @ Parkway North 9/27, home vs. Webster Groves 10/4, home vs. Clayton 10/11.
Senior cross country runner Corey Ables is in the same boat as Hutti as he has one last year to prove his worth as a high school athlete.
"I expect to be in constant contention for a varsity spot," Ables said. "I also expect to be a lot faster this year because of the constant hard work I put in over the summer to prepare for the season."
Along with the time he put in over the offseason, he's had the help and support from his coaches.
"Coach Guilfoyle and coach Merriman have helped me so much over the past four years," Ables said. "There's no way I could have done it without them. They constantly push me to get better as well as taking the personal time to design workouts and plan meets for the team."
With his overall goals of improving times, Ables has specific mechanics and parts to running that he wants to improve.
"I am most looking to improve my pacing," Ables said. "I usually start out slower and speed up, but I want to try and push the first mile of the race to see if I can hold that pace."
One thing that Ables does regret about his workouts this summer is not tailoring them more to what he wants to accomplish this season.
"I put in a lot of mileage over the summer to improve endurance. I didn't do as much speed workouts as I should have but I can tell there's a big difference in my starting point this year compared to previous years," Ables said.
Look for Ables to leave a mark in the program in his senior season and improve throughout the season.
Upcoming meets: Gans Creek Invitational in Columbia MO 9/28, Parkway West Dale Sheppard Invitational.