Day of Service
Recapping the events at the 4th annual day of service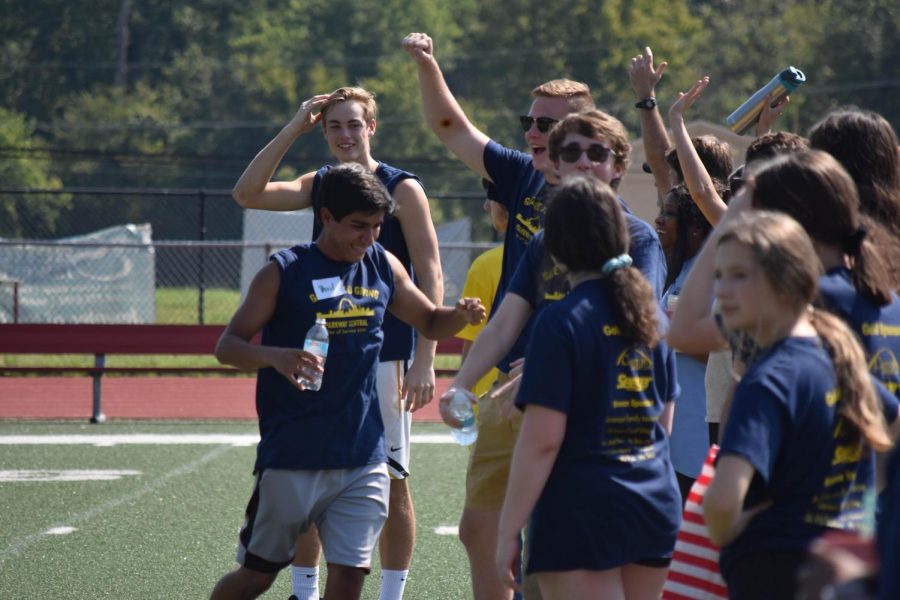 Amari Sewer, Staff Reporter
September 27, 2019
Day of Service took place on Wednesday, Sept. 18, and the weather was hot. While the theme of the event was Gateway to Giving, it felt more like Gateway to heat strokes. The heat affected field trips, the Special Olympics, and eventually the Teacher vs Seniors soccer match turned volleyball match.
"The worst part was when we were all crowded up together in the stadium waiting on the buddies to get here, and the sun was bearing down on us," junior Michael Carroll said.
Before the event, English teacher Laura Michael, who runs Day of Service with business teacher Sarah Hale, was looking forward to the day and mentioned that there were minor changes from last year.
The freshmen and sophomores started their day off by coming together as a group before going their separate ways.
"Last year, we brought in a keynote speaker to talk to the freshman and sophomore. We planned to keep that change," Michael said.
The freshman listened to speakers' presentations and performed hands-on activities.
"We had a lot of new speakers for the freshman this year, and it went really well," Michael said.
Meanwhile, the sophomores traveled to sites away from the campus and volunteer in different activities. This year, the sophomores had most options to choose from in a while,and all sites have been used at least once before.
"Our sophomores had great locations," Michael said.
At the same time, the juniors and seniors participated in the Special Olympics. Whether it was managing a carnival booth, running food and water, being a buddy of the athletes, or being a captain, the upperclassmen had a role in the Special Olympics.
The opening ceremonies started with the marching band playing the National Anthem. Next, some of the athletes and special education advisers gave speeches thanking everybody for making this day possible. Finally, the ceremonies ended with the some of the athletes and their buddies participating in the Olympic torch relay.
During the Olympics, the athletes faced off in soccer matches while their buddies, captains, and mascots cheered them on, and they also got to play different types of games and win prizes at the carnival held in Gym A.
"We will be grilling hot dogs this year," Michael said while talking about new lunch options.
After the athletes returned to their schools, the annual Seniors vs Teachers soccer match turned volleyball match occurred to end the day. The teachers defeated the seniors.
"Being our fourth year, I think this was the best year yet. We've got Day of Service to a good place where we don't need to make major changes," Michael said.