Restaurant Rivalry: Subs
Over the last few years, the number of sub sandwich restaurants in the area has exploded. It's sometimes hard to keep track of which is good, which is bad, and which is which wich.
Luckily for you, we cracked the code. We have traveled the world, hiked through the desert, climbed mountains, and put our blood, sweat, and tears towards one question: which sandwich is the best? We went to the four closest sub sandwich places to the school: Penn Station, Firehouse Subs, Subway, and Jimmy Johns, and used our foolproof scientific experimentation to determine which hoagie was the hottest. Here are the categories:
BREAD: All superheroes wear suits. Hero sandwiches wear bread. The best bread balances lightness and airiness with sturdiness capable of holding juicy ingredients. While it shouldn't be the star of the show, it needs to be done correctly. Think of bread as the bass players of subs. If you have bad bread, you have a bad sandwich.
TOPPINGS: The toppings give the sandwich its character. Of course, every sub is different in this department, and "good" toppings could be different for everyone. We will be assessing quality of ingredients rather than taste to make this fair for all sandwiches.
ATMOSPHERE: Now the nitty gritty. If I am going to be eating their food, I am going to be sitting (or at least ordering in) in their restaurant. If the restaurant is dirty, dingy, or downright boring, it will be much harder to be called the best of the best.
VARIETY: Spoiler Alert: Every place we went to had sub sandwiches. Some places had unique ways of setting themselves apart from the rest. While variety is not inherently good, it does make it more likely someone will find something they like.
SERVICE: Even if I am getting a meatball sub with iceberg lettuce, spicy mustard, and extra pickles, I want to be treated fairly from the employee. Serving the correct food, having a decent attitude, and just doing a fine job will give you full points.
COST: This is a sub sandwich. I do not want to donate a kidney to afford your food. Enough said.
Now that our categories have been introduced, let's get started.
Firehouse Subs: Great hot subs
Firehouse Subs is most likely not one of the first places you think of for sub sandwiches, but it should be. Firehouse Subs is the newest franchise of the bunch. They were founded only 25 years ago in Jacksonville, Florida, but they have made their way into Canada, Puerto Rico, and different parts of the United States, most notably just up the road from our school.
While they are comparatively new to the game, they have been in it long enough to be one of the best. They are competing with places such as Penn Station and Subway with their hot sandwiches, and challenging cornerstones like Jimmy Johns with their cold subs.
Firehouse Subs saw our expectations and obliterated them, setting a high bar, due to it being the first place we visited.
Given that I had been to this specific location before, I had a general idea of what to expect, but even then the whole experience was even better than I remembered. The store had a nice ambiance, and the typical sub sandwich shop smell wafted around and welcomed us into the store. The workers were all very cordial and kind, listening to our orders and questions providing useful answers all with a smile.
In addition to great start to our visit, the store was clean and everything had been wiped down and all the different gadgets and machines were functional. The decor at Firehouse Subs was interesting. It had the theme of a firehouse and even featured a dalmatian wearing a fire hat. What's not to love.
Now, pardon the preamble, let's talk about the star of the show: the food.
After the wait, we received delicious looking food that we could not wait to dig into. The sandwiches had
a great appeal with a crisp sturdy looking bread, and tantalizing juicy meats, with delectable sauces carefully drizzled over the top; all of this proceeds to get toasted, resulting in a mouth-watering sandwich, flavor filled in every bite.
This sandwich did not disappoint, with the high quality ingredients, flavorful sauces, and the use of herbs and other spices was a nice touch. The variety was good with plenty of sandwich choices and the ability to customize every sandwich. Drinks also had a good variety with a Coke Freestyle machine, which was great to us.
We were both satisfied with our sandwiches, the best part being it did not cost an arm and a leg to eat there either. Both meals coming in just around $10 which is definitely an acceptable price to pay for this tasty meal. Firehouse Subs is a great sub place to add to your list.
Subway: It was food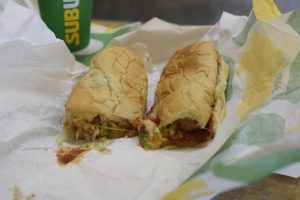 When people think of sub sandwiches, people think of Subway. Subway is the oldest franchise of the four, getting their start over 20 years before the next closest. On TV as a kid, Subway ads glazed my eyes all the time. I didn't even know there were other sub places than subway when I was really young.
As time has passed, and other places have joined the sub scene, Subway finds themself in an interesting position. Now they have major competition. No longer are they unique just based on their concept; there are other places hungry to top the sub sandwich pedestal. How do they stack up to the rest?
This place was an utter failure.
While I knew Subway wouldn't be very good, I did not expect the sheer magnitude of my disappointment. This was not immediately known to me, however. When I walked into the store I had a rush of nostalgia. I saw the window of ingredients, the vegetable backsplash underneath, and of course their chocolate chip cookies I would beg for as a kid.
I am not a child anymore, unfortunately. To be fair, one of us got the hardest sandwich to get right: the meatball sub. Still, it all went wrong when we got to the ingredient line. The vegetables looked sad. The sauces looked sterile. The meat looked beat.
We tried to remain optimistic, but all that disintegrated: just like our bread. The bread was just not good enough to support the meatballs. The sauce soaked through, leaving no crunch. It felt like eating an Italian sea creature. The meatballs were small and insignificant. This is the only sandwich neither of us finished because we didn't want to.
Furthermore, the service wasn't great either. There was only one guy working there, firstly. Secondly, when I ordered a specific combo from the menu, he didn't even know that it existed. Strange.
We admit, not everything was wrong with Subway. Did you know they serve breakfast? We didn't. Did you know they have salads? Well, most other places have salads too, but no. Did you know their cookies are terrible? No, I didn't until I ate one.
On second thought, maybe everything is wrong with Subway. The cost thankfully is on the low end, but the cost to quality ratio is still completely out of whack. While there are some things, like their breakfast, that sets them apart, who cares? Their subs are bad. This is easily the worst place we went to. Do not go to Subway. Even for the cookies.
Jimmy John's: Simple but tasty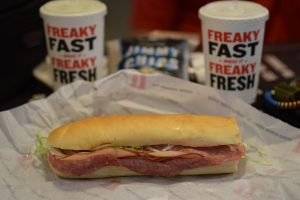 Jimmy John's was stop number three. Known for their "freaky fast" subs, Jimmy John's has been around since the early 80s, starting in Illinois. Over the last 30 years, Jimmy John's has slowly but surely found themselves as one of the top sub restaurants in the country..
I have always loved the Jimmy John's decor. The walls are packed with random interesting stuff. From Warren Buffet quotes to the classic "Free Smells" sign on the outside of the store, I think that it is just fun to look around. This particular Jimmy Johns was also easily the cleanest location, which was refreshing.
Still, this is a sub place, not an art museum. The menu had many sub options, 17 to be exact. There are also six subs meant for kids. There are also 4 types of bread, one of which literally replacing the bread with lettuce. The service was smooth, nothing wrong with it, living up to their hype with the speed of service.
Our food was up to par. Nothing mind-blowing, but still good. The bread was easily the sturdiest of them all. I did not get wet ingredients, but I am sure it would be able to hold it well without becoming obnoxiously soggy. The bread did a good job of being sturdy while still being easy to eat. This is the perfect bread for something like a tuna sub, if you're into that.
The ingredients were also decent. Nothing to knock my socks off, but it was extremely refreshing to go to a well-done cold sub place after Subway's catastrophe. This sub was also one of the most filling. This was easily the heartiest sub of them all. Both of us have big appetites, and Jimmy Johns did the job in that aspect.
This was perhaps the least memorable sub I had, but that is not something to be ashamed of. This is the place to go if you want a good ol' sub sandwich. Jimmy Johns has no gimmicks, no unnecessary bells and whistles. Just torpedoes. If you don't need your sub sandwich to do back-flips for you, this is the place to go. Oh, and get the chips. It's worth it.
Penn Station: French Fries!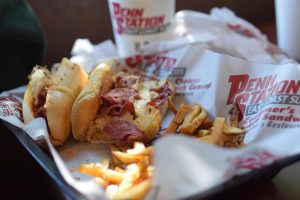 Penn Station was the last stop on
our quest for the best sub sandwich place near the school. One question perplexed me when reading its name, why east coast subs? It turns out that the answer is far simpler than you may think, inspiration from Philadelphia and its signature cheesesteak. The founder Jeff Osterfield made a trip east in the time before Penn Station officially existed, he quickly realized the popularity of the sandwich and introduced it to his own restaurants, leading to the cheesesteak being one of the four original sandwiches sold at Penn Station. Even today the cashier at Penn Station remarked how the cheesesteak was still by far their most popular sandwich.
Subway and Jimmy Johns had not been able to reach the same level as Firehouse Subs, so Penn Station was the last hope of dethroning them and taking the title of best sub sandwich place. Neither of us had experienced Penn Station before, so we were hopeful that we would find a unique experience and tasty food.
The location we went to did not disappoint. They delivered an experience unlike any other.
The cashier was fantastic. He was happy, cheerful, exceptional at his job, and answered all our questions. He was pretty funny and accurate with our orders at the same time. The entire staff there truly seemed to enjoy their job and enjoy their time there, unlike some of the other places we went to.
The decor was also very appealing, with little snippets about some of their best selling and most unique products. The entire establishment was clean and tidy which helped them stand out in this category. The experience was amazing and already put them ahead of the rest.
Before we get to the food, let's talk about their variety, Penn Stations plethora of options and products is what really put them ahead of a place like Firehouse Subs. Penn Station was the only place we went to that offered freshly squeezed lemonade, actual cheesesteaks, and the real kicker: french fries. These three things have been staples of Penn Station since its very first location in 1985.
The fries did not disappoint, in fact they perfectly complemented the superb sandwiches we had. Grilled right in front of us, the meat sizzled and the toppings popped with the heat of the grill. After seeing what appeared on our tables we knew this place was truly special. The grilled ingredients resulted in far and away the best sandwich. The bread was exceptional, withstanding the juices of the meats and all of the sauces on our sandwiches; the bread was solid, crisp, and tasty. We savored it down to the very last bite, afterwards lamenting the newfound lack of sandwich. Penn Station blew subway out of the water, brushed Jimmy Johns aside, and pulled ahead of Firehouse with the true star of the show: the sub. Doing all of this for a relatively average price, with an eight-inch sub and fries costing just around $10 give or take.
If you like sub sandwiches and you have not gone to Penn Station, you are doing yourself a disservice. Go there. Right now. I mean it.
Which sub took the dub?
Penn Station was the unanimous winner for us. The sandwich destroyed the competition and the uniqueness of their fries set them apart, culminating in one of the best sub dining experiences we had had in a long time. Coming all the way from its founding in Cincinnati, Ohio (no, this place was not founded in Pennsylvania. This blew my mind too), Penn Station made its way to Missouri. We were delighted by the food, the service, the atmosphere, and the overall quality of the establishment. Congratulations Penn Station.
Where does that put the other sub places? I think we made how we think of Subway pretty clear. Firehouse Subs is a pretty good alternative to Penn Station if you don't care about missing out on the fries. Their subs are quality enough to warrant a visit. You shouldn't write Jimmy Johns off either. Jimmy Johns is the place to go for cold, classic subs.
We have now served our community. We have done our duty. We answered our question. Now we must go to work on our next installment of Restaurant Rivalry. Till next time.