No Outlet for Hockey Players
Despite hockey legacy, Colts hockey team still absent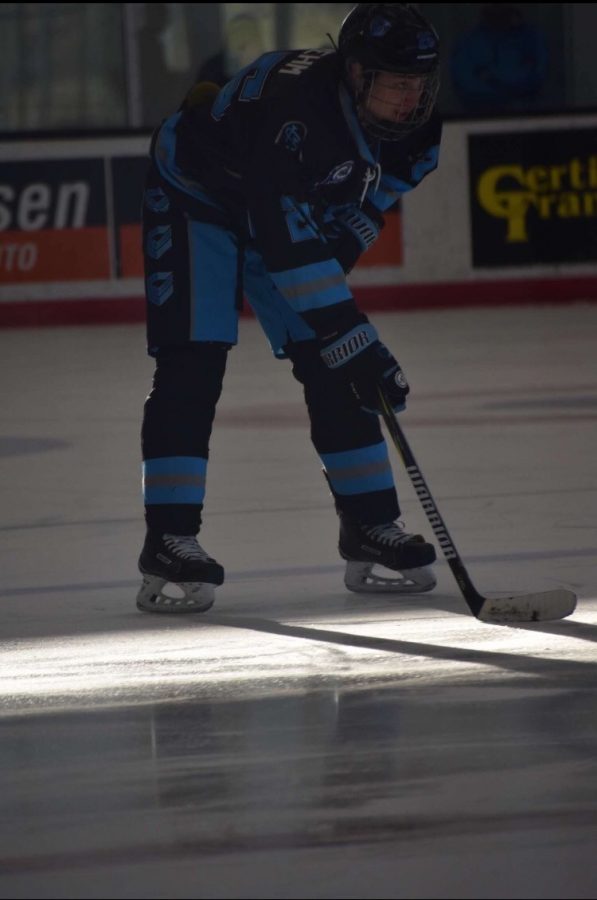 Hockey in St. Louis is growing. With two huge ice arenas opening in the area and the Blues fresh off their first Stanley Cup win, kids in St. Louis and all across Missouri are trading their baseball and football cleats for hockey skates. Yet, Central is still not among the 36 high schools playing in the Mid-States Club Hockey Association (MSCHA).
"It's an extra sport that would bring everyone together. Football brings a big crowd and I think hockey would have a similar feel," senior James Sherstoff said.
High school hockey games have been known to bring big crowds. With heated rivalries and electrifying playoff games, students pack into rinks across the city. In addition, every year students nearly sell out the lower bowl of the Enterprise Center to watch the Wickenheiser Cup (the second tier playoff bracket) and Challenge Cup (first tier playoff bracket) championship games.
Central has been without a hockey team since the 2012-13 season, but it may surprise you that Central has even seen some alumni move on to the upper levels of the sport. Most notably is Yan Stastny (older brother of former Blues' center, Paul Stastny) who recently retired in 2016, after 22 seasons of professional hockey that included a total of 91 games in the NHL.
Aside from championships and retired pros, the Colts' proved to be a solid opponent in the years they were able to assemble a team. The Colts were actually considered a powerhouse in the 90s, not having a losing record until the 1999-00 season. The Colts also picked up a Founders Cup (third-tier playoff bracket) win in 2008, and the banner for our 1992 Challenge Cup is currently hanging in Gym A. Since the 2013 season, there have been a handful of attempts to bring another MSCHA banner to Central.
"We have had a few people over the past few years inquire about getting a team back up and running, but have not been able to do so," said athletic director John Theobald.
"In order for a school to have a team, [there] have to be a certain amount of players from that school. That number has not been able to be reached."
In order to establish a league that is competitive year after year, Mid-States Hockey rules are very strict about new teams joining the league. According to MSCHA rules, a school must have 12 players, excluding goaltenders, from their own school in order to be eligible for participation.
While the rules about new teams joining the league are strict, Mid-States also wants to ensure that anyone who wants to play high school hockey has the chance to, even if that player's school doesn't have a team. Once a school has 12 players, a school may draft as many as 6 skaters and 2 goalies from what's referred to as "The Pool," similar to a free agency in professional sports. Any player whose school does not have a team can enter The Pool, as well as any high school age player who was cut from their school's varsity team.
The Pool has given many players the opportunity to be included in the excitement of high school hockey. Among these players is Sean Boehm (11) who plans to play for Parkway West in the upcoming season aside from his play with the CarShield AAA Hockey Club, one of the top teams in the area alongside the St. Louis AAA Blues. The average AAA hockey team plays at least 60 games per season, with practices nearly every day, plus team workouts. For Boehm, high school hockey offers a fun and exciting break from his intense schedule.
"Club hockey doesn't draw a lot of fans, where high school brings a lot of different people," said Boehm. "In a high school game there's a lot more energy, and it's based on fun, but club is all about work."
Aside from bringing an extra team for students to cheer for, the hockey players at Central agree that having a hockey team would be beneficial to the school community, and cause a rise in school spirit.
"If we have the ability to make a team here, I think it should be done," said junior Matthew Schaare, "It's a sport thats played often in the St. Louis region and I believe we should have a team."
"As of now, you see people you can see people walking around the halls with SLUH and CBC hockey sweatshirts," said Boehm, "It would definitely draw us together."