Shots Fired, Security Up
Students continue to face threat of gun violence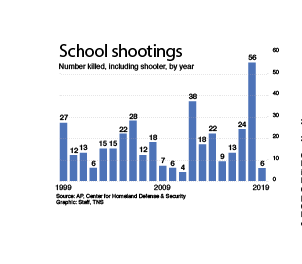 April 20, 1999 was a day that changed the world. That one fatal day in a small suburban town in Colorado changed life for every high school student from then to now. Since that day, there have been over 230 school shootings in the United States alone, and that doesn't include colleges or universities.
The Columbine Shooting took place over 20 years ago. Since then, our country has averaged ten school shootings a year, leaving 375 students and school staff dead. According to CNN, in the past ten years alone there have been 180 shootings on K-12 campuses, resulting in 356 deaths.
The issue seems to get worse by the year, as 2018 was the worst year for school shootings. 2018 saw 113 deaths due to school shootings, according to BBC News, averaging at one school shooting for every eight school days. While there has only been 22 shootings in 2019, that's still 22 too many.
In order to be prepared for the possibility of a shooting, every school in the United States practices intruder or active shooter drills. But with Australia being the only other country in the world to widely practice anything similar with what they refer to as lock-down drills, the rest of the world looks at the U.S. wondering when changes will be made, and how we let the issue get so bad that we must prepare for a shooting at a school in the first place.
While school shootings in St. Louis are very rare, shootings in general are not. The city is no stranger to gun violence, and for decades St. Louis has ranked among the FBI's most dangerous cities, and for most of those years was ranked at number 1, with a violent crime rate of 2,082 per 100,000 people, and with an average of 66.1 homicides per 100,000 people.
However, it's not just St. Louis, gun violence in the United States has become a widespread epidemic with no signs of slowing down. Despite the large amount of news coverage, it's a thought that's easy to put on the back burner, and the terror often seems too distant to concern ourselves with. However, this past August the violence came knocking on our front door at Parkway North. After fights broke out at their football jamboree, some say they heard multiple gunshots, some report a single gunshot, some say there were no gunshots at all.
Either way, all Parkway schools, along with other schools in the area, have increased security presence at football games and other school events in order to make students and parents feel safer. Regardless of whether or not shots were fired at North High, any situation of that nature happening so close to home really puts into perspective how bad our nation's gun violence problem has gotten.