Gun Sale Adjustments
Retailers Make Impactful Changes on Gun Sales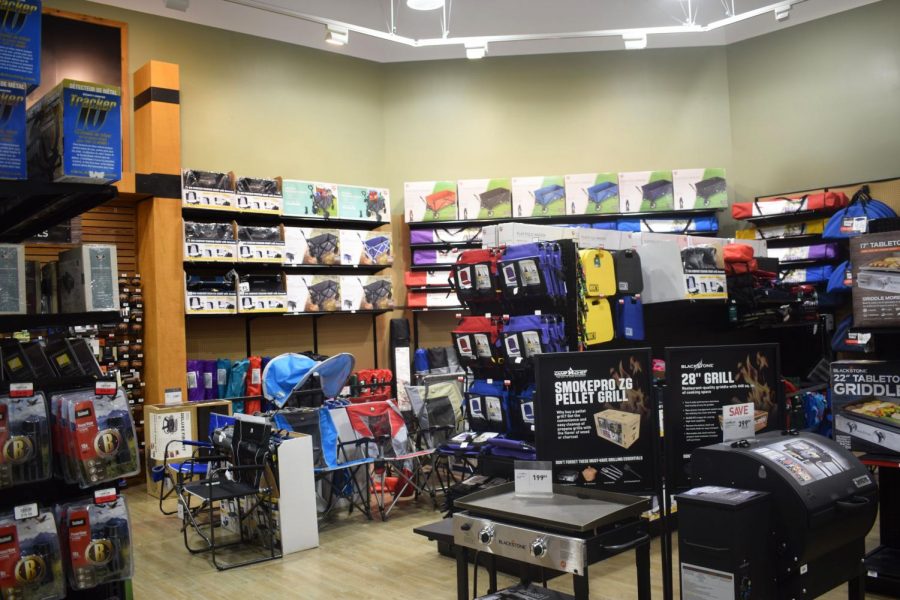 Gun control is a widely debated topic in politics and is something every person in America has an opinion on. In the last few years, politicians have used mass shootings and other gun violence incidents to push the idea that some or all guns should be illegal. In the United States, you have the right to bear arms according to the second amendment and businesses have been taking advantage of that for years by selling guns.
Some of the more notable retailers that still sell guns include Walmart, Dick's Sporting Goods, Cabela's, and Bass Pro Shop.
One of those stores, Dick's Sporting Goods, has been slowly taking out guns from their stores since the deadly shooting at Marjory Stoneman Douglas High School in Parkland Florida. The shooter bought his gun from a Dick's location. The company CEO came out and said after the incident that all assault weapons would be pulled out of stores, and a little while after that, Dick's started pulling out all guns from some select stores. One of these stores was the Chesterfield Valley location located 15 minutes away from school.
With the backlash coming from people calling for gun reforms, was the change for this specific store coming from a business or political perspective?
"Guns were taken out of low performing stores throughout the company," said former store lodge lead and current hardlines manager Brett Collins.
"It was a business move. The sales at our store do not support needing a lodge section."
Collins believes that on the political side of the issue, there has been a common misconception with the sale of guns at Dick's.
"The common misconception about the political side is when Dick's removes assault weapons," Collins said.
"Assault weapons haven't been sold at our store since before I started working there six years ago."
Collins attributes the change to more of an opportunity within the company from both outside gun trends along with non gun-related trends.
"A successful year like we had this year with local sports teams helped carry our sales," Collins said.
"The declining trend of hunting sales and the cost of having someone scheduled in our lodge section at all times during the day added up and there was just more opportunity for us to add more space to our team sports section, our apparel sections, and our outerwear section., which all bring in more money than guns and ammo," Collins said.
Along with Dick's, another retail giant has announced cutbacks on weapon sales. Walmart announced they would be cutting back on their ammunition sales. In a press release on Sept. 3, company president and CEO Doug McMillon announced "we will discontinue sales of short-barrel rifle ammunition such as the .223 caliber and 5.56 caliber that, while commonly used in some hunting rifles, can also be used in large capacity clips on military-style weapons; We will sell through and discontinue handgun ammunition; and we will discontinue handgun sales in Alaska, marking our complete exit from handguns."
McMillon released this information about a month after the El Paso Walmart shooting in which a gunman shot 48 people, resulting in the loss of 22 lives.
"We know these decisions will inconvenience some of our customers, and we hope they will understand. As a company, we experienced two horrific events in one week, and we will never be the same. Our remaining assortment will be even more focused on the needs of hunting and sport shooting enthusiasts," McMillion said.
One of the main groups that opposes these gun and ammo selling reforms is the National Rifle Association (NRA). The NRA sent out a press release after the Walmart press release.
"It is shameful to see Walmart succumb to the pressure of the anti-gun elites," the gun-rights group said in their press release. "Lines at Walmart will soon be replaced by lines at other retailers who are more supportive of America's fundamental freedoms."
The NRA also believes that Walmart is placing their blame in the wrong place and what they're doing is affecting the wrong people.
"Rather than place the blame on the criminal, Walmart has chosen to victimize law-abiding Americans," the NRA alleged. "Our leaders must be willing to approach the problems of crime, violence and mental health with sincerity and honesty."
Clearly a highly debated topic, the decision to remove or sell guns is something every current gun seller is going to have to face and make a decision on.