Restaurant Rivalry: Frozen Desserts
It has now been roughly a year since the closing of the frozen custard establishment Sheridan's. I'll be totally honest with you: I am a wreck. An utter wreck. Every single day is a struggle. I wake up every morning and cry because I do not have Sheridan's. I go to lunch and see the dip and dots at the snack bar, and I cry because I do not have Sheridan's. I go home and look at my freezer and cry; I do not have Sheridan's. You know how when you get sad you eat ice cream to make you feel better? I can't even do that, it just makes me even more sad the ice cream I'm eating is not Sheridan's.
I have had a frozen custard shaped hole in my heart for a year now. After extensive therapy, I have finally decided it's time to move on. Alex and I have developed a list of the four closest Ice Cream/Frozen Yogurt/Frozen Custard (or what we will now call frozen dessert to save space) places to the school. It is time to put myself out there and look for something new. While we both know nothing will ever match the grandeur of Sheridan's, we will still be comparing Silky's, Menchie's, Cold Stone Creamery, and Freezing Moo to see which frozen dessert we prefer. Here are the categories.
FROZEN PRODUCT: Sure, we sort of are comparing apples to oranges to bananas by going to all different types of frozen dessert places, but we aren't going to be taking points off for type of frozen dessert. We love them all. We are going to be looking at the quality of "apple," not whether or not "apples" are better than "oranges." Creaminess, flavor, and general quality of what is being served is all we care about.
TOPPINGS: What is a good frozen dessert place without good toppings? We want good, not moldy strawberries, rich chocolate drizzles, and fresh cheesecake (if you're a monster that likes to put cheesecake on your frozen yogurt). We also want toppings that make sense; we don't want to worry about accidentally ruining our frozen dessert with anchovies.
ATMOSPHERE: Everybody remembers going to their favorite ice cream place as a kid and being completely awestruck. I don't only want to enjoy the ice cream I'm eating, I want to enjoy the location. Sometimes we need an escape from the crazy, cruel world and we need to go into a cute looking frozen dessert place. Yeah, I know you relate.
VARIETY: With a category as massive as frozen dessert, the possibilities for flavors, toppings, and extra items are nearly endless. There is so much possible with a frozen dessert place: shakes, frappuccinos, waffle cones, crazy flavors, and much more. The more you can do, the more I will be impressed
SERVICE: I am still getting over my Sheridan's withdrawal. Whenever I see any frozen dessert, the memories come pouring back in. It's necessary for the service to make me feel at home, not even more uncomfortable.
COST: Every single person deserves the ability to go get ice cream. If your ice cream is stupidly expensive, that doesn't only make my wallet sad, it makes me sad that this is the world we live in. Please, do a service to humanity, and keep your costs reasonable.
Silky's: Customary Custard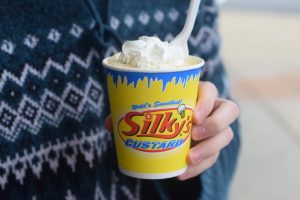 Silky's was the first place we visited on our quest for the best frozen treat near the school. Silky's is a local establishment with only three locations, one on Olive, one on Manchester, and one in the Mid Rivers Mall. I personally have been to Silky's many times before so I had a rough idea of what to expect, but I have never been here during a holiday and their decorations and atmosphere were charming and fun. It still felt homey and had a nice warmth to it, despite being a location with no seats inside.
The moment you walk into the store you see their menu loaded with options beyond ice cream, including root beer floats, sundaes, concretes, and even some cookies. However, we were there for their ice cream. It did not disappoint.
We got a basic mix of vanilla with cookie dough and Butterfinger, as well as their seasonal option of a Pumpkin Pie Concrete. Both were delicious, but the most appealing aspect was the texture. It was super creamy and perfect for scooping. The ice cream had good flavor and was perfect for an after school snack.
The toppings were also enjoyable, tasting exactly like we were expecting them to, but they didn't blow our minds. Their variety of toppings was admirable with numerous options of fruit and candy etc.
The service was also good, with the lady correctly and quickly making all of our concretes as well as helping us with all of our questions. It was one of the most reasonable priced places, You can get something simple for about $4, but you could easily get the price really high if you stack up the 75 cent toppings over and over, or if you get the $1.25 extra special items, or 50 cent whipped cream/sprinkles additions.
Overall, this is a totally respectable place, especially if you like frozen custard. Everything food wise was at least decent. What holds this place back is their lack of seating and their lack of actual custard flavors. Still, this is a great place for a reasonable, uncontroversial treat.
Cold Stone: Suspiciously Sweet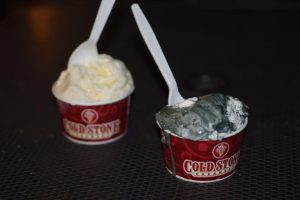 Out of all the places we went to, this was by far the one I was most excited for. Cold Stone has always been there for me just like Sheridan's. My happiness as a child was held up by these two establishments. My ice cream godparents, if you will. From the crazy amount of flavors, to the bar where they mix up the ice cream with the toppings in front of you, to the massive display of cakes my tiny eyeballs could barely behold.
Walking into the store with my big, twice as old eyeballs, it looked just like I remembered it. There is so much stuff everywhere. Of course there's the ice cream, but they have so much more than that. Cakes, chocolates, frappes, smoothies, shakes, candy, it was almost overwhelming how many calories decorated the store.
Continuing with the theme of seasonal treats, I got a flavor called "boo batter", which was cake batter ice cream dyed black.
Considering we came just 15 minutes before closing, the staff was excellent. The person who served me was super nice, and asked if I wanted him to get a topping from the back. I would have thought the service here would have been the worst due to us entering the latest, but this place was easily the best.
I watched him mush my ice cream together with a random assortment of fruit. In front of the counter was the seemingly endless list of candies, fruits, and other toppings. In my head, I just knew I would love this place. Or so I thought.
Having just gone to Silky's, I was ecstatic to find seats. Going through my head, I thought Cold Stone did pretty well on nearly every category. All that was left was the ice cream.
The moment the black mass of cake batter flavored ice cream entered my mouth, I knew I had made a terrible mistake.
It was no good. So not good I didn't want to finish it. The marshmallow and cookie dough ice cream had the same problem: it was uncomfortably sweet.
I can hear you yelling at the paper, "isn't ice cream supposed to be sweet"? Well, yes, but you should have tried this ice cream. It was so sweet it was hard to distinguish what we were eating. There was no nuance to the flavor. Just sugar.
Now, to be fair, it is possible we just got bad flavors. I am not saying this place is terrible and you should never go again. There are so many good things going for Cold Stone, from the toppings, to the crazy amount of variety, to the great service, to the show of making the ice cream. Still, the most important component is the ice cream. Our ice cream was not good. Don't get boo batter. It's scary for all the wrong reasons.
Menchie's: Masters of Fro-Yo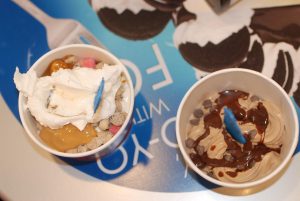 Menchie's was the third establishment that we visited. Menchie's was also founded fairly recently, 2007 in San Fernando Valley, California to be exact. Even though it is only just over 10-years-old it already has well over 500 locations. I was looking forward to this place, remembering the abundance of toppings and just the sheer amount of candy I always put onto my creation.
Upon arriving, it was clear the atmosphere was good, from the assortment of imagery on the walls to the themed decorations as well. It was truly immersed in a mix of Halloween spirit and the usual decor, giving plenty of stuff to look at while devouring your sugary creation.
Enough about the entry to the store, the true star of the show was the frozen yogurt; there were so many choices and each one was unique. They did not have any Halloween specific options, but they do have a rotating selection with a few limited time options. I personally got the 'Nutella' and 'Cake Batter' options which formed an exceedingly tasty combo. Even though Nutella and cake batter are generally sweet, it did not suffer the same fate as Cold Stone of being overly sweet. Even after throwing more candy and sweets than you can imagine on it, it still managed to be balanced and have delicious toppings in every bite. It was delicious frozen product for me, I savored every last bite. My partner in crime liked his too.
The variety was amazing, with over 10 frozen yogurt options all different, an excess of topping choices from candy bars, sweets, fruit, and even sauces like marshmallow topping and caramel sauce among other things. You could truly make any kind of mixture you wanted.
The service was not out of this world, but it was good; the workers were very nice and helpful when questions were asked. The cost is a variable aspect here more so than anywhere else. Menchie's bases the price of your creation off of the weight of the product. So in essence you are in charge of the price, logically if you load it up with lots of frozen yogurt and oodles of toppings your price will be substantially higher than someone who gets just a bit of frozen yogurt and is a topping minimalist.
Menchie's checked all of the boxes. Good variety, good frozen yogurt, good high quality toppings, it was just the right amount of sweet, but it did lack basic flavors like plain vanilla, chocolate, or strawberry.  Still, don't miss out on Menchie's.
We have now reached the end of our frozen dessert journey, and we're exhausted. The only thing that can cure our exhaustion is more frozen desserts, this time we're going for Freezing Moo's ice cream.
Freezing Moo: Ice Cream Art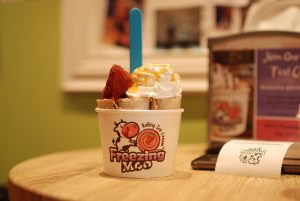 Perhaps the most Instagram worthy location, Freezing Moo's claim to fame is the fact that they make their ice cream right in front of you onto an iced grill, where they make the mixture emulsify into the ice cream, mixing toppings in as they make it.
This is an oddly shaped store, being super long and cramped on the sides, like a giant fat line. When we got in line I was astounded to find that there was one size at $6.50 per cup. What?
Though my bank account was bothered, I was quickly swept up in the store's charm. There is a big wall of Polaroids anybody could print from, which was really cute. The flavors looked really nice too, with great variety in flavor profiles. There are some fruit based creations, and other crazy candy creations.
The showmanship from the person at the counter was excellent. It was really entertaining to see my Apple Cider ice cream getting made in front of me. The guy even drew a fish out of caramel on mine! I was in love.
By far, the presentation from Freezing Moo was the best. Easily. The rolling ice cream hills topped with snowy whipped cream peaks and caramel rivers was almost as fulfilling as actual sightseeing.
The first bite did not disappoint. Or the second bite. Or the third bite. Though this place was expensive, the amount of ice cream was substantial. Along with the excellent apple flavor, what I loved about mine was the inclusion of cereal. Yes, cereal. Frosted flakes. Somehow they didn't even get soggy being freshly included in the ice cream. The texture contrast it created was truly excellent. If you want to find the actual best frozen dessert in the area, for my money it's here. However, there are a couple things holding this place back, most notably the price. When I need a little emotional pick-me-up, I don't want to trade being sad for being broke.
Also, the shape of the store made it very difficult for us to sit together as a group of three. This is not the place to go if you want to host a family reunion, or for a team to go after winning a game. These tables are perfect if you're alone or with one other person.
Another thing knocking this cow down is their lack of other options. While they do also sell hot chocolate, milkshakes, and coffee, the variety for non ice cream lovers is nothing to write home about.
Who are the Cream of the Crop? 
While the void Sheridan's left will never be filled, I now know that there are other fish in the sea. By a slim margin, Menchies takes the ice cream cake for us, for their creative flavors, respectable topping choices, nice seating area, and the ability to customize cost to however you need it to be.
While Freezing Moo has the best product, their crazy cost and lackluster location hold them slightly back. This is still a great place to go for ice cream. Don't write off Silky's either, their indescribable texture and quaint charm are very respectable. It is also the closest place to the school, making it great for a quick stop for frozen custard.
Cold Stone is the master of everything except ice cream. If this were a dessert edition, they might have a better rating, but their ice cream is lackluster compared to the competition, leaving them far behind the rest.