Making Her Marks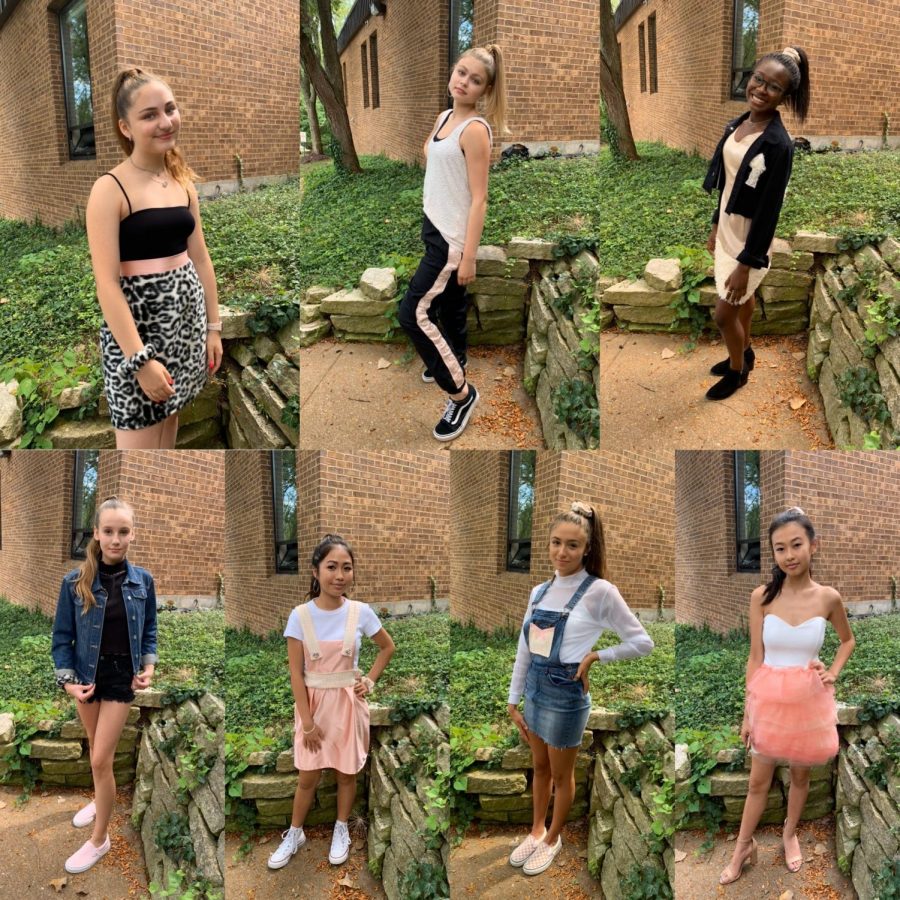 Coco Chanel. Vera Wang. Tory Burch. Lilly Pulitzer. Stella McCartney. The Olsens. Donatella Versace. Madison Marks. Even though Freshman Madison Marks is not a famous fashion designer, she has a strong start in the fashion industry for only being 15-years-old.
Her interest started in third grade when she started taking basic fashion classes and bought her first sewing machine.
According to the St. Louis Jewish Light newspaper, "Madison began her own business, Clutches for Cancer. She wanted to raise money in honor of her UH religious school teacher who was then battling breast cancer," Marks said.
Marks' fashion influence has come from her mom and her great grandma who passed away a few years ago. Marks describes them as extremely stylish women who are very influential.
Marks completed a seven piece collection in August which was presented at her fashion show.
"One look I made is a silk pinafore with tweed straps. The silk fabric was donated from the fashion fund, and the tweed was taken from a jacket I bought at NCJW," Marks said.
NCJW stands for National Council of Jewish Women. It is an American volunteered based organization that works toward social justice. They do this by improving the quality of life for families, children, and women based upon the principles of Judaism. In simpler terms, it is a local second hand store that donates profits to Jewish women.
Another look was a light pink silk dress.
"The silk fabric was upcycled from my grandma's old dress. The jacket says upcycle on the back with an arrow on the front in pink furry letters on a plain denim jacket upcycled from ncjw again," Marks said.
Also, the pink fluffy fabric is continued at the hem of the dress.
Marks created her pieces at home, working at the fashion fund independently or in a fashion fund class.
Marks ran, participated, and lead her own fashion show on Sunday, Aug. 18 at 3 p.m. at United Hebrew Congregation showing her upcycled back-to-school designs. It took Marks everyday over the summer to work on preparation. Before the show Marks held dress rehearsals with the models which were friends from school. She also went up to set up for the show early in advance.
Marks has big plans for the future.
"I am looking forward to being a teen assistant at the Fashion Anarchy Competition hosted by the Fashion Fund, showing a design at the Lindenwood fashion show for high school students , and I am working with the Saint Louis Magic House on a sewing/upcycling workshop sometime in the future," Marks said.
Right now she is focusing on learning from other designers in the St. Louis community and is gaining lots of experience while also learning new things.
"This is inspiring because it shows you don't need to be in New York to be a successful fashion designer. Knowing how hard these men and women work instills a view on me that the fashion industry isn't easy, but it is extremely rewarding," Marks said.