St. Louis Ferris Wheel
Hang on for a minute...we're trying to find some more stories you might like.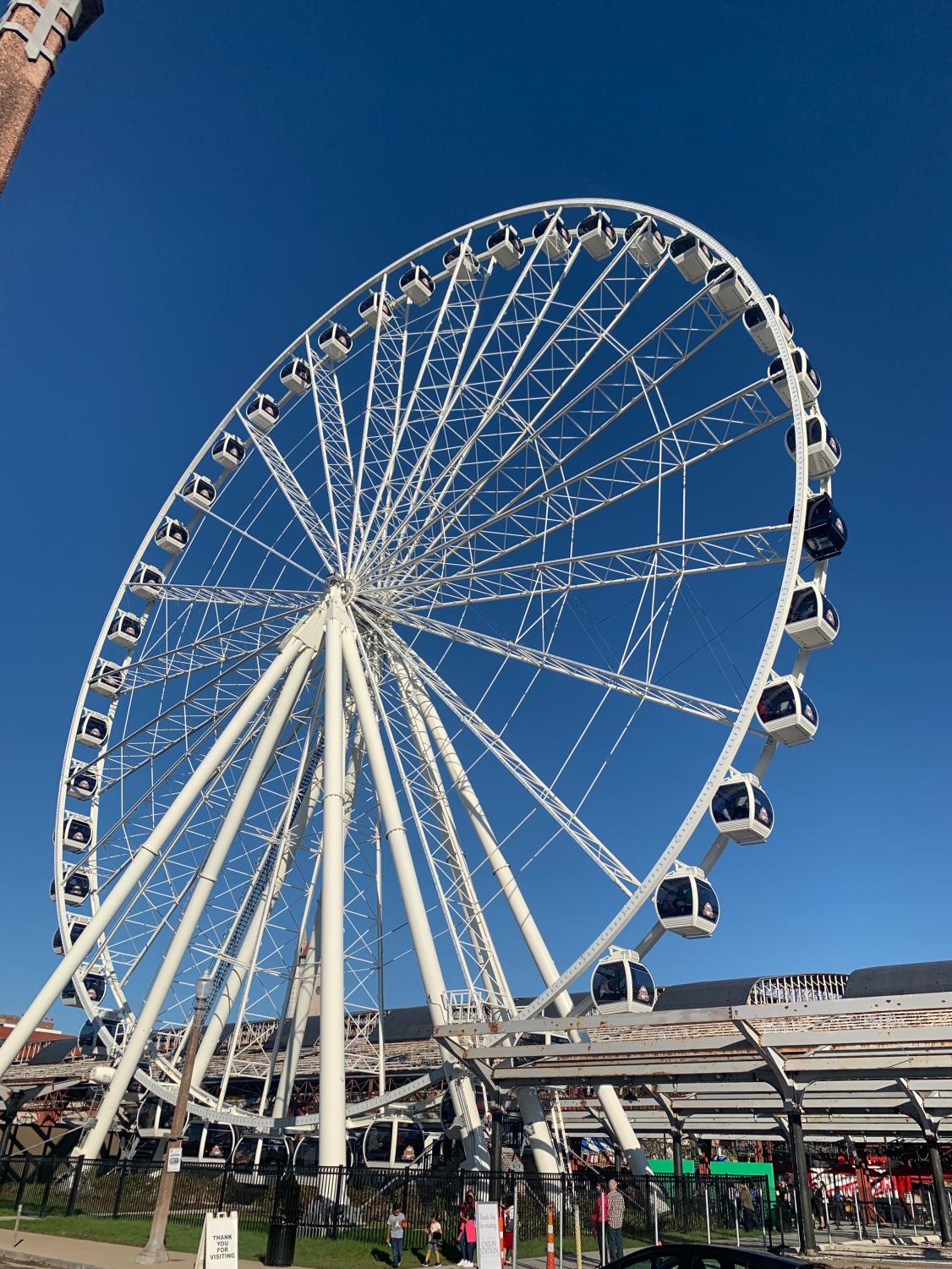 When most people think about St. Louis things such as the Arch, Cardinals baseball, or Blues hockey come to mind. The city recently turned the previous Union Station, which used to be one of the largest train stations in the world, into a modern hangout for people of all ages. While the Union Station aimed to renovate the train station in the past, it wasn't very successful at bringing attention to the city. However, ICON Attractions, the creators of the new Union Station, decided to bring a 200-foot-tall Ferris wheel attraction to reconstruct the Union Station.
Along with the wheel, the Union Station has included many different activities, restaurants, and entertainment to the reconstruction of St. Louis as a whole. The site includes many activities to take part in after taking a ride on the massive wheel, including mini golf, feeding the koi fish, a playground for younger children, and even a weekly movie night every Friday, which would provide for a great night out on the town for all ages.
After taking part in the numerous activities at the station, there are also many different places to eat and things to enjoy while just taking a walk around the area. There was a Landry's Seafood restaurant for a nicer sit-down restaurant or The Soda Fountain for common diner food and fun shakes. Along with dining, there is even a souvenir shop and an area sponsored by Anheuser Busch.
While dining or riding the wheel there are even entertainers and other entertainment going on around the station. Every 30 minutes, a fire and light show bursts out of the flowers in the pond. A circus juggler performs an act. There were lots of activities to do yourself and to keep yourself occupied while you wait for food.
The Wheel is a 15 minute long ride and we circled around the wheel about four times, which is what a worker said they aim to complete on a single ride. We rode on a traditional Ferris wheel gondola which is around $12 per person above 12-years-old and $8 for 12 and under. However, there is a VIP gondola option which has a clear glass floor and comfortable, cushioned seats for $50 per rider.
I thought that the traditional gondola was fairly comfortable on its own and I don't think I would've even needed to pay extra for the VIP gondola. It included air conditioning, an emergency button, and a clear view of the city. The Arch is even visible from the top view of the Ferris wheel. However, the best part was that they gave us free Halloween Union Station tumbler cups after our ride, which is perfect for the holiday.
The ride was 15 minutes long and the wait for food at the Soda Fountain was around the same time length. Therefore, if you were to put your name in for the restaurant, you could have time to ride the Ferris wheel or even have other entertaining activities while you wait.
When we were seated at our table, we had a nice view of the pond and could watch the fire and light show from our seats while we were waiting. The service was really good and the food came out fairly quickly. I ordered a chicken sandwich and fries which was as good as any other typical diner food but what I was really excited about was their "Freak Shakes."
I ordered the special addition breast cancer awareness "Freak Shake," which is only around during the month of October for National Breast Cancer Awareness month. The shake was a traditional strawberry shake but the things added to the top of it is what it made it so "freaky." There was a sugar lollipop, a pink ribbon cookie, cotton candy, a cupcake, sprinkles, icing, and a cherry on top. This drink was definitely full of sugar but also tasted really good as well. They had other selections as well such as chocolate and vanilla with crazy toppings, these made it hard to decide which one choose.
I was really happy with the Soda Fountain restaurant, especially since it had a great view of the union station, there was visible entertainment, good service, good food, and they even had a candy shop inside the restaurant. It reminded me kind of like an old fashioned diner that would be seen in the 50's, especially with the waitresses uniforms.
Overall, I think that the Union Station was a really great experience. I think it provides a lot of entertainment and activities for groups of all ages to enjoy a fun day out on the town. I am interested to see how the Union Station aquarium helps the overall Union Station modernization as a whole. The aquarium is still under construction and doesn't open till winter 2019. I would definitely recommend visiting the Union Station at some point because it would be a great experience. The St. Louis Wheel is open from 10 a.m.-10 p.m. daily.