Zaya Wade Coming Out as Transgender
How the Presence of LGBTQ+ affects Celebrity Culture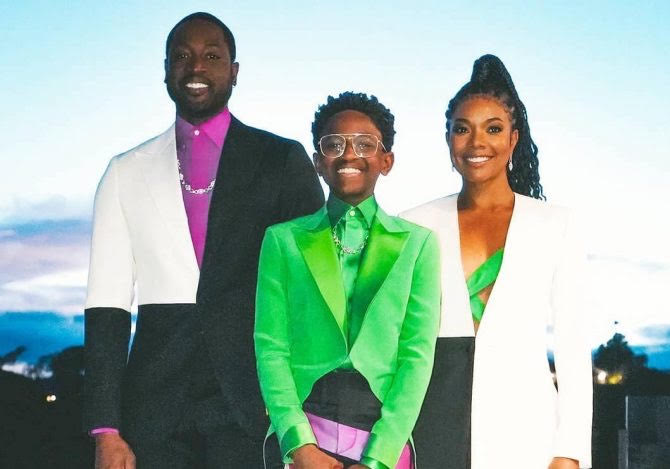 In recent weeks, the media found itself in a frenzy over an announcement that former NBA player for the Miami Heat Dwyane Wade made about his daughter, Zaya. The reason for the media's outburst is that Zaya wasn't born Zaya; she was born to Wade and ex-wife Siohvaughn Funches as a baby boy named Zion. And now, at 12-years-old, she's coming out as transgender. 
Celebrities themselves are seen coming out about their sexualities and gender identities all the time, and often, they are met with validation and support from their fan-bases and other media outlets. But, when it comes to kids, some people are quicker to ridicule their self-expression due to their young age. While invalidation and discrimination are still very present in the LGBTQ+ community, our world is more accepting and receptive to coming out now than ever before. 
For this reason, Wade chose to come forward as a guest on The Ellen Degeneres Show on Feb. 11 2020 to talk about it. In his interview, Wade recounted the conversation he had with Zaya when she first explained her preferred pronouns and identity to him.
"Zaya started doing more research. She was the one that sat down with us as a family and said, 'Hey I don't think I'm gay.' And she went down the list and said this is how I identify myself. I identify myself as a young lady. I think I'm a straight trans, because I like boys,'" Wade said.
For Wade, there may have been added difficulty when it came to balancing this personal matter and his career because of the stigma and fear of LGBT identification in the sports and entertainment world since there are very few "out" players. He even admitted on Ellen that in the past, he had been a person in locker room conversations saying the wrong words and offensive, insulting things and that his experience with his daughter was his first time ever having this conversation.
"I had to go and look at myself in the mirror and say, 'Who are you? What are you going to do if your child comes home and says, "Dad, I'm not a boy … I'm a trans girl." What are you going to do?" Wade said. "That was my moment."
From then on, Wade devoted himself to being a loving and supportive father beside his wife and stepmother to Zaya, Gabrielle Union. Together they vowed to do everything in their power to help her be her best self. Wade was very open during the interview about his and Union's experience learning how to parent an LGBT child.
"We are proud parents of a child in the LGBTQ+ community and we're proud allies as well," Wade said. "We take our roles and responsibilities as parents very seriously. So, when our child comes home with a question, when our child comes home with an issue, when our child comes home with anything, it's our job as parents to listen to that to give them the best information that we can, the best feedback that we can, and that doesn't change now that sexuality [and gender] is involved."
Union has been nothing but supportive of her daughter as well. Union used her resources and reached out to everyone on the cast of Pose for information and advice. Pose is a show on the FX channel that is notably known for being staffed with many queer and trans people of color in front of and behind the camera. Post Wade's interview on Ellen, Union took to Instagram to make her love for her daughter known by the public.
"Meet Zaya. She's compassionate, loving, whip smart and we are so proud of her. It's OK to listen to, love & respect your children exactly as they are. Love and light good people," Union's caption said.
The caption was posted alongside a video taken by Wade of Zaya speaking her truth and explaining her feelings about being her true self. 
"What's the point of being on this earth if you're gonna try to be someone you're not?" Zaya said in the clip. "It's like you're not even living as yourself. Just be true and don't care what the stereotypical way of being you is." 
Although it did create a stir, Wade and Union obviously are not the first parents to have a transgender or LGBT child and they certainly won't be the last. Even in the world of celebrities there are plenty of others who have come out about their children's sexualities and vouched for them in the public light. Among those people is Billy Ray Cyrus who dealt with extreme public backlash for the sexual expression of his eldest daughter, Miley Cyrus, who is out as pansexual and gender queer. 
In an interview on the red carpet of the MTV Video Music Awards that Miley hosted in 2015, Billy said, "we've always been very open-minded. It's all about love and light and she's rocking and rolling and having a good time. What the world needs is love. There's too much hate." 
Other well known celebrity figures with children in the LGBTQ+ community include Barabara Steisand and Isiah Thomas who both have gay children along with Cher and R. Kelley who both have transgender children. All of these celebrities publicly support their kids and some have even become strong allies and advocates for youth struggling with the same difficulties of self-identity as their own children. 
Beyond the support and championship of supportive parents, there are even more celebrities in the LGBT community themselves who are strong role models, allies, and advocates for LGBT children.
For Wade, he recognized the ageism facing his child and her lack of a platform because of her adolescence. He further recognized the invalidation many kids receive for "falsely" identifying themselves and being nullified by adults, so he took a stand on all of their behalfs.
"I looked at her and said you are a leader," Wade said. "It's our opportunity to allow [her] to be a voice. Right now, it's through us because she's 12 years old, but eventually it will be through her." 
Because of Wade's openness and Zaya's willingness to be true to herself, a conversation has opened up online about the legitimacy of young kids sexually identifying themselves.
If you or a friend is struggling with sexual or gender identity and expression, please visit these websites and other sources for support and join Parkway Central's Gay Straight Alliance (GSA.) The club meets every 2nd Monday and 4th Thursday of every month. You are not alone.
www.glsen.org/cgi-bin/iowa/all/home/index.html
LGBT National Hotline 888-843-4564