FOCO (fake homecoming)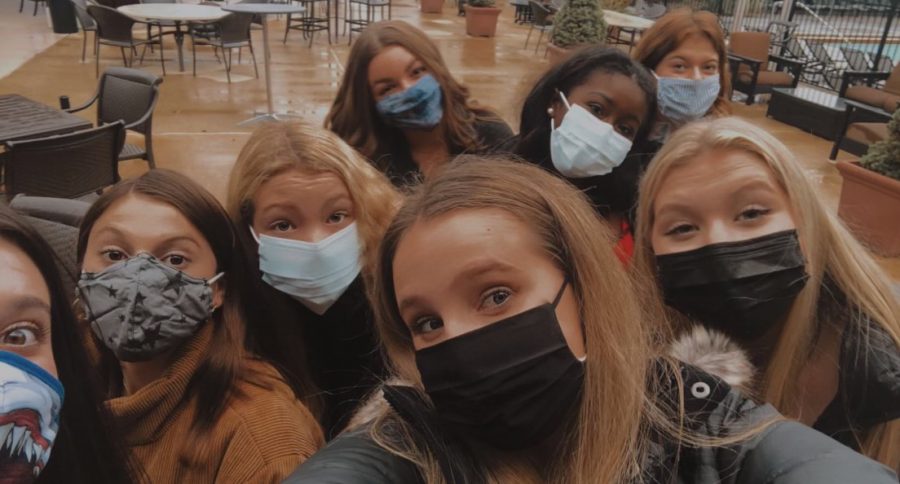 Homecoming or HOCO is something that students look forward to every year. Buying dresses, getting hair and makeup done, after parties and everything in between. Although there was a virtual homecoming week, there was no football game or actual dance due to the COVID-19 pandemic. Even though it was formally cancelled, some students took it into their own hands to throw a FOCO (fake Homecoming).
Sophomore Brooke Morley and her friend group decided that they wanted to do a FOCO because there wasn't going to be an actual or formal homecoming dance.
"We decided as a group to pretend that this was a normal homecoming; so we got dresses and heels," Morley said.
Morley and her group did most of the pre and post dance festivities like normal. They got dressed up went out to a nice dinner at Meadowbrook Country Club and then went back to someone's house like they normally would; just without the dance in the middle. Although they did have a really fun time, nothing can compare to the usual homecoming dance.
"FOCO dinner was really fun but it was kind of sad that we didn't have the dance after dinner because the dance really makes the night so exciting," Morley said.
Amelia Dimmock is a junior and her and her friend group decided they also wanted to do a FOCO.
"My friends Nikki Reed and Piper Douglas came up with the idea to have a small FOCO about a month ago, to bring a small part of that fun school experience back during this time," Dimmock said.
Dimmock and her friends went in a different path as far as dinner goes, they decided to keep it casual and go to Raising Cane's for dinner. Post-dinner, they went back to someone's house to just relax and hangout.
"It was actually more fun to me than an actual homecoming, no drama, less stress, and more relaxed than an actual Homecoming," Dimmock said.
Sometimes it takes people weeks or even months to find a homecoming dress or suit but both Dimmock and Morley said that they didn't have a hard time finding one. They both said it was actually pretty easy especially because they always had a big selection in stock.
Junior Carly Wasserman and her friends have attended the past two Homecomings and didn't want to skip on the tradition.
"We went to Rosalita's for dinner and we didn't get as dressed up as we normally would for homecoming but we all wore casual dresses, rompers or jeans with cute tops," Wasserman said.