The Future of International School Trips
People share their past travel experiences and their opinions on Parkway's travel plans amidst COVID.
For the majority of our time in high school, we learn about different geography, cultures, and languages from textbooks and worksheets. However, almost every year, Parkway offers its students opportunities to travel internationally, enriching their perspective on the world and allowing them to experience a period of cultural immersion.
While Parkway has chosen to postpone many trips scheduled to happen this school year, many students are still set on going, as those who have traveled in the past described it as an incredibly memorable experience.
Sophomore Linnea Patel travels often with her family, and had signed up for the Latin tour of Italy, which was originally scheduled for March 2021. After much consideration, the trip has been postponed one year, now moved to the week of Spring Break 2022.
"It's sad and unfortunate that the virus has delayed the trip, but I look at it as a good thing…more places will be open at the later time, and we can all go healthy and safe, and not have to worry about the risk," Patel said. "As much as I wanted to go on the trip in 2021, I think it was a good decision for them to postpone it; they are looking out for the safety of the students."
"This trip was going to be important for me because it would've been a great experience to enhance my learning of Latin," said junior Daniel Sun, who was also planning on traveling to Italy. "I do believe [that postponing the trip] was the right decision…at the time, Italy was a hot spot for COVID, so there was no point in taking the risk."
Latin teacher Matt Pikaard, a sponsor of the Italy trip, agreed that postponing the tour was for the best. He also expressed how impactful the experience is for the participants, and is hopeful that it will be still possible next year.
"I've been to Rome seven times, and yet every time I learn something new, whether about ancient Romans or modern Italians," Pikaard said. "Reading and watching videos about the Colosseum just doesn't compare to standing in the arena."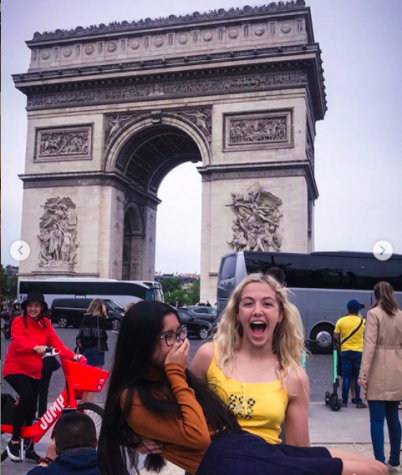 With the coronavirus posing a substantial threat to the safety of students and lessening the educational value of the experience, the sponsors of this trip were quick to reschedule the tour. They stated that if they had made this change too late, there would have also been a high risk that each student could have lost around $600.
Fortunately, a small group of students was able to travel on an international Parkway trip in the summer of 2019. The trip covered regions of France and Italy (specifically Normandy, Paris, and Rome). Having gotten the opportunity to visit many incredible places, including the Palace of Versailles and the Eiffel Tower, many of the participants described it as a life-changing trip.
"I wanted to experience an international trip with people my age…I loved the idea of [creating] lifelong memories with basically strangers," sophomore Francesca Ocampo said. "Traveling that year, since it was my first year in high school, helped me to grow independently and become more comfortable by myself and with people my age."
While travel may be put on hold this year out of safety concerns, Parkway has offered another opportunity for students to participate in a trip to the British Isles in the summer of 2022. This tour, which covers areas of Ireland, Scotland, and England, promises to be a "once-in-a-lifetime experience."