Black-Owned Restaurants affected by COVID-19
Encouraging people to spend their money at black-owned restaurants seems like a direct way to effect change and help to stand in solidarity with the Black community. Local food lovers have been pulling together extensive lists highlighting Black-owned businesses in their respective cities and we wanted to do the same for restaurants in St. Louis.
C. Oliver + Flower bar displays the Black-owned business sign in the front of their restaurant in their window. The owners designed the coffee shop with a relaxing vibe with natural designs, and post pictures of their shop on social media. The store is located in Maplewood, which is about 20 to 30 minutes away from Chesterfield, but it was worth the drive.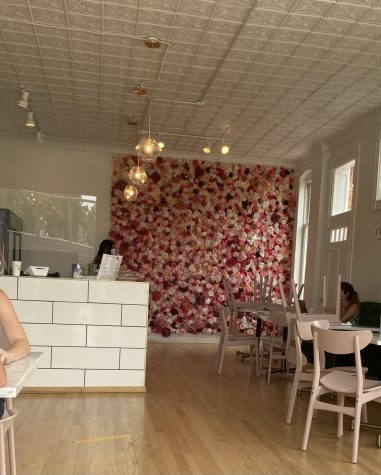 The store has only been open for one year, with the same owner, Olivia Ridgel. Ridgel wanted people to feel welcomed when entering the cafe and also have a peaceful atmosphere.
Something unique on their menu was the sizing of the drinks in order from smallest to largest: mini, chill, and vibe. The drink I ordered was called the "Lola" which is an iced strawberry chai drink which is their most popular. 
COVID-19 affected the C. Oliver + Flower bar massively and could only afford to be open four hours a day when COVID was at its worst. At one point, the shop was even on the brink of closing down. The cafe hung on with the community's support of sales and promotion. 
"We have employees that are just really flourishing and the support has been incredible," Ridgel said.
Even though C. Oliver + Flower bar has only been open one year, it has still managed to flourish even with all the challenges in its way including being a black owned business and dealing with COVID.
 "So much has changed in the past year but it's been the most amazing year ever. I couldn't have asked for a different time to start my business," Ridgel said. For more information on C. Oliver + Flower bar, visit https://www.restaurantji.com/mo/maplewood/c-oliver-coffee-flower-bar-/ 
Menchies, located in Heritage Place, is also a Black-owned business. Menchies is a popular place for Central students because it is the closest frozen yogurt to the school. Sadly, due to COVID-19, the Town and Country location had to shut down and the Heritage Place location off Olive is the only one left in St. Louis. 
Even though Menchies is a chain, this location is owned by a black couple, Jalen and Monique Bingham.
The Binghams opened this location on Feb. 17, 2015. COVID-19 had a negative impact on sales. 
"Much of our business is based on people getting together to socialize over a cup of yogurt and the entire point of the pandemic is not to socialize," Bingham said. 
Also, the majority of sales with Menchies is with catering through schools and over events. This made the most negative impact because all of these sales have come to a complete halt with schools being shut down and not having big events. 
Menchies adjusted to bring in more customers during COVID-19."We've added more outdoor seating, we have put all of our toppings in individual containers and we've installed a protective shield for our front counter along with wearing face masks and requesting customers to apply hand sanitizer before touching anything," Bingham said. 
To see a more in-depth listing of black owned restaurants visit:https://www.laduenews.com/front-and-center/business/black-owned-businesses-you-can-support-in-the-st-louis-metro-area/article_20c66dc0-3046-5d75-a6e5-a0738fbd0821.html