Girls' Volleyball – A Serve of a Season
This year, the PCH girls' volleyball team let nothing hold them back, and maintained determination throughout the whole season despite the major changes that were made to practices and games. The players were able to experience another successful year while also growing closer with their teammates.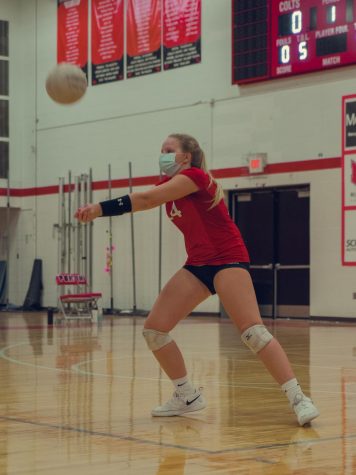 "What I love about being on the PCH volleyball team is the chance to work as a team with such amazing people, while also being competitive and active," sophomore Maggie Roberts said. "There were obviously pushbacks because of COVID and we didn't have as many games, but we were glad we were able to play at all."
Roberts, who has been playing volleyball for just two years, says her favorite part of the sport was the teamwork aspect and their ability to channel competitive spirit and energy. She also stated that the amount of skill and technique required to play volleyball was what interested her in the first place.
"Volleyball is a game of skill and it would be very difficult to play at a higher level if you didn't have the right techniques and skills down," Roberts said.
Many players have expressed how important the positive group dynamic is to them; the team was able to bond more this year as they all adapted to the changes brought on by the virus.
"I love the team aspect of volleyball," sophomore Josie Robinson said. "Everyone doing their own part contributing to the team creates bonds between everyone to make the team stronger…I enjoy that volleyball gives the chance for everyone to lift each other up."
Robinson played libero on JV last year, and swung up to varsity this season. Despite sustaining an injury halfway through the season, she was able to support her team even from the sidelines.
"Watching instead of playing was difficult, but I found a way to contribute to the team by calling serves," Robinson said.
The support that the teammates show one another on the court is one of the biggest things that remained the same this season.
"Honestly I just love the people. It's an amazing group of girls and just an awesome community," sophomore Blair O'Connor said. "My favorite part is playing games and just the energy on the court!"
Senior Julie Ryterski also describes the PCH volleyball team as a second family, and says her favorite part of the sport is how everybody works together towards the same goal.
"Unfortunately, there had to be many changes this season; we didn't have any locker room bonding time, no going out to get food as JV sets up and no dress-up days," Ryterski said. "Usually every year we have a Christmas Day where we wear Christmas outfits to school and play Christmas warmup music, which I missed."
The main factor that brings the girls all together as a more cohesive team, according to many of the players, is trust and supportiveness.
"If they players don't trust each other, then they're not going to play well together, and will end up not doing as well," junior Elle Gallen said. "We havegrown closer with one another by seeing each other every day [and] talking in the group chat all the time and on the sidelines."