From gang recruit to Teacher of the Year
Central alumnus Darrion Cockrell tells his story of hardships to becoming the Missouri 2021 Teacher of the Year.
Parkway Central High School alumnus Darrion Cockrell is currently riding the high off of his most recent success – Missouri 2021 Teacher of the Year.
Cockrell is a P.E. teacher at Crestwood Elementary in the Lindbergh School District. However, Cockrell's roots lie as a Colt, as he attended both Central High and Central Middle Schools.
"Being the 2021 MOTOY brings everything full circle for me. It's a testament to the impact that educators and education has had on my journey towards success. I can say with 100% confidence that I would not be where I am today without loving, supportive and amazing educators," Cockrell said.
One of the educators who has been a great mentor to Cockrell is still here at Central – P.E. teacher Michael Wright.
"[Cockrell] has a smile that would always light up a room, a kind personality, he was a hard worker, he was kind to all students, worked well with others, and was a great part of our Central community," Wright said.
In 2013, Cockrell student taught with Wright before becoming Crestwood's P.E. teacher in 2015.
"I could tell he was going to be a great teacher then. He worked great with students, always made class fun, and was knowledgeable about what he was teaching," Wright said.
Wright wasn't the only teacher Cockrell had a lasting impact on. Math teacher Gina Caruso also fondly recalls having him as a student.
"Darrion was always smiling, outgoing and personable," Caruso said. "He was incredibly kind and polite to everyone. Yes, he was a talented athlete, but he never put himself into a box or a specific social status."
Cockrell works hard not only to make sure his students know he cares about them, but to give them and their families as many opportunities as he can to keep them physically and mentally fit. Inspired by Michelle Obama's "Let's Move!" initiatives, Cockrell started his own crossfit program at Crestwood, known as CrestFit. Cockrell also started what he coined the Dads' Club Open Gym, a weekly event allowing dads to play basketball together in the evening, as a part of his efforts to get families moving and active as well.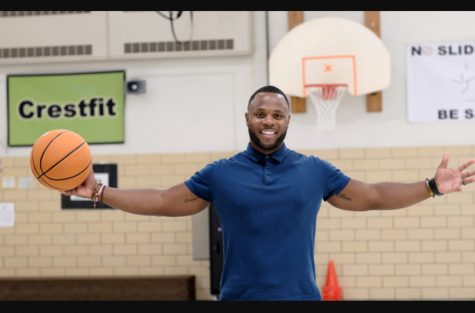 "The fact that I get to be that positive impact and have the ability to truly guide students towards their future success as my teachers did for me is so rewarding. The role of the teacher is to be that constant positive force that continues to push their students towards greatness," Cockrell said.
However, Cockrell's path to success was not a straight shot. From childhood, he's had to overcome inconceivable hardships.
Born to a drug-addicted mother and losing his father at age four, Cockrell spent much of his childhood navigating through the foster care system. Although he enjoyed school, his life outside of school was oftentimes turbulent and, at the very young age of 10, he joined a gang. In 7th grade, Cockrell was adopted by his football coach and his wife.
"Many of the things I went through growing up in the city and living in West County has allowed me the ability to relate to my students and the confidence to help with some of the matters their families unfortunately may be facing. Having my background and knowing how to navigate through some of those waters have given me the opportunity to build trust and provide a good amount of support," Cockrell said.
Cockrell attributes the great teachers and mentors he had growing up, like Wright and Caruso, to his success in switching the narrative and finding a way out of an arduous situation.
"My love for people and wanting kids to have a good experience in education was part of my motivation in becoming a teacher. I wanted to provide that same happy place that many of my teachers provided for me in school," Cockrell said.
Caruso also shares how Darrion's accomplishments have impacted our community.
"Everyone now knows Darrion's incredible story of where he came from to where he is now and I could not be more proud of him. Darrion is an inspiration to us all and we could not ask for a better role model as Missouri Teacher of the Year," Caruso said.
Cockrell's experience at Central not only fueled his passion for education, but it also left him with many fond memories.
"High school had its challenges but it was some of the best years of my life. Central provided me with many great friends, memories, sporting events and connections with teachers. Some of my fondest memories are winning Prom King, having two great football games on TV and almost making it to state. I would give anything for another pep rally. The entire school, cheerleaders, the band and everyone in the big gym. I can hear everyone now screaming 05!! 06!! 07!! Etc. I miss Central. Best high school in America!! GO COLTS!!," Cockrell said.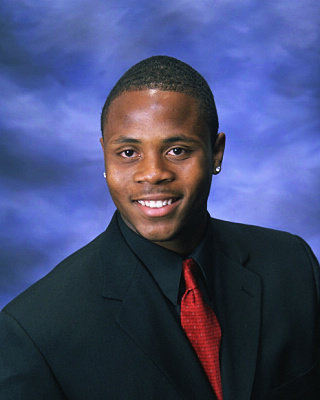 In addition to the great impact he has had on the students and families of Crestwood Elementary, Cockrell continues building an inclusive culture throughout his community as he is an active member in Crestwood's diversity committee.
"People are always talking about being 'woke' or being for diversity. But my role as a black educator is to challenge people and see how 'woke' they really are. Ask and answer the tough questions about diversity. Empowering students because of their differences and making sure everyone has a voice, an understanding and respect for everyone despite their differences. Embrace individuality and make it a part of the plan that brings people closer together, while also continuing to be the change that I want to see," Cockrell said.
Cockrell emphasizes the importance of carrying these morals into the classroom with him.
"An educated black man teaching other students and showing them that you can achieve success despite the color of your skin or any preconceived notions/biases people may already have. I'm all about building community and the culture I've created with my CrestFit program has been a huge part of my success in doing so," Cockrell said.
However, the COVID-19 pandemic has not made it any easier for Cockrell to accomplish this.
"In the beginning the hardest part was creating the same culture of P.E. virtually for my students as they experienced in person. I had to create a virtual platform that was balanced with fun interactive activities, mental health sessions and plenty of resources to keep my students and their families engaged," Cockrell said.
No stranger to adversity, Cockrell has met the challenges of the pandemic head-on with the same principles that have brought him success thus far.
"I've had to make sure students stay masked up, socially distant, are practicing healthy hygiene habits while also continuing to have fun staying fit. Although it's been tough, knowing we are all in the same boat together doing the best we can despite this pandemic has given me the motivation I need to keep pushing forward," Cockrell said.
Another incredible award Cockrell has recently received is the Box Top for Education Innovative Teacher of the Year. As if that achievement wasn't a big enough honor, Cockrell was nominated by Chance the Rapper. Chance was also the one to present Cockrell with the award.
"When I found out I would be accepting my award live with him on Instagram I was really nervous. Not only was I going to be talking to one of the dopest rappers in the game, but our interview would also be live and watched by thousands of people. As he introduced me my heart began to pound like crazy and I had no idea what I was going to say, do or anything. As we got into the interview I relaxed and it was just so natural. Felt like I was talking to one of my boys and having a good time. We laughed, danced and just celebrated the impact and importance of great educators. Not to mention the $30,000 he gave me! Truly one of the best experiences ever," Cockrell said.
$15,000 went to Crestwood Elementary and the $15,000 went directly to Cockrell.
Cockrell hopes his experience inspires other students to overcome their hardships and turn them into successes the way he did.
"All students have the ability to have the utmost positive and successful future that they want. But, they have to truly want it. Speak it into existence and make it happen. They have to put in the work and know that when, not if, but when it gets hard, you still have to keep moving forward. If you want to shine you have to grind. Anybody can talk about what they want, but you have to be about it too," Cockrell said.
Cockrell's message also extends to teachers wanting to have an impact on their students the way he's had on his.
"As for teachers, it's all about connections. Being your authentic self while building relations and connections through trust, love and support. You can be the greatest in the world in your content area, but it means nothing if your students have no connections or are unable to buy into whatever you're trying to teach them," Cockrell said.