Putting Off Pool Problems
Oldest pool in Parkway, swimmers push for Central to get a new pool.
Junior swimmer Sophie Bain and anyone who has taken freshman P.E. knows the most disgusting and outdated part of our school – the pool.
"The ceiling sometimes leaks, there's a lot of mold on the pool deck, there's sand and other gross things at the bottom of the pool," Bain said. "The viewing section is awful! When we used to have spectators, it was hard for them to see everything because of the big pillars right in front of them. The locker rooms need some work as well. Half of the showers are broken, there's mold everywhere in the shower area, one of the bathroom stall doors are broken, and the locker room floods frequently. Bugs are seen so often on the pool deck and in the locker rooms as well. Central's pool definitely needs work."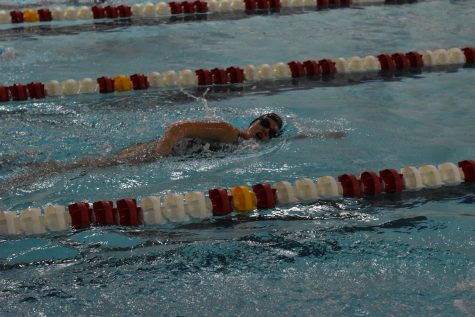 Despite these conditions, Parkway currently only has plans to replace the pool's filtration system. These replacements are happening at all four Parkway high schools as part of routine maintenance and upkeep, but are not in response to Central's current unsatisfactory conditions.
Central's neglect of its pool has led to some students feeling neglected. Junior Sarah Hirsch, fresh off her trip to state where she represented the Central dive team, echoes just this.
"The school won't pay for [a new pool] or get swim and dive sponsored because all they care about is basketball and football. Even though the swim and dive teams and the water polo team have brought in more wins for school than the football team [and] the basketball team," Hirsch said.
Hirsch thinks Central should make it its mission to provide equal opportunities to all students in all sports and to demolish the existing double standard felt by the student athletes.
On top of the conditions, there is another significant issue with Central's pool – the depth.
According to Parkway Athletic Director, Mike Roth, Central's pool was built in the 1960s and, since then, the current safety regulations for the depth of the pool have changed. However, Central's pool depth is up to code, because its age grandfathers it in.
Junior member of the dive team, Alyssa Smith, identifies the depth of the pool as a reason Parkway should look into a new pool for Central.
"A new pool would allow it to be deep in the diving area and would allow us to get a better quality board as opposed to a board whose screws we have to put back in everyday," Smith said.
The board is old and some of the screws in the platform which connects the board to the pool deck fall out frequently when using the board.
Additionally, despite it technically being legal, the current depth of the pool's deep end presents a danger to our divers.
"Diving would benefit from a new pool because I would be able to do harder dives and not feel like I'm going to hit my head at the bottom of the pool, which I have done, and it is painful," Hirsch said.
Whether it be to make the pool legal, improve conditions for every Central student, offer pool visitors a welcoming environment, protect the safety of our divers, or to spend taxpayer dollars equitably across all sports facilities, Central has a plethora of reasons to improve the conditions of its pool beyond a new filtration system.
Roth was candid about the current pool situation.
"We are very aware that our pools have aged, there's no doubt about it. That's a fact and we need to stay on top of the maintenance and the aesthetics and just make sure everything is top quality for our student athletes and coaches," Roth said.
One of the greatest challenges the Parkway district faces when making major renovations is that they have four high schools. If one school were to get a new pool, the district would be expected to pay for new pools at all the schools. This has resulted in the district favoring upkeep and maintenance over starting from scratch. 
According to an article from Fox2Now, Kirkwood High School was able to build an entirely new pool. However, the steep cost totaled about $11 million, $10 million of which came from donation.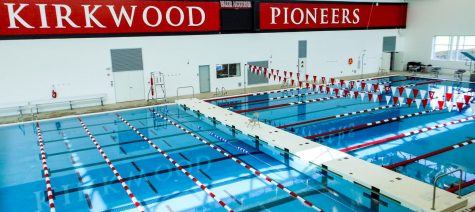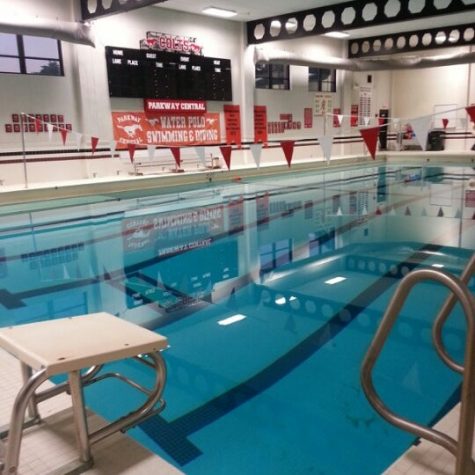 Building a new pool is no cheap task and, for Parkway, it would be four times the cost.
When asked if there are currently any plans for greater improvements to the pool beyond a new filtration system, Roth admitted this is not the first time such a question has been brought to his attention.
"There have been conversations [about a new pool]," Roth said. "I've been in Parkway almost 29 years and it seems like almost every year there's conversation about what we're going to do with our pools. At some point in time we might have to bite the bullet and say 'Hey, what's best? Do we keep our on-site facilities? Do we build a Parkway natatorium?' But there's other needs in Parkway too so it's just a matter of where that falls into place."
While "at some point in time" does not sound very promising or definite, student athletes can be assured that the subpar conditions of Central's pool are on Parkway's radar.