COVID Couture
History is reflected in the fashion of a burgeoning decade
People throughout history have long used clothing to express themselves, and very little has changed during this time. Masks and leisurewear are the standard uniform these days, while people fantasize about a future where they can dress up once more. 
Junior Haley Lander is a retail worker at the small boutique Laurie Solet. It's cozy and welcoming, with inviting lights and positive signs.
"I've always loved clothes and shopping, and I also love just talking to people and being social," Lander said. "It's a really active job, which I like. I mainly check customers out. I help them come up with an outfit, and I also deal with bringing in clothing shipments or online orders."
While it appears that inventory has evolved to reflect the needs of consumers requiring more pajamas, the fact remains that customers who are more hopeful about the state of the world remain varied in their tastes.
"I'd say it's kind of split where some people are only buying comfy stuff, and other people are just buying nice stuff for when the time is right to go out," Lander said. "When I was bored at home, I would go online shopping and get stuff for when it is the time to go out. I've definitely enjoyed getting nicer pieces for hopefully later on when I can go out, but I'd definitely say it's made me more aware that I love comfy stuff."
Spending time alone at home has given people plenty of time for research in the quest for a new style. Senior Julie Ryterski has discovered a trusty resource in none other than TikTok. 
"I think that people have really become more expressive recently," Ryterski said. "Like, they see something on TikTok, and are quick to be different now more so than ever. There's less of an impact on seeing people in the hallways and thinking that 'oh I have to fit in,' but people don't really do that anymore. On TikTok, you see people from all the different countries and everything."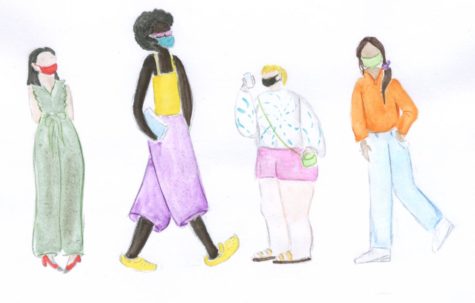 With the delayed start of a new decade, historians, fashion experts, and fashion enthusiasts are looking forward to the return of bygone styles. There is a concept called the twenty year rule where it takes approximately twenty years for a trend to be loved, reviled, buried, then resurrected to be loved once more. Towards the end of the 2010s, there was a rise in a love for the 80s and 90s, seen through items such as scrunchies and jumpsuits. Although the Roaring Twenties are a bit farther than twenty years in the past, it seems more likely that trends characteristic of the 2000s, also known as y2k, are set to make a comeback once people begin to venture out of social media and into the outdoors. 
This is FACS teacher Jaclyn Deelo's tenth year teaching fashion based classes at Parkway Central High, a prime seat for observing current fads, that may or not be truly current.
"I really like how we talk about the history of fashion," Deelo said. "We talk about the different decades, and it's cool to see what has cycled. Like the 90s: the scrunchies. I'll never forget when I was teaching a clothing class a couple years ago, my kids were like 'can I make a scrunchie?' and I was like, 'what are you talking about?'"
Clothing merges practicality with innovation and business as it pushes itself in a competitive field. 
"We talk about creativity, about how these companies have really jumped on what's happening and really banked off of it," Deelo said. "Think about all the companies that made masks, and have made so much money."
Fashion is art, art is expression, expression is human. People have found comfort in taking care of themselves through creating art, and always taking inspiration and feeding into the worldwide community of artists.  
"It is really nice to get dressed up," Ryterski said. "I always have to do my eyebrows and put on my mascara for the day, otherwise I feel all naked and ugly. It's a terrible habit, but I mean I go through phases, everything goes through phases, just like this twenty year thing, it'll all bounce back. What's something you don't like now, you will like, in an hour."