One Chance in One Act
Directing class for seniors creates a space for expression
In a less than ideal last year of high school, senior Nicole Lindberg is still spreading joy to those around her. The directing class is limited to seniors only, and is the epitome of high school theatre classes in all of Parkway. As the only senior taking the class at Central, Lindberg is determined to make the best of her last show, "An Absolutely True Story (As Told by a Bunch of Lying Liars)" by Ian McWethy.
"Times are hard right now," Lindberg said. "It's hard to find a reason to laugh, so I chose a comedy, a play that's so stupid it's hilarious. I want them to laugh so hard they pee their pants. That's my goal."
Lindberg has been involved in her church's choir since kindergarten, and has taken musical theatre classes for the past few years. Although Lindberg is more drawn to acting, her first experience with a one act in her freshman year was as a stage manager. Three years later, she still holds herself to high standards, but with a lighthearted element.
"As much as I want the audience to have a good time, I also want my cast to do that," Lindberg said. "So I want to try and keep my rehearsals upbeat, let us laugh a little bit. I want them to look back on this show and say, 'hey, that was super fun, and I had a good time, and it was great.'"
Sophomore Sydney Shomaker is playing the character Fred in the upcoming one act. They are relatively new to the theatre scene, and are facing considerable pressure to learn on the go.
"Because this is my first play, it's been kinda awkward because everybody else has been in like a theatre class, and there's one guy who's been in 17 other plays," Shomaker said. "I had no idea what blocking was, or any of the games that everybody knows. Everybody's using words like upstage, or downstage; I don't even know that."
Despite these anxieties, Lindberg has managed to ease Shomaker into the theatre family with relative ease.
"I'm actually happy," Shomaker said. "It's not just made me anxious. I've already had a lot of fun being in a play. The rest of the cast is great. Despite the fact that I don't know much, they've done their best to explain all the stuff to me. And although I get anxious before every rehearsal, when I come out I always feel happier, because I get to hang out with my friends for a couple of hours."
Lindberg also has experience with anxiety, which theatre has helped her to overcome.
"Shockingly, I used to be quiet, and shy, and anxious," Lindberg said. "And I'm still kind of that, just less so. So I guess if you want the cliche answer, theatre has helped me come out of my shell, and be myself."
Lindberg's welcoming personality has permeated throughout the department, and has already been noted by yet another newcomer.
"I've seen a very comfy environment," freshman Devank Uppal said. "Even when people were rehearsing on stage, you could still talk to each other, and they didn't mind. They would just come to you. Your communication skills get a lot better in theatre."
Uppal was first drawn into theatre in fifth grade when he saw a high school theatre in New Jersey, and was fascinated by the lightboard. He has experiences in various parts of lighting throughout his various moves from New Jersey to Ohio, India, and now St. Louis. Uppal's dad works in the business side of tech, providing tech services to large companies such as the Dow Jones. Uppal himself has been bitten by the technical bug, and is currently learning on lights crew.
"I think they did the Super Bowl once, cause he was in the office for a whole day," Uppal said. "I would love to do sound and lights. I'm good with organizing skills, and more of a technical side."
The variety of skill sets required to run a show extend artistically to acting as well. Junior Jack Watts began taking theatre classes at the age of seven, and has enjoyed performing ever since. He is playing the character Barney in "An Absolutely True Story," and is also looking forward to taking the directing class currently inhabited by Lindberg, and as of now, is the only one in his grade on his way to the honors level class. 
"I want to take the directing class because I've been doing the other classes that are required for it, and I feel like directing would be a good last step for me before I go off to college to study theatre or film," Watts said. "Directing will give me a fuller and better appreciation of what goes into the making of a show. I feel like that way I'll be able to know for sure if I really want to do theatre or film when I grow up."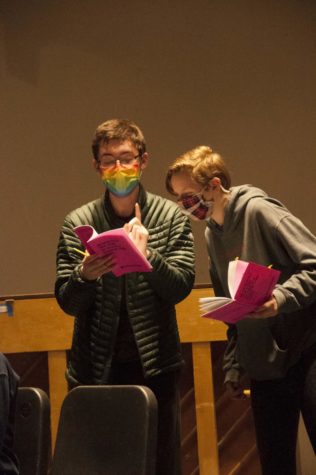 Watts plans to continue his performing arts journey after high school into professional theatre, carrying an advantage that most performers do not have.
"To be specific, the syndrome I have is Asperger's Syndrome, which is a high functioning version of autism," Watts said. "What Asperger's Syndrome does is it really boosts my creative thinking. I really like it, it does give me a range of ideas to put into my head of the different characters and makes me think about interpreting them in different ways. It makes me feel like having Asperger's gives me an advantage because I feel like I can think more outside the box. With my speech, I do have more stuttering to my speech than other kids do, but most of the time when I'm reading a script, I do read it perfectly. When talking normally, I do happen to have more speech disruptions, like the words, 'like' and 'um.'"
Lindberg is eagerly awaiting the performance's approach.
"I'm looking forward to seeing it all come together," Lindberg said. "Whether it's in a dress rehearsal, where I get to see the costumes, the props, the lights, everything, or it's the final performance, where things are together. Even though I'll be sad when it's over, I can't wait to see the final product."
Lindberg has many people she is thankful for, not least of all her sister, sophomore Becca Lindberg.
"She was the one who encouraged me to try out for that play in eighth grade, and in turn, inspired me to keep doing theatre in high school," Lindberg said. "So now I'm here. Thanks, Becca."
In turn, the cast also has Lindberg to thank for a welcome respite from a tumultuous year.
"A message that I would want Nicole to know from the whole cast is that we are so proud of her for being able to overcome the difficult year she's had," Watts said. "To work hard, to get this far in directing, to be seen as a leader in the department, and for people to look up to her, that's a really good thing for her. We appreciate her so much for her kindness and her generosity and everything that she's done is great for the whole cast. Just to make people laugh is what the department needed."
The show will be streamed live on April 15 at 7 p.m.