Varsity Dance Turns the Corner
Varsity dance is finally in front of spectators again, ready to go all-in
After a year of limited spectators, no buzzing student section, and the overall lack of promotion for sports events throughout the season, the varsity dance team is ready to perform in front of a crowd again with a squad of new and returning dancers.
After having a year off from the regular excitement surrounding the dance team, senior and team captain Maddie Hewgley is more than ready for the thrill of football games and pep rallies to begin again.
"I miss dancing at pep rallies so much. Getting to dance in front of the entire school is always exciting and nerve wracking (but in a good way) and has always been my favorite part of dance team," Hewgley said.
Besides just dancing in front of a crowd again, Hewgley has the ultimate goal of being able to compete around the country again. Missing out on the exhilaration that comes with a competition is something that she is hoping to make up for this season.
"My greatest goal for our team this year would be to go back to nationals. We were supposed to travel to Disney World for nationals last year but of course COVID had other plans, so I'm really hoping this will be our year," Hewgley said.
First-time varsity dance team member, Zoe Snitzer, is also ready to get back into the swing of performing. Getting to be a part of what dance team has known and loved for years is what she is most looking forward to.
"Dancing at football games is such a unique and fun experience and I am so excited to be able to do it 4 more times! I also am excited to compete with this team and I think we're gonna have a really good season," Zoe (10) said. 
Senior Mikaela Snitzer, also serving as team captain, knows that a football game just doesn't feel the same without the support of the crowd pushing them to go all-out during a performance.
"A lot of my adrenaline comes from being in front of an audience, so when we were dancing for small crowds or no crowd at all, I felt really unmotivated because it felt like no one cared," Mikaela (12) said.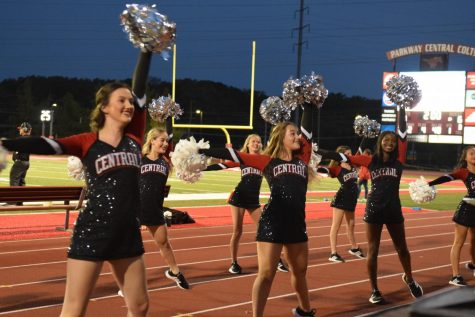 Even though the energy this year has been amazing for the dance team captains and team members, there have been some new things to get used to that haven't been the easiest, especially with a completely new group of people. 
"I think the greatest challenge we've been facing this year is that we have half as many people to choreograph dances. This puts a lot more on me and Mikaela but it has also given us the opportunity to let some of the other upperclassmen on the team choreograph football dances," Hewgley said. "In fact, at our next two home football games we will be doing dances choreographed by juniors on the team."
Alongside Hewgley, though, Mikaela feels that they are able to push through the setbacks that they've faced so far this season and make the best of the new experience of being a captain. 
"Last year, having four captains just meant the responsibilities were distributed amongst more people, but it's definitely not too much to handle. Maddie and I do a pretty good job at sharing the weight of the responsibilities," Mikaela said.
Completely new to the dance team, and Central High, freshman Allie Schenberg was thrilled to find out that she would get to be on varsity and feels that it comes with great experiences and it's great to be a part of. 
"I was definitely not expecting to be on varsity my first year and I was super excited when I found out. I was nervous about being one of the only freshmen on the team, but everyone is super nice and inclusive so I love it," Schenberg (9) said. 
Although Zoe was on the JV team last year, having only three other people dancing with her did not give her the full effect of what the dance team is supposed to be like. This year, she is getting many more opportunities and things to look forward to.
"Being on a bigger team has so many advantages over a smaller one. We can integrate cooler things into the routines and it is so fun being surrounded by so many people that love doing the same thing as me," Zoe said.
The team dynamic of varsity dance this year is also a factor that many members are looking to change and improve. Mikaela feels that this year will bring back the extra positivity and inclusiveness that was missing during the 2020 season. 
"With COVID and a huge imbalance of seniors last year, our team felt divided a lot of the time and one of my goals as a captain is to make sure that our team chemistry off the floor is mirrored when we're on the floor," Mikaela said.
Working with Hewgley, Mikaela is also hopeful that everyone on the team feels included throughout the season, which was something else that they didn't fully feel in years past.  
"So far, our team dynamic feels so much better than past years. I think Maddie and I have done a really good job at making sure everyone feels heard and appreciated, which we sometimes lacked in past years," Mikaela said. As an underclassmen I sometimes felt silenced by seniors and I don't want anyone on our team to feel that way."
As a member of the team, Zoe is noticing her captains' hard work firsthand, and notes that they really are doing their best to make the team a welcoming and uplifting environment.
"Mikaela and Maddie are honestly doing a really good job as captains. They have everyone's best interest in mind at all times and you can tell they really care about all of us, which is a really important quality captains should possess," Zoe said.
Bringing on new members to the team, working through the challenges, and trying their best to make this season as amazing and exciting as possible, Hewgley knows that they will be able to work as a team and come out on top.
"Overall, when you're dancing and you have a crowd to perform for, you just want to give it your all," Hewgley said.