Sisters Sharing Sports
Sports have many purposes: to compete with a team, burn off energy, win a game. But for some people, the main purposes of sports are to create and improve relationships. But what about here at Parkway Central? Two pairs of sisters play a fall sport together to form a stronger bond along with getting to enjoy something they love.
Lana (12) and Keri (9) Piepho connect within the lines of the volleyball court. Lana is a bubbly and compassionate defensive specialist has been playing volleyball at PCH since her freshman year. Keri is considerate and energetic, and plays outside hitter. This is Keri's first year playing at PCH. Although some may think that sisters playing the same sport might cause more of a scuffle than a bond, the Piepho sisters disagree.
"I like it because it means I get to spend more time with her," Lana said.
With having practice five to six times a week for up to two hours a day, plus games and tournaments, they spend a lot of time together, plus time spent riding to and from school, and regular everyday family time. But all that time spent together has no negative impact on their relationship, according to Lana and Keri.
"I like it because she is there to pick me up when I am not doing too great," Keri (9).
On the field hockey turf, Lilly (12) and Molly (10) Huss are united more than they already are. Lilly, who is outgoing and has great leadership, began playing as a sophomore in 2019 when the program started. She plays wing midfield and has recently taken up playing forward. Molly is charismatic and confident, and began playing last year as a freshman. Molly plays wing defense and center defense.
"I love having her be with me because I didn't have to do anything alone,"  Molly said.
The sisters have know they have each other's backs whether just walking from the car to the field, riding the bus to games, or needing a partner in practice.
Both younger sisters agreed that having their older sister there to guide them is something they cherish. But do the older sisters feel the same way? Absolutely. Lilly holds playing field hockey with her younger sister very dearly.
"I like playing a varsity sport with my sister because most people don't get to do that," Lilly said.
Most people don't get to play a sport with their sister let alone a varsity sport. Because Lilly plays midfield and Molly plays defense, it requires them to be able to work together. They are constantly passing the ball to each other and communicating on and off the field.
And benefits don't stop there. These sisters found that playing together gave them more than comfort on the first day, but an unbreakable bond and a lifetime of memories to cherish.
"I feel like we've become close off the court because we have more things to talk about," said Lana.
"It's something we connect upon because we both like it," Keri said. They get to bond on car rides to practice, to games, and even when talking about how the days practice or game went later that night.
Both the Piepho sisters agree that they've become closer along the course of this season. Lilly likes that they can connect at someplace other than home.
"It brings us together in a school aspect of things rather than a home aspect," Lilly  said.
The biggest question was if they are competitive with each other. And once again they shared similar responses. The Huss sisters agreed and said, "No not really".
However Lana and Keri said the opposite, "Yes very much so," Lana said.
Keri agreed with her sister, and mentioned that the competitiveness can be a bonus as well as a burden. "It can also be stressful knowing she's better than me, so I'm trying to live up to that," Keri said.
Both volleyball and field hockey require the players to work together to score, and require communication amongst players. All four of these players use these skills to not only strengthen their personal skills, but also their family bonds.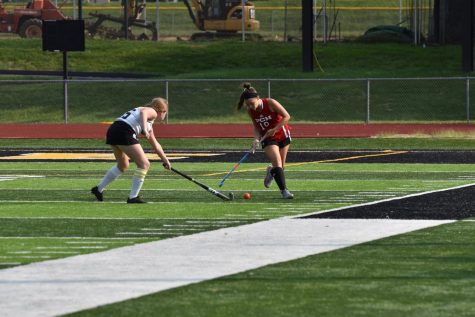 Lilly Huss (12) goes for the ball in a field hockey game against Oakville High School. Photo by Zoe Klevens.