The Story of a Flying Colt
Doug Gardner's journey; alumni, to pilot to backstage master
Heads up! If you're on the football field and you see an airplane flying over, Wave! That could be alumni Doug Gardner flying above. Gardner graduated from Central in 2003, a year behind choir director Ben Silvermintz, class of 2002. Gardner majored in sound design and technical theater in college and also got his flying license senior year of college. 
Gardner was born into an "aviation family." His father, uncle and both his paternal grandparents were all pilots. Gardner is actually named after McDonnell Douglas aerospace company which formed in 1967. His father is a corporate pilot and flew for the airlines while also being a pediatrician.  
Though he had the  support of his "aviation family," he worked to get his licenses and training. 
"I was lucky to grow up flying with my dad," Gardner said. "And he taught me a lot of things but he was never a flight instructor, so I had to start just like everyone else. Everybody has to start at zero and everyone has to work their way up….So, yes, I had a little bit of an advantage, but there's plenty of people that don't come from a background like I do, that find aviation and are able to get their college licenses"
He started working towards his license in high school but paused to work on school and other things and picked it back up in college and completed it his senior year. He got his instrument rating in 2008, commercial license in 2010 and then his instructor rating in 2017. 
Gardener has more than one hobby though. In his junior year at Central, he joined the band as a trombone player. 
"So, I'm not really a musical person. I can't read music, still to this day," Gardner said. "But I decided to join the band [in my] junior year of high school… They needed low brass so they gave me the trombone. And I kind of sat down with some friends and I wrote in slide positions with a pencil, and that's how I learned, sort of, to pass playing trombone was writing and slide positions, listening, and kind of faking it for a while." 
You may also see him helping out in sound for theatrical productions, for workshops and magical nights. Doug Hoover, Director of Bands, was Gardner's director in marching band and concert band and with Gardner's return, they have been able to connect and work together. Gardner works with Hoover with technology for musicals and other things. Hoover admires him for his technical skills and his willingness to choose an original career path.
"He's wicked smart about sound building, soundscapes for the theater and the technology of connecting speakers and video and microphones, and that stuff makes my brain hurt trying to do those things so I'm always, always somewhat envious of somebody that can do all that," Hoover said.
Gardner continued to play in the marching band in his freshman year of college at Missouri State University. He then transferred to Western University to study design and technical theater. 
In addition to band, theater became a huge part of his life in his sophomore year of high school.
"When I actually started getting involved in theater," Gardner said. "I think I started in props backstage and then I sort of moved into sound design and running the soundboard for, like the magical dinners and choir concerts, things like that. I acted a little bit like in one act and stuff, that was horrible." 
He describes theater as more than just a hobby. For him it was a community, a family and something to keep him distracted from the crazy things in life.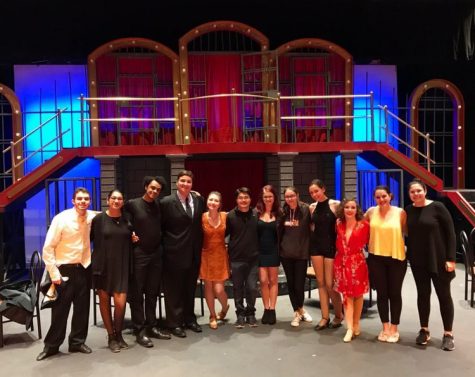 "I, of course, struggled with some things in high school (parents divorcing. etc.)" Gardner said. "I found my comfort and my community by becoming involved in theater and music. They kind of became my other family and a distraction and something to look forward to when things at home were a little tough." 
After he graduated from college, he came back to Parkway Central, his second home. He began teaching workshops and doing tech stuff for the theater groups. One of his pupils, Megan Hickel (9), has been to one of his workshops and seems to have enjoyed it. 
"My workshop with him was great, I learned a lot about sound, and I thought he did a good job teaching it." Hickel said. "I learned how to set up a handheld mic, how to operate the sound system and board. He also taught us about how to set up speakers inside a set to make sound come from one place. He also taught us about sound waves, and how sound works. It was kind of a small science class, but it was very interesting."
Gardner has volunteered since 2008 and has been working behind the scenes to make the theater productions better. 
"Coming back and volunteering is fun, and it's kind of my way of giving back to the departments that helped shape who I am today." Gardner said.