Varsity Tennis' New Star Player
Freshman Emily Heller makes an impact on the court
From soccer field, to basketball court, and now the high school tennis team, Emily Heller (9) can do it all. 
Although Heller plays a multitude of sports, her main passion and athleticism starts from tennis. From a young age, she took on the courts and her drive spiraled up to the top. 
"I started playing when I was about five years old because of my family," Heller said. "Many of them have passions for tennis, so they started putting me in clinics at a very young age."
Since girls' tennis is a fall sport, tryouts were at the start of the school year. As an incoming freshman, this was a stress-infused experience.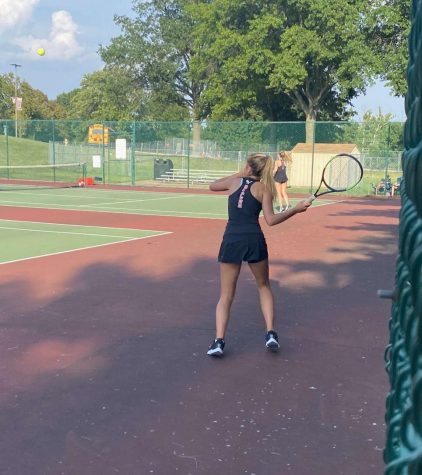 "At first, I was really nervous since I didn't know what to expect because it was my first year," Heller said. "But, once I met all the players, it was way less stressful because they were so inviting."
However, the weeklong tryouts full of stress and excitement eventually payed off, especially when Heller received the news that she had made a spot on the varsity team. Fighting for a spot between upperclassmen and even some underclassmen, it came as an extreme shock to her.
"I was very happy, it was just a really good feeling, especially as a freshman," Heller said. "It was a big accomplishment for me." 
Heller and her teammates practice endlessly through the entirety of the fall season, practicing after school almost every day. Their diligence payed off, as the team won game after game, leading to traveling to the state wide championship game. Heller played in singles against the toughest competition in Missouri for all ages.
"I ended up placing sixth in singles," Heller said. "I was very surprised. I did a lot better than I thought I would do. So, it was very exciting and it is definitely one of the main highlights of my year."
With all of the highs of the season, lows are prone to happen. Playing against fierce competitors can get stressful for the team, but the results are well worth it in the end.
"Well highs were obviously being on varsity, my team and my coach. My coach was awesome," Heller said. "Some lows were when we would lose when there was a lot of tough competition and good teams we had to play."
After playing tennis for nearly ten years, Heller plans to continue to continue to pursue her beloved passion and dreams on the court.
"It's just something I will always have a passion for, so I definitely want to continue playing and improving throughout my life," Heller said.