Hussmann's New Challenge
Coach Hussmann takes on the role of girl's basketball head coach
When it comes to basketball, guidance counselor and varsity coach Paul Hussmann is no stranger to the vigor and precision of the game. As he's been building his coaching skills as an assistant on the varsity girls basketball team for the last seven years, Hussmann is nothing short of determined to bring out the very best in his players as he steps into the role of head coach this season. But, coaching is far from where it all began for him.
"Basketball has just been a huge part of my life as long as I can remember," Hussmann said. "A lot of my friendships revolved around basketball, I played all the way through high school, and I've been coaching here for the seven years I've been here."
Not only does he have a connection to playing the game and continuing to get better, Hussmann knows that there's more to it than that when it comes to the team and community that basketball creates.
"This is an outlet for me, too," Hussmann said. "I really enjoy it, and it also gives kids a chance to be together and to bond over a common interest and to compete, and over all three levels of that I think it's great to see."
Being put into the head coach position so quickly has brought its challenges, but ultimately it comes down to the coach's attitude towards the game and goals for the team that will keep spirits high.
"I've made mistakes for sure, but you learn from those and tinker with strategies, but in the end, for better or worse, it comes down to me," Hussmann said. "And I like that; I love running the program and I think we're starting to instill the culture that I want in here."
It's not just the strategies of the game and matching the skills of the other team that make a basketball team successful, though. Hussmann and his players are working tirelessly to make this year's varsity team's progress carry through to seasons in the future.
"I think the challenges are beyond basketball itself," Hussmann said. "We have a pretty young team right now, so it's a lot of players that are getting a lot of time right now that are building and learning and growing that are going to make us even better next year and the following year."
Even with all of the adjustments being made player-wise and the transition from Coach Guilfoyle to Coach Hussmann, varsity player Zoe Fritz (11) feels like it's just as normal as any other change that a team could face.
"I didn't really notice any changes myself, mostly because we have a lot of the same players, so it's just a lot of subtle adapting," Fritz said. "Kind of like when you get a new player on the team, you get a new coach on the team, too."
When it comes to coaching style, Hussmann has high expectations for his team. But, like any good coach, his players are people first, basketball stars second.
"I think I'm pretty demanding, but I do consider being a counselor to be my first job," Hussmann said. "I hope that the girls would say the same thing, that they see that I care about them much more beyond basketball, and feel like they are able to come to me with anything outside of it."
In agreement, varsity player Maggie Roberts (11) knows that Hussmann sees his player as people as well as athletes and will be there for them in any situation, not just on the court.
"Since Hussmann is a counselor, he's really good at connecting with people on an emotional level," Roberts said. "He sees what we need emotionally, and he uses that to help us be better on the court."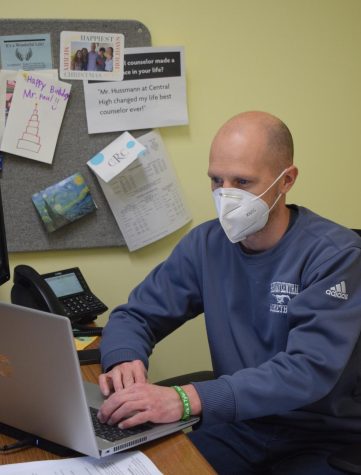 On the flip side, when Hussmann puts his basketball hat on, he means business. A big area that his teams have been focusing on this season is stamina and keeping up with the other teams, and the girls have definitely picked up on it.
"Hussmann puts a lot more emphasis on running and conditioning than any other coach has in the past," Fritz said. "It's definitely been a benefit, though, because now we're a lot more in shape than we ever were. Now, during the fourth quarter we can run a lot more than we could last year."
Growing up as a basketball player, Hussmann has many goals and coaching techniques that he's picked up on over the years, which give him that extra umph when it comes to being an incredible coach.
"I think you take pieces from everybody you've been around, like different players and coaches," Hussmann said. "I think the main tenets I like to instill throughout the program are working hard, giving it your all, and communication. I like to say that you can do all those things if you're not a good basketball player, but by doing those things, you can become a great basketball player."
But, being an amazing coach comes with more than just the responsibility of your players while they're learning plays or running the ball. It all comes down to how the players are able to work together that really makes a team special.
"I think our team has grown closer, and you can't really put that all on Hussmann, but I definitely think he's had a part in making us feel comfortable enough to be close to one another," Roberts said. "We're working hard every day, and that's all you can really ask for."
All in all, Hussmann's goals for this season are to continue to instill perseverance and a love for basketball in his teams. Every sport has its ups and downs, but Hussmann knows that the biggest win of any season is the feeling of accomplishment and growth as a team.
"Wins and losses are one thing, but after a game, you can tell that the girls, 99% of the time, are giving me everything they have, and that's all I could ask for," Hussmann said. "That in itself is very rewarding, and I see the progress being made."