Lacrosse Team Netted Together
Team takes down problems through bonding
The Parkway Central Girls' Lacrosse season started in the beginning of March, and ever since then, these girls have been persisting up on the upper fields behind the middle school. Currently, even with their strength in defense, the girls are struggling to move the ball down the field as well with other problems such as having a hard schedule. 
Team Captain Piper Douglas (12) has been playing for seven years, including all four years of high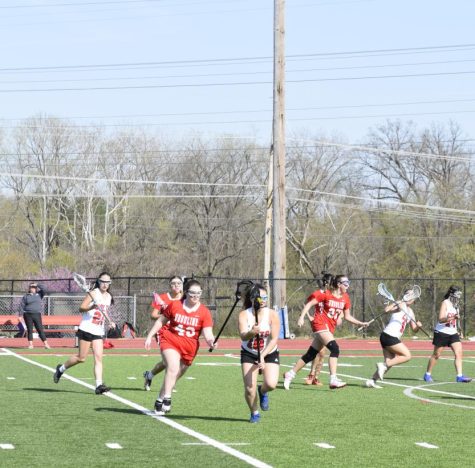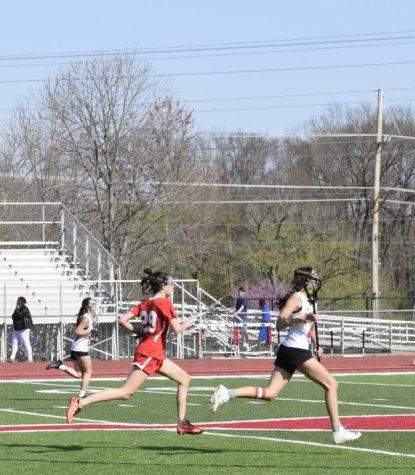 school and has noticed the struggles this year.
"Our goal as a team is to get the ball down the field more," Douglas said. "Because right now, the ball is kind of stuck on the defensive end, where the other team is scoring, and we're just trying to get the ball down to the tech end more often."
Assistant Coach and C-Team Coach Stephanie Baker has noticed the lack of experience as another small setback. She coaches the girls looking for less competition and coaches the essentials of the sport. 
"A lot of the teams we play have more experience, so that is a consistent struggle year to year," Baker said. "However, our athletes are persistent and competitive, so I'm confident we will have greater growth."
Head Varsity Coach Beth Karfs has a similar opinion on the matter. This year, there is a slightly large number of younger players and it makes it hard to have an advanced and experienced team.
"I feel like what we may face as challenges really just come down to the youth of our team." Karfs said. "We will overcome them by working together and reflecting on what is working and what isn't. We will make adjustments and build skills in the areas that are needed." 
The team's strengths can overcome these struggles. Portia LeFebvre (10) is optimistic about this season, and believes that the team has made progress already. 
"We are getting a lot better at moving the ball down the field, long passes, making cuts to the goal and making sure that we're open before we make shots," LeFebvre said. "We're also getting a lot better at communicating on defense. Our defense used to be very scattered, and now I feel like it's much more organized."
Communication is a fundamental part of team sports, and one of the things that can help this is team bonding. The lacrosse team works on improving these skills through creating opportunities to connect with one another. 
"As a three team program we do a lot of activities together," Baker said. "Halfway through every practice, we spend 10-15 minutes playing ice breaker games to blend the lines of the three teams."
Recently, all three teams also went to watch a lacrosse game at Lindenwood University as a team bonding experience which inspired them to grow on their own field. 
"I think watching them kind of inspired us to do better ourselves, and then we went out to dinner before to kind of talk as a team and just spend time together," LeFebvre said. "To socialize, have fun and also to talk about how we're doing what we need to improve on."
The team has also come up with a creative and fun way to reflect on the positive and negative aspects of their game. Their secret to their incredible team spirit is a very well-decorated lacrosse helmet. The helmet not only has the entire team's signature but also has some hand painted lightning bolts and lacrosse sticks
"Every game we have one person who we say, 'you did so well in this game. You get our team helmet,' which we all signed," LeFebvre said. So, it's been a bunch of players'. It goes around each game and the person who last had the helmet will nominate somebody else to get it. Then you keep it until the next game."
These team bonding experiences not only promote team strength, but also allow the girls to share their love of lacrosse with one another. After this year, Douglas plans on playing lacrosse in college at Quincy University. As the season progresses, she hopes to bond with her team more, and leave with treasured memories.
"I'm looking forward to creating memories with these girls," Douglas said. "Since our team is super young, it's a lot of sophomores and juniors and since there's only three seniors, I'm looking forward to making memories with them. That'll stick with them for the next few years."