The Senior's Final Curtain
Senior Directed One- Act and Cabaret Night Overview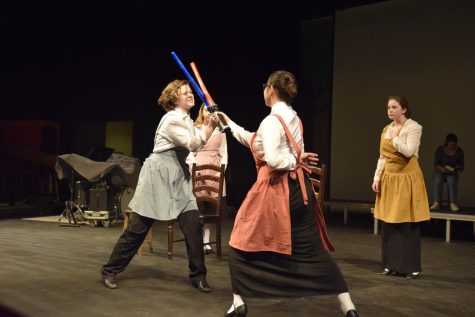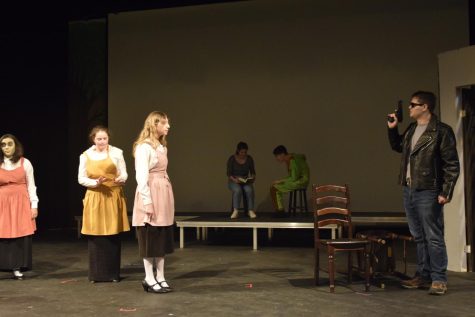 For the first time in over two years Parkway Central High School did Cabaret Night once again. This year the senior directed one act and cabaret returned to the stage together.
This year Jack Watts (12) directed "Little Women 2: Wrath of The Undead." with Rachel Land (10) as the company stage manager. This is Watts' first directing experience. Leading up to this point, Watts had to take Foundations of Acting, Advanced Acting, and Tech Theatre classes. Then, he also took a directing class, with the one-act as his final for the class. With all the work Watts put into the performance, he was very content with the performance this year.
"The actors had a lot of really good energy on stage," Watts said. "They looked like they were having a lot of fun, which brought out the enjoyment with the audience. And the tech went really well, especially since there's a lot of different elements to it. So, I'm very satisfied about that." 
The process of getting the one act on stage was not easy. Watts started planning last summer by deciding which play he wanted to direct. From there, he had to analyze his script.
"Then it's basically a very hard process where you have to go through and just analyze the heck out of the play," Watts said. "Basically you just make a giant folder of the script and then work it out just so that you can get just these little details out of it." 
All the hard work Watts put into making every detail perfect wasn't the most challenging part for him.
"The hardest part for me was the casting process of auditioning," Watts said. "Just because of the fact that I hate having to tell people 'no.' Another hard part for me was when I had to basically be the boss of people. It was a learning experience for me." 
In addition to the detailed process, Watts faced some personal matters. 
"In early March, I had to go into surgery for my Crohn's disease," Watts said. "So a lot of that time I was away from my actors, and so I had some rehearsals during that time in my recovery. That was a little bit hard to work around with the actors and the tech people but, I was able to make it work with the time I had since all the actors and the tech people were dependable. So, I had faith that they would be able to get it done when I was away and, obviously, they got it done." 
This isn't just Watt's last year in the theater though. Skylar Tigard (12) has been actively part of the theater since her freshman year. She is often working on stage crew and only acts in the one- acts. Another challenge that was overcome was the decreased budget. 
"It was hard because we didn't have the same resources as our poll shows where we have a budget to work with. Everything we had to either bring from home or make," Tiggard said. "Jack wanted to have these Cthulhu tentacles coming out offstage. So, we had to get pool noodles, tape them together and drape silk over them."
Besides the one act, the other main event of the night was Parkway Central's very own Cabaret performances, which is a talent show. Lily Tournier (11) played her first public performance on the harp that night. Tournier had begun learning to play the harp over quarantine. 
"I was very nervous going on. This was the first time that I played in front of a large audience that was actually paying attention to me," Tournier said. "Before, I played in a wedding, but, I was kind of like background noise, but now I played it and people were actually watching me so it made me nervous, but I'm really glad I did it."